Discover more from Foreign Exchanges
Daily roundups of world news and thoughtful commentary on US foreign policy.
Over 24,000 subscribers
I hope you've had a chance to read Daniel Bessner's first piece for Foreign Exchanges. His columns will be appearing monthly and will cover a range of subjects from commentaries on current events to pieces that get into the intellectual underpinnings of US foreign policy. If you're not already on our free email list, sign up today so you won't miss them! And if you are already on the list, please consider subscribing! Your support will make it possible for me to keep Daniel around and to expand FX to add other voices on a range of topics. Subscribe this month and get 20% off your first year—that's $4 per month or just $40 for an annual subscription:
---
THESE DAYS IN HISTORY
September 7, 1191: The Battle of Arsuf
September 7, 1822: Brazilian Independence Day—Portuguese prince and Brazilian regent Dom Pedro (the future Pedro I of Brazil) declares Brazil's independence from Portugual. The ensuing war, which had already begun at a low level in early 1822, ended in 1825 with a Brazilian victory.
September 7, 1901: The Boxer Rebellion ends with the defeat of the Yìhétuán rebels and the signing of the Boxer Protocol. Under the treaty, the Chinese government was obliged to pay an indemnity to the Allies—Austria-Hungary, France, Germany, Italy, Japan, Russia, the United Kingdom, and the United States—as well as Belgium, the Netherlands, Norway, Portugal, Spain, and Sweden, and to take steps to diminish its military capabilities.
September 8, 617: Rebels led by the Duke of Tang, Li Yuan, defeat an imperial Sui Dynasty army by luring it out of the city of Huoyi in northern China. The victory left Li Yuan preeminent among the many nobles who were in rebellion against the Sui, and the following June he had himself crowned Emperor Gaozu of the new Tang Dynasty. The Tang ruled China for almost 300 years, from 618 to 907, with a brief 690-705 interregnum during which Empress dowager Wu Zetian declared herself the ruler of China at the head of a "restored" Zhou Dynasty.
September 8, 1380: With a well-timed cavalry charge against the Mongolian flank, an army of united Russian principalities under the command of Prince Dmitry of Moscow defeats the Golden Horde army at the Battle of Kulikovo. Ironically the battle left the Golden Horde in a stronger position because the death of the warlord Maimai's puppet khan left the entire empire under the control of Maimai's rival, Tokhtamysh. In 1382 he besieged Moscow and violently sacked the city.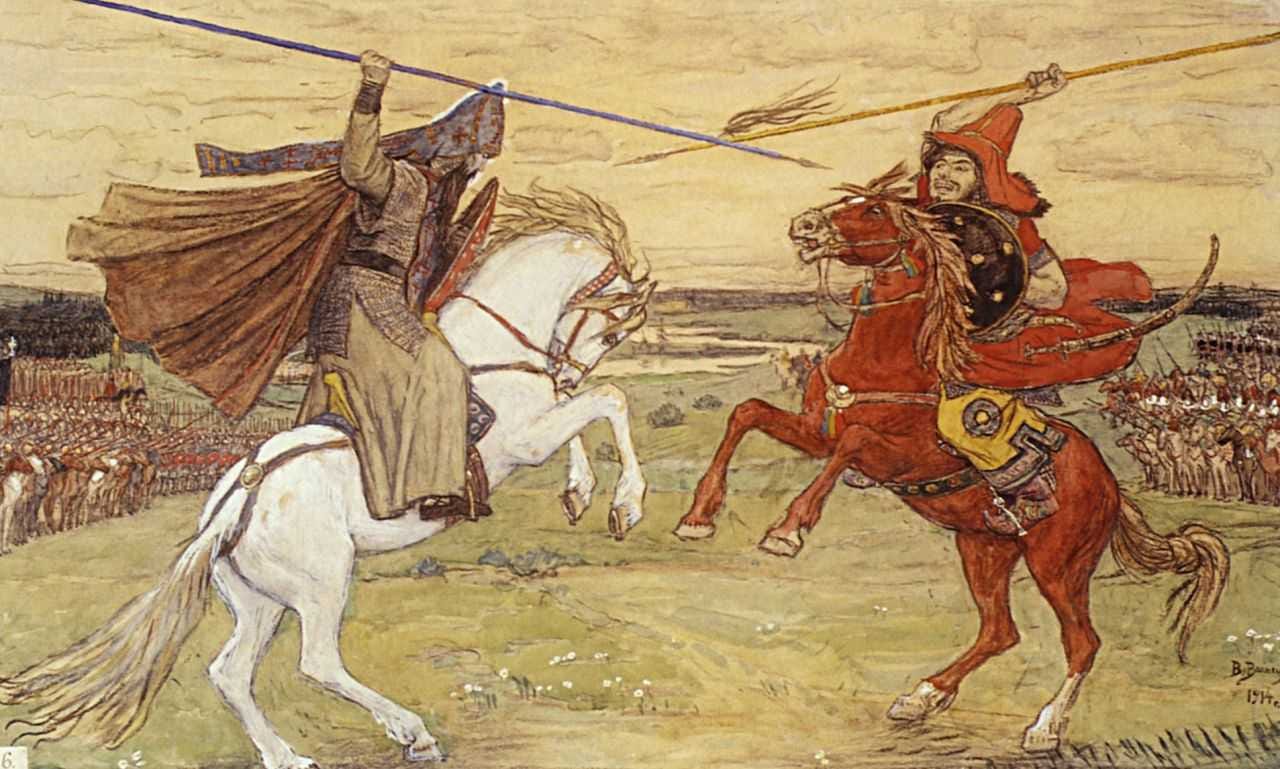 This 1914 painting by Russian artist Viktor Vasnetsov depicts a pre-battle champions duel between Russian monk Alexander Peresvet and Mongolian warrior Temir-murza, who killed one another in their initial charge (Wikimedia Commons)
INTERNATIONAL
Worldometer's coronavirus figures for September 8:
27,722,283 confirmed coronavirus cases worldwide (7,008,056 active, +241,230 since yesterday)

900,878 reported fatalities (+4322 since yesterday)
MIDDLE EAST
YEMEN
1994 confirmed coronavirus cases (+5)

576 reported fatalities (+3)
The Houthis announced Tuesday morning that they'd launched another major drone attack on Saudi Arabia's Abha airport, forcing Saudi authorities to shut the facility down. This is the second major drone strike they've claimed on Abha in the past two days, with just one teeny problem in the sense that neither of them can be confirmed. All the Saudis will acknowledge is having shot down a Houthi drone, which was the same thing they said about the alleged attack on Sunday (they later reported shooting down another Houthi drone Wednesday morning). Neither of the parties involved have been known for their scrupulous transparency and commitment to the truth, so it's difficult to know whose version of events to believe.
IRAQ
269,578 confirmed cases (+4894)

7657 reported fatalities (+68)
The Trump administration will reportedly announce a new troop reduction in Iraq on Wednesday and may follow that with an announcement about a troop reduction in Afghanistan. The size of these hypothetical reductions is unknown, but you can certainly tell it's campaign season in Washington.
LEBANON
21,324 confirmed cases (+498)

207 reported fatalities (+7)
The Trump administration levied sanctions on Tuesday against two former Lebanese cabinet ministers, Yusuf Finyanus and Ali Hassan Khalil, over allegations that they used their positions to funnel money and other support to Hezbollah. As Hezbollah is a legitimate Lebanese political party that plays a major role in its political landscape, it's unclear where the line between "illicitly supporting" and "licitly collaborating with" actually lies, but as ever when it comes to US sanctions, it doesn't matter. Both men will have any assets in the US frozen and US individuals or other entities are now barred from interacting with them.
JORDAN
2581 confirmed cases (+103)

19 reported fatalities (+2)
UNHCR, the United Nations refugee agency, says it's confirmed two cases of COVID-19 at a Syrian refugee camp in Jordan. These are the first two cases it's detected among Syrian refugees in Jordan and represents a nightmare scenario from the perspective of containing the pandemic. Hopefully they were discovered before they had a chance to spread the virus, but those refugee facilities are packed and the UN isn't swimming in resources to deal with a major outbreak.
ISRAEL-PALESTINE
137,565 confirmed cases (+3590) in Israel, 27,363 confirmed cases (+584) in Palestine

1040 reported fatalities (+14) in Israel, 190 reported fatalities (+6) in Palestine
The Trump administration has reportedly sold the US ambassador's residence outside Tel Aviv, and according to Israeli media the buyer is none other than Republican Party mega-donor Sheldon Adelson. The terms of sale are unknown so it's impossible to determine precisely how great an act of corruption it entailed. US ambassador David Friedman is packing up to move to Jerusalem, where the US embassy is of course now located, but according to Israeli media he's going to rent the Tel Aviv property from its new owner for several more months while that move is completed because, despite claims to the contrary, the US may still not have a secure ambassadorial residence in Jerusalem yet. The terms of that arrangement are also unknown, so again it's impossible to know just how corrupt the arrangement is. The administration, for whatever it's worth, denies that there's a rental arrangement in place.
UNITED ARAB EMIRATES
75,098 confirmed cases (+644)

391 reported fatalities (+1)
Donald Trump is preparing to host Israeli Prime Minister Benjamin Netanyahu and Emirati Foreign Minister Sheikh Abdullah bin Zayed Al Nahyan on September 15 for a signing ceremony to commemorate their new diplomatic arrangement. So that should be nice. On a somewhat related note, the Palestinian Authority appears to be softening its criticism of the UAE over this accord ahead of this week's Arab League summit in Cairo. PA leader Mahmoud Abbas accused the Emiratis of committing a "betrayal" when the agreement was announced last month, but the resolution he's planning to submit at the summit is much softer and simply says that the agreement "doesn't diminish Arab consensus over the Palestinian cause." This is the diplomatic equivalent of insisting that you're not mad and are, in fact, having a good laugh over the whole thing. It's face-saving for the Palestinians and is intended to avoid a rift within the League, which could make it easier for some member states to follow the UAE's lead.
IRAN
391,112 confirmed cases (+2302)

22,542 reported fatalities (+132)
The Iranian government says it's building a new underground facility to research advanced centrifuge technologies near its current centrifuge facility at Natanz. That facility was heavily damaged in a fire back in July that Iranian authorities have since characterized as deliberate. They haven't said this, but it appears part of the intent is to build a facility that is hardened against potential airstrikes from, well, whomever might want to do something like that.
ASIA
AFGHANISTAN
38,520 confirmed cases (+26)

1418 reported fatalities (+3)
With the Afghan government's negotiating team still delayed over "logistical" issues, US envoy for Afghanistan Zalmay Khalilzad met in Doha on Tuesday with Taliban negotiators amid a bit of a shakeup in their own team. Mullah Abdul Ghani Baradar, the head of the Taliban's political office in Doha and until recently the organization's lead negotiator, has been pushed aside in favor of Abdul Hakim Haqqani, who chairs the Taliban's council of scholars, who will lead the new Taliban negotiating team. The reason for the change isn't entirely clear. There's apparently some concern within the senior ranks of the Taliban that Baradar has gone soft, but also the appointment of a senior figure like Haqqani will give the negotiating team wider latitude to make decisions without having to consult the rest of the organization's leadership.
INDIA
4,367,436 confirmed cases (+89,852)

73,923 reported fatalities (+1107)
Indian and Chinese authorities are accusing each other's forces of firing "warning shots" during a confrontation along their poorly defined western Himalayan border on Monday. As is typically the case in these border clashes, each side is accusing the other of crossing the "Line of Actual Control" that's supposed to separate their countries. What's new in this case, as we noted yesterday, is the apparent introduction of firearms, which both militaries have more or less prohibited in that region because of the potential for dramatic and very unwanted escalation. If that taboo has now been broken irrevocably it does not bode well in terms of avoiding a border war.
SRI LANKA
3140 confirmed cases (+17)

12 reported fatalities (unchanged)
The oil supertanker that caught fire again off the coast of Sri Lanka on Monday is reportedly leaving an oil slick in its wake, so that's probably not great. At this point it doesn't appear that the ship is leaking its estimated two million barrels of crude. Instead the large amount of water used to douse the fire seems to have caused the ship to tilt in the water, and that's causing some of its diesel fuel to spill out. The extent of the spill and environmental damage probably can't be ascertained until the fire is completely extinguished.
MYANMAR
1709 confirmed cases (+191)

10 reported fatalities (+2)
Nobel laureate-turned-genocide apologist Aung San Suu Kyi is back on the campaign trail, according to Al Jazeera:
Fortunately for Suu Kyi, it's unlikely that any Myanmar journalist is going to ask her to comment on new revelations from a couple of Myanmar military defectors:
The August 2017 order from his commanding officer was clear, Pvt. Myo Win Tun said in video testimony. "Shoot all you see and all you hear."

He said he obeyed, taking part in the massacre of 30 Rohingya Muslims and burying them in a mass grave near a cell tower and a military base.

Around the same time, in a neighboring township, Pvt. Zaw Naing Tun said he and his comrades in another battalion followed a nearly identical directive from his superior: "Kill all you see, whether children or adults."

Pvt. Myo Win Tun and Pvt. Zaw Naing Tun are the first members of Myanmar's military to openly confess to taking part in what United Nations officials say was a genocidal campaign against the country's Rohingya Muslim minority.

"We wiped out about 20 villages," Private Zaw Naing Tun said, adding that he, too, dumped bodies in a mass grave.

The two soldiers' video testimony, recorded by a rebel militia, is the first time that members of the Tatmadaw, as Myanmar's military is known, have openly confessed to taking part in what United Nations officials say was a genocidal campaign against the country's Rohingya Muslim minority.
Suu Kyi assumed her current post as State Counsellor of Myanmar in 2016, for the record. Both of these defectors are now at The Hague, working with International Criminal Court as they build a case against the Myanmar military.
CHINA
85,144 confirmed cases (+10) on the mainland, 4896 confirmed cases (+6) in Hong Kong

4634 reported fatalities (unchanged) on the mainland, 99 reported fatalities (+1) in Hong Kong
As expected, the Trump administration on Tuesday moved to block imports of cotton from China's Xinjiang region due ostensibly to concerns over forced labor, especially among the Uyghur population. It also banned imports of tomato products from Xinjiang to boot. These are potentially sweeping bans that could have a major impact on China's entire manufacturing base and they could force major companies that rely on that base to drastically rethink their business practices. Moreover, they will likely have a chilling effect on other companies whose supply chains pass through Xinjiang, regardless of product. I suspect the potential impact on the Chinese economy is what really appeals to the Trump administration, whose commitment to human rights is, shall we say, pretty spotty.
Beijing, meanwhile, is preparing to levy sanctions on any "senior US officials" who visit Taiwan, sanctions that would also apply to any related companies. These would take the typical form of travel bans and asset freezes, while those companies would risk losing access to the Chinese market.
AFRICA
TUNISIA
5417 confirmed cases (+293)

96 reported fatalities (+2)
Protesters in southern Tunisia's Tatouine province are looking to the new Tunisian government of Prime Minister Hichem Mechichi to fulfill longstanding promises to invest in the region, and it appears they plan to continue interfering with oil and gas production in the region. Sustained demonstrations have drastically reduced energy production in Tatouine since July. Tatouine is deeply impoverished and regional unemployment is very high, but successive governments have failed to match policy to rhetoric when it comes to trying to alleviate those problems.
BURKINA FASO
1466 confirmed cases (+3)

56 reported fatalities (unchanged)
Burkina Faso is heading into a general election in November with its national security in tatters, and so the Burkinabe government has instituted a new electoral law that basically allows officials to ignore parts of the country where it's not safe to conduct a vote:
As Alex Thurston points out, this effectively legitimizes a "partial" election, which is dubious under any circumstances but especially in this situation, where it will probably ensure the reelection of incumbent President Roch Kaboré. Having just witnessed a military coup in neighboring Mali against a president whose claim to legitimacy was stronger than Kaboré's will be if he's reelected under these conditions, it seems ill-advised to move forward with a vote unless the entire country can be assured a voice. On the other hand, instituting that level of security could take years, or it could never happen, and who's supposed to run the country in the meantime? Kaboré? In that case he would have just bypassed reelection altogether. It's a dangerous situation and one that could easily wind up following Mali's example.
KENYA
35,356 confirmed cases (+151)

599 reported fatalities (unchanged)
The American Chemistry Council trade group is lobbying the US government to use negotiations over a prospective bilateral trade agreement to force the Kenyan government to rescind its ban on the importation of plastic waste. World Politics Review's Kimberly Ann Elliott explains why this use of trade deals as leverage to manipulate a country's domestic politics is a bad idea:
There are several problems with using trade agreements to constrain policies that are primarily domestic in their effects and affect trade flows only incidentally. First, the general presumption that trade liberalization brings overall net benefits does not necessarily apply when the subject of negotiations is regulatory policies that seek to strike a balance between public and private interests. Second, the business community in most countries has disproportionate influence with policymakers when it comes to trade policy, which makes striking the appropriate balance more difficult. Third, while corporate lobbying for provisions that constrain regulatory autonomy usually focuses on the trading partner, trade agreements are reciprocal, so any such provisions will impinge on regulatory authority at home as well.
ZIMBABWE
7388 confirmed cases (+90)

218 reported fatalities (+8)
The UN's World Food Program says that a combination of the pandemic, climate change, and overall economic weakness has meant that some 45 million people in southern Africa are now food insecure, an increase of 10 percent from last year. Zimbabwe has been worst hit, and the WFP expects roughly 8.6 million people there to be food insecure by the end of the year.
EUROPE
BELARUS
73,208 confirmed cases (+177)

721 reported fatalities (+5)
Unsurprisingly, except perhaps in terms of the speed with which they did so, Belarusian authorities drove detained opposition leader Maria Kolesnikova to the Ukrainian border on Tuesday and then ordered her to cross it. However, what worked for Kolesnikova's fellow opposition leaders, Svetlana Tikhanovskaya and Olga Kovalkova, did not work in her case. Instead of heading into exile, Kolesnikova reportedly refused to cross the border and tore up her Belarusian passport, meaning she couldn't enter Ukraine. She was rearrested by Belarusian security forces.
CZECH REPUBLIC
29,877 confirmed cases (+1161)

441 reported fatalities (+4)
Reporter Tim Gosling writes that Czech Prime Minister Andrej Babiš is finding himself caught in a "nuclear tug of war" between China, Russia, and the United States:
A controversial billionaire who toes a populist—albeit centrist—line, Babis has earned brownie points with the White House by becoming Europe's loudest critic of the Chinese telecommunications firm Huawei, which Washington insists is a security risk. Although many allies have ignored the United States' calls to bar the firm, the Czech leader (who reportedly dislikes comparisons to the U.S. president) blocked it from working on his country's critical communications networks in late 2018.

Part of Pompeo's mission to the Czech Republic was to convince Babis that it would pose a similar risk as Huawei should China or Russia win an upcoming tender to build a new 1.2-gigawatt reactor at the Dukovany nuclear power plant, at an estimated cost of over $7 billion. "If you choose one of these countries, it will jeopardize your freedom and sovereignty," Pompeo reportedly stressed to the Czech leader.

However, Babis's government is weak, and he faces building pressure at home and abroad to lean east. In turn, he has declined to exclude Chinese and Russian state-owned companies from bidding for the project and, despite welcoming Pompeo enthusiastically, demurred on signing a proffered cooperation agreement on nuclear energy.
BELGIUM
88,769 confirmed cases (+402)

9909 reported fatalities (+2)
The fallout from last May's obviously inconclusive Belgian parliamentary election is still unsettled, and thanks to COVID-19 it may be unsettled for at least a little while longer. Egbert Lachaert, leader of the center-right Open VLD party and along with Socialistische Partij Anders leader Conner Rousseau one of the two mediators most recently tasked with cobbling together a new governing coalition, has reportedly tested positive for the illness.
A succession of Belgian leaders has been trying and failing to negotiate a workable coalition since May. Rousseau and Lachaert were working on a new seven-party formula and were supposed to brief King Philippe on their progress this Friday. Obviously that's on hold now. Prime Minister Sophie Wilmès' government has remained in office on an emergency basis since mid-March, when most Belgian parties agreed to extend its term in order to manage the pandemic.
AMERICAS
VENEZUELA
54,350 confirmed cases (unchanged)

436 reported fatalities (unchanged)
Three Iranian tankers have reportedly turned off their tracking devices amid speculation that they're bringing a third Iranian shipment of gasoline to Venezuela this year. If that's true it will be welcome relief for Venezuelans, who are reportedly struggling amid widespread fuel shortages. It will also be a blow to the United States, which has tried to shut down the economies of both countries and has been particularly interested of late in blocking Iranian shipments to Venezuela.
COLOMBIA
679,513 confirmed cases (+7665)

21,817 reported fatalities (+202)
At least 11 people were killed in three separate attacks across northern Colombia on Monday—five in northwestern Colombia's Antioquia department, three in north-central Colombia's Bolívar department, and three more in northeastern Colombia's Cesar department. Colombia is suffering through a spike in violent attacks like these, the perpetrators of which generally remain unknown. Colombian authorities say these attacks are being carried out by groups connected to the country's drug trade, but that could mean anything from right-wing paramilitaries to Marxist rebels to plain old cartels, or all of the above.
MEXICO
637,509 confirmed cases (+3486)

67,781 reported fatalities (+223)
According to the AP, in an effort to appease Donald Trump Mexican President Andrés Manuel López Obrador last year diverted some $4 million out of the Mexico Fund, which is supposed to finance regional development programs in Central America and the Caribbean, into efforts to suppress migration. The futility of using money that's meant to address the root causes of migration into policies that accomplish little other than brutalizing migrants should be immediately apparent, and represents a complete repudiation of the progressive immigration policies on which López Obrador campaigned back in 2018. But given the economic punishment Trump threatened to impose last year unless Mexico took new short-term measures to halt migration, it's unlikely that López Obrador had much choice.
UNITED STATES
6,514,231 confirmed cases (+28,561)

194,032 reported fatalities (+498)
The US Air Force on Tuesday awarded Northrop Grumman a cool $13.3 billion to develop a new intercontinental ballistic missile to replace the Minuteman 3. That's a big chunk of a more than $85 billion effort to modernize the US nuclear arsenal, a topic I covered with John Carl Baker on the FX podcast a few weeks ago. Of all the aspects of that modernization effort, the push for a new ICBM is arguably the most wasteful. ICBMs are more useful as targets than as weapons. If there ever is a full scale nuclear war they'll be the first target of whichever country decides to open fire on the US, meaning they're not even particularly useful as deterrents (strategic bombers and submarine-based missiles are more important in that regard).
Finally, the Costs of War Project at Brown University has produced new research finding that America's various military adventures since September 11, 2001, have contributed to the displacement of at least 37 million people around the world. To reiterate, that's a minimum estimate. The true figure, they say, may be anywhere from 48 million to 59 million. And even those figures are probably low, since the report only looks at displacement in the eight countries in which the US military has been most active since 9/11: Afghanistan, Iraq, Libya, Pakistan, the Philippines, Somalia, Syria, and Yemen (you can see a breakdown of these figures at the Quincy Institute's Responsible Statecraft outlet). Smaller US operations, mostly across Africa, have contributed to the displacement of millions more who were not counted in this report.
Anybody who's followed the course of the Global War on Terror knows that, as I wrote on the anniversary of 9/11 last September, the United States has subjected the rest of the world to a retaliation that vastly exceeds the harm it tragically suffered that day. It didn't even occur to me when I was writing that post to mention displacement on top of everything else. This new report only adds to the record of atrocities we've spent the past 19 years amassing.