Discover more from Foreign Exchanges
Daily roundups of world news and thoughtful commentary on US foreign policy.
Over 24,000 subscribers
I have a pressing engagement this evening so today's update is coming out a little earlier than usual.
9/11 TURNS 18
It's the anniversary of the Worst Thing That Has Ever Happened In The History Of Mankind, and not just any anniversary. We've now reached the point where there are kids old enough to enlist in the military or go off to college who weren't alive when the World Trade Center and the Pentagon were attacked on September 11, 2001. Soon new military recruits could conceivably head off to Afghanistan who weren't even infants when the event that caused that war happened. Maybe, just maybe, it's time to take stock of what we've been doing ever since.
It's hard to remember the panic that gripped people in the days and weeks after the 9/11 attacks. Almost 3000 people had been killed in the space of a couple of hours. It was the worst attack on US soil since Pearl Harbor. The attacks rattled the collective American consciousness to its core. Naturally, people started worrying about what might be next. What would the terrorists do for an encore? Nukes? Anthrax? Poison gas attacks? Anything and everything was on the table. Imaginations ran wild and invariably to some very dark places.
Well, 18 years later we can happily say that none of those terrible things happened. At least, not in the United States. Instead, what we've experienced over the past 18 years has been an extended rage spasm as the United States has sought to make the rest of the world pay for the harm we suffered on that day. And by "harm," I don't really mean the physical damage or even the loss of life. The real trauma that America suffered on 9/11 was to its collective self-image, its belief in its own overwhelming power and control of the rest of the world. That's the pain we've been trying to avenge all this time. The 9/11 attacks pulled back the curtain and we didn't very much like what we saw.
So we've spent 18 years and counting lashing out at perceived enemies both at home and abroad, and the toll has been, to say the least, appalling. Our thirst for vengeance has caused the deaths of hundreds of thousands of people over the past 18 years, multiple times the number who were killed in the 9/11 attacks. Do we care? Some of us do, but I suspect most of us don't. Certainly the people who performatively take to social media every year on the anniversary of 9/11 to recount Where They Were and How They Felt on that day (you know who they are) believe that nothing that's happened since 9/11 could possibly be as horrifying as what they experienced. Which means that, on some level, they believe the lives we've taken around the world since then were hundreds of times less valuable, less worthy, than the lives we lost at the World Trade Center and the Pentagon.
It's not just the death toll. Since 9/11 we've arrogated unto ourselves the right to conduct aerial bombing pretty much anywhere we deem necessary. We've acquiesced—cheered, even—as our government has erected one of the most massive and intrusive surveillance networks in human history. We've thrown people into detention facilities indefinitely, with no intention of honoring their basic human rights. We've "tortured some folks," as Barack Obama once said while he was explaining why he wasn't going to prosecute the torturers. Most perniciously, we've accepted that war is an inevitable and permanent state of being, that our government may be fighting an undefined conflict with an undefined enemy with an undefined end goal for the rest of our lives. For the rest of our children's lives.
And for what? Yeah, al-Qaeda, at least its core group, is a shell of its former self (though it's not totally gone). I'm not one to say that "Osama bin Laden won," because he's dead and I doubt that was part of his plan. But I will say so what? Al-Qaeda's ideology hasn't gone anywhere, and neither have its affiliates in Yemen, North and West Africa, etc. Our invasion of Iraq, the most senseless part of the senseless War on Terror, created the Islamic State, which is more violent than al-Qaeda. We've legitimized the "threat" of terrorism as a catch-all for any rotten authoritarian regime that wants to brutalize a minority group, from the Gulf states to India to China to Myanmar and, yes, right back here to the United States, where the War on Terror mindset has seeped thoroughly into our national consciousness around immigration. Would we have elected a president who throws migrant children into cages in internment camps had we not responded to 9/11 the way we did? Would the racist far right have grown strong enough to take over our politics had it not been able to feed on our post-9/11 Islamophobia all these years? I have my doubts.
So, hey, happy anniversary. All I can say is, if you're in the US and still feeling the trauma of September 11, 2001, imagine how the rest of the world feels about it.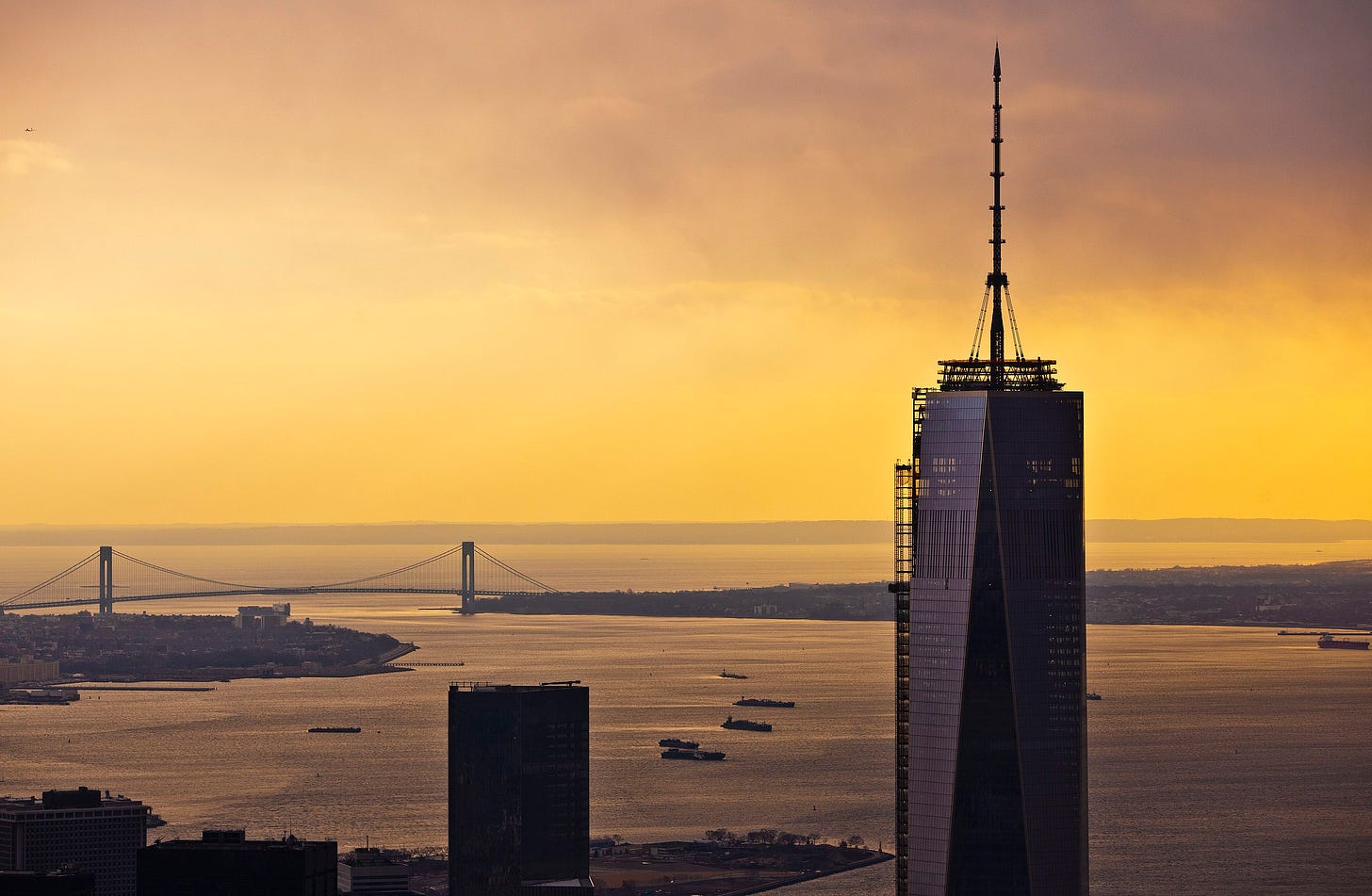 One World Trade Center (Anthony Quintano via Wikimedia Commons)
MIDDLE EAST
ISRAEL-PALESTINE
Gaza militants and the Israeli military continued to trade fire on Wednesday for the second day in a row. Three rockets were fired out of Gaza, one of which reportedly hit a home north of the enclave but caused no casualties. The Israelis retaliated against two Hamas outposts in northern Gaza. There were conflicting reports as to casualties in those strikes, with media reporting several people injured but Gazan health officials saying that nobody was injured.
IRAN
Iranian ambassador to the UK Hamid Baeidinejad says that the Adrian Darya-1 sold its oil cargo "at sea to a private company" and it was that company, not Iran, that determined the tanker's destination. Which, to be clear, was almost certainly Syria. Baeidinejad further argued on Wednesday that European sanctions "cannot be extended to third countries," or in other words that Iran should be allowed to sell its oil to whomever it likes. The UK is accusing Iran of breaking a promise not to ship the Adrian Darya-1's oil to Syria, which British authorities say it made in order to get the ship released from detention in Gibraltar. The Iranians have questioned the legality of the initial seizure of the ship, which was then called the Grace-1.
The Iranian government doesn't seem terribly broken up about the firing, or resignation, of ex-National Security Advisor John Bolton. Iranian President Hassan Rouhani on Wednesday publicly called on Donald Trump to take the opportunity created by Bolton's departure to "abandon war mongers and warmongering policies." That said, Iranian officials are also saying that the removal of Bolton doesn't change their position on direct talks between Trump and Rouhani at the United Nations General Assembly. They still want concessions from the US ahead of such a meeting.
It turns out that Trump might be thinking about giving them some. According to Bloomberg, at an "Oval Office meeting" on Monday Trump discussed the idea of relaxing sanctions to entice Rouhani to a meeting. Treasury Secretary Steve Mnuchin reportedly was in favor of the idea, but Bolton strongly opposed it. Now he's gone. As I wrote yesterday, Trump wasn't listening to Bolton anymore anyway, so I'm not sure his departure makes any policy shift more or less likely, so what I'd take from this story is the fact that Trump has been discussing the idea of sanctions relief at all. He was non-committal about the idea when asked by reporters on Wednesday, which itself is a marked change from his public remarks just a month or two ago.
The other main component of this plan would be for Trump to meet Rouhani along with a third party, probably French President Emmanuel Macron. That would make it easier for Rouhani, who has rejected bilateral talks in the face of considerable domestic political opposition, to participate. Rouhani has told Macron that he will not negotiate with Trump while US sanctions remain in place, but there are loopholes there that could be exploited to arrange a meeting.
ASIA
AFGHANISTAN
There's been renewed fighting between government forces and the Taliban across northern Afghanistan since Donald Trump upended the US-Taliban peace process over the weekend. Fighting is reportedly ongoing in no fewer than ten provinces, including places like Kunduz and Baghlan where fighting was already heavy prior to the Camp David dustup. The Afghan government and US have said they plan to step up anti-Taliban operations now that the peace talks appear to be dead.
While many Afghans were concerned, and rightly so, about the prospect of a Taliban takeover in the wake of a US withdrawal, many others are now concerned that this war, which is still killing Afghans by the thousands, no longer has end in sight. The Taliban—and Islamic State-Khurasan, which wouldn't exist if not for this war—are plenty dangerous, but so are US and Afghan forces, who killed more civilians in the first three months of 2019 than did the various militant groups. Afghan special forces, trained and equipped by the US, have been particularly threatening to civilians and are accused of multiple human rights violations.
INDIA
Last month the Indian government left 1.9 million people in Assam province off of its newly compiled register of citizens, people who are now forced to prove their and/or their families' residency status to the government even though, as you might imagine, rural Assam hasn't exactly been great about documenting things over the decades. Just coincidentally, I'm sure, these folks happen to be mostly Muslims, and the Indian government is actually considering legislation that would make Hindus, Sikhs, and Buddhists citizens automatically even if they can't prove how long they've been there. Anyway, this month it turns out the Indian government is building internment camps that look like they could hold, oh, around 1.9 or so million people. Also a coincidence, probably.
BANGLADESH
Neighboring Bangladesh, meanwhile, is faced with a problem in that it's taken in several hundred thousand Rohingya refugees who don't want to return to Myanmar because there's a strong likelihood they'll be genocided if they do. Rather than lean on the Myanmar government to guarantee safety and citizenship for returning Rohingya, Bangladeshi authorities have decided to simply punish the Rohingya until they agree to leave. They've cut internet and cellular service to Rohingya refugee camps and are limiting access to outside aid groups, and that's probably just for starters.
AFRICA
SUDAN
Meeting in the South Sudanese capital, Juba, Sudanese rebel leaders and the country's new transitional government have reached agreement on a two-month "roadmap" for negotiations aimed at ending Sudan's ongoing insurrections both in Darfur and the southern provinces of Blue Nile and South Kordofan. The Sudanese government views ending those conflicts as one key to escaping the US state sponsors of terrorism list and restoring their economy. The talks will reportedly address both winding down hostilities and providing humanitarian aid to war-torn regions.
SOUTH SUDAN
There's also good news on the peace front in South Sudan, where President Salva Kiir and main rebel leader Riek Machar agreed Wednesday to form an interim government by November 12. The peace deal those two men signed last September has been in limbo as major parts of it—particularly the effort to incorporate rebel fighters into the South Sudanese military—stalled, with the government claiming it didn't have enough money to fund integration efforts. The interim government would be charged with leading South Sudan into an election within three years.
EUROPE
RUSSIA
Count Russia among the countries that doesn't really see much of a reason to celebrate the fact that John Bolton is no longer working in the White House. Deputy Foreign Minister Sergei Ryabkov told Russian media on Wednesday that he doesn't expect relations with the US to improve with Bolton out of the picture.
POLAND
The State Department on Wednesday approved the sale of 32 F-35 fighters to Poland for a cool $6.5 billion. The purchase will bring the Polish military further into alignment with the rest of NATO and the approval is a nice feather in the cap for Poland's ultra right-wing government on the eve of next month's election.
BULGARIA
Bulgarian prosecutors have charged the head of a non-governmental organization called the "National Russophile Movement" of spying on behalf of the Russian Institute for Strategic Studies and another Russian NGO. Prime Minister Boyko Borisov went to some lengths on Wednesday to insist that his government isn't trying to tie the case directly to the Russian government, which happens to be Bulgaria's biggest energy supplier in addition to being the dominant player in Eastern Europe.
SPAIN
Surprisingly, both Spanish Prime Minister Pedro Sánchez and leaders of the leftist Podemos Party on Wednesday seemed to soften their positions on working together to avoid a new election. Just a day earlier the parties had declared themselves at an impasse in their negotiations over forming a new government. Podemos leader Pablo Iglesias suggested he would now be willing to accept a coalition offer that Sánchez had previously made to give Podemos three lower-tier cabinet posts. Iglesias initially rejected that offer and asked for more important ministries, at which point Sánchez yanked the offer entirely and said he would only give Podemos sub-cabinet jobs in return for its support in parliament. It remains to be seen whether Sánchez is still willing to go for that deal.
UNITED KINGDOM
Boris Johnson's very good Brexit summer continued on Wednesday when a Scottish court ruled that his decision to prorogue parliament until mid-October, in order to keep it from messing with his Brexit plans, was illegal. A group of MPs who had challenged Johnson's maneuver were able to make the case that his intention in suspending parliament was not to start a new session in accordance with standard procedure but rather to deliberately shut down any Brexit-related legislative business. The court did not issue an injunction restarting parliament, however, and kicked that question to the UK Supreme Court, which will hear the case next week. Johnson seems to be at the point where he's decided to ignore parliament anyway, but if the legislature goes back to work it could interfere with his efforts to find a loophole around the restrictions parliament has already placed on him.
AMERICAS
UNITED STATES
The fallout from Bolton's firing/resignation continues to reverberate. Of more importance than the ruminating about What It All Means is the discussion of who might succeed him as national security advisor, and there are several names already cropping up for the job. One is current US ambassador to Germany Richard Grenell, who is a Bolton disciple (could work against him) but has also been extremely loyal to Trump. He wouldn't represent much if any change from Bolton. Other names include acting National Security Advisor Charles Kupperman, retired army colonel and (more importantly) Fox News analyst Douglas MacGregor, retired army general and (again, more importantly) Fox News analyst Jack Keane, Vice President Mike Pence's National Security Advisor Keith Kellogg, White House adviser Rob Blair (brought in by chief of staff Mick Mulvaney reportedly to act as a counter to Bolton), and Trump administration Iran envoy Brian Hook.
Randall Flagg might be a candidate too, I don't know.
The most intriguing name on the list(s) is current Trump North Korea envoy Stephen Biegun, who was reportedly considered for the job before Bolton got it. Biegun has actually not been a bad pick for that job. He's supported Trump's desire for diplomacy and seems to have tried, as much as one can when dealing with Donald Trump, to put some order to the process. He's also been cognizant that the North Koreans, who are not Americans, have wants and needs just like the US does, which is a rare thing for any Republican foreign policy figure these days, let alone one working for this president.
The thing is, Bolton is leaving but Trump is still there. Trump was the guy who thought hiring Bolton in the first place was a good idea, and who had almost totally tuned Bolton out over the past few months. This is why I have a hard time imagining that we're about to see some huge change in the administration's foreign policy. Some of the above names, if they got the job, might rebuild the tattered, isolated National Security Council back into a forum for interagency deliberation the way it was intended to run, rather than as a mini-think tank for warmongers the way Bolton crafted it. And that's probably a good thing, but the guy making decisions at the top of the pyramid is still the same guy who allowed the NSC to get to its current state of decrepitude and who only intermittently listens to his advisers anyway.
Joseph Cirincione suggests one area where Bolton's departure might mean real change, in nuclear arms control. He availed himself of his time with Trump to kill the Intermediate-Range Nuclear Forces Treaty, but there's another major accord that might be spared now that he's gone:
Bolton hated these agreements. In 1999, he ridiculed the liberal "fascination with arms-control agreements" and blustered about "the Church of Arms Control," insisting that America could rule the world through force of arms, not pieces of paper. In a classic Bolton move, he used the real fact of Russian violations of the INF treaty, not to insist on their compliance with the pact, but to destroy it entirely. "Violations give America the opportunity to discard obsolete, Cold War-era limits on its own arsenal and to upgrade its military capabilities to match its global responsibilities," Bolton wrote in 2014.

The U.S. abrogation of the treaty was a gift to Vladimir Putin. It did not reverse the Russian violations; it permitted them. Today, there are no limits whatsoever on what missiles of this range Putin can deploy.

Bolton was also on course to destroy the last remaining nuclear reduction treaty, the New START agreement that limits US and Russian long-range nuclear weapons. Again using the phony right-wing tactic of blasting agreement because they do not cover all possible threats, Bolton trashed the accord as "flawed from the beginning" because it only limited long-range weapons (hence the name, "strategic arms reduction treaty") and not short-range weapons as well.
Again Trump wasn't listening to Bolton anymore anyway, but it probably would help New START's chances of survival if he were to be replaced by somebody who places at least some value on arms control.