Discover more from Foreign Exchanges
Daily roundups of world news and thoughtful commentary on US foreign policy.
Over 24,000 subscribers
World update: September 10 2019
Stories from Israel-Palestine, Algeria, the United States, and more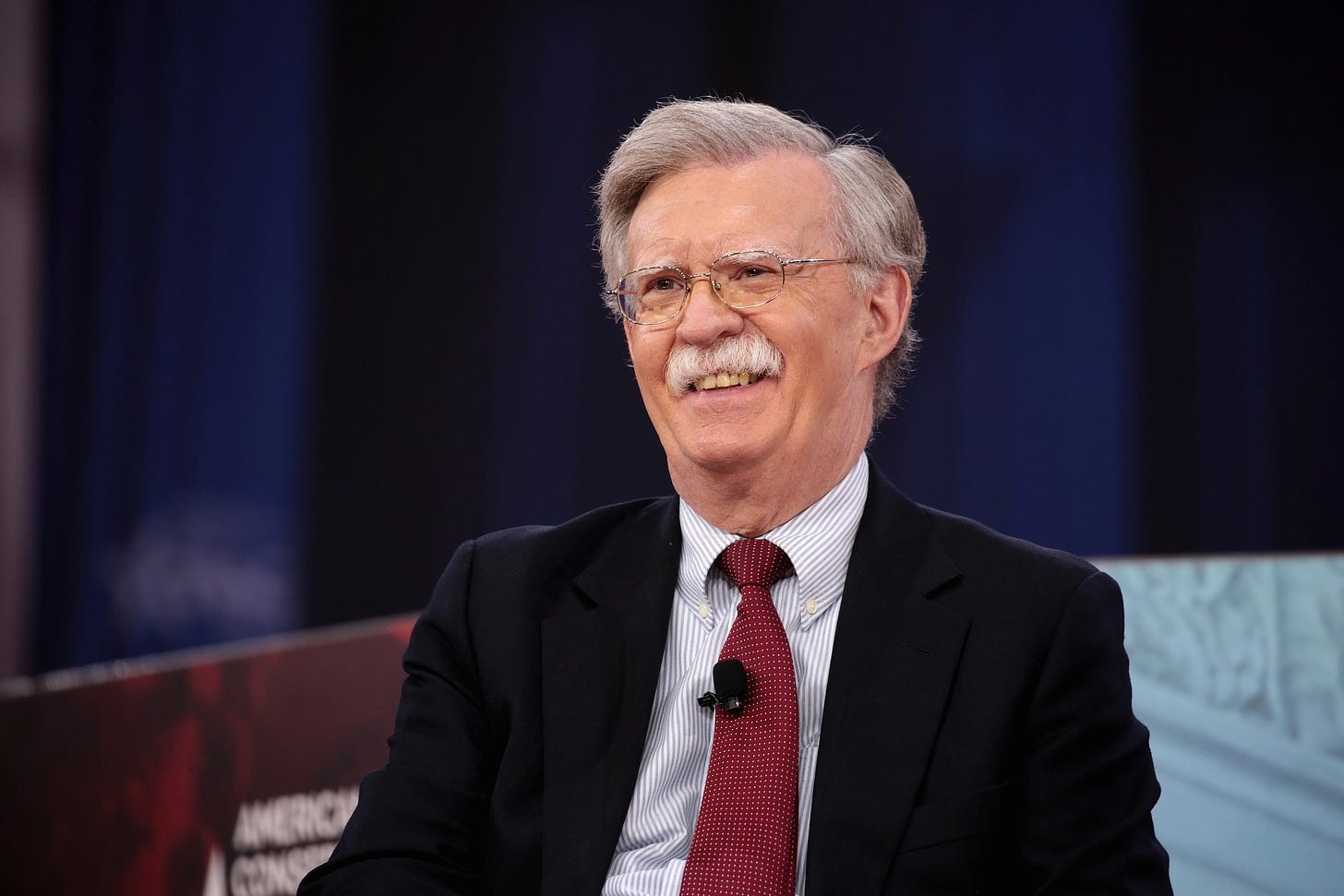 In memoriam (Gage Skidmore via Wikimedia Commons)
THESE DAYS IN HISTORY
September 9, 1493: The Battle of Krbava Field results in an Ottoman victory over a Croatian army led by the Hungarian viceroy, or ban, of Croatia, Emerik Derenčin. The Croatian army was almost entirely wiped out and Derenčin was killed, and while the Ottomans didn't seize any territory immediately they were able to slowly expand into southern Croatia after the battle.
September 9, 1855: The nearly year-long Siege of Sevastopol ends with a Russian withdrawal from the city. The siege is among the most famous in history and the centerpiece of the Crimean War—it's pretty much the reason we call it the "Crimean War," since most of the other fighting took place elsewhere. The Allied capture of the city contributed mightily to Russia's defeat in the war.
September 9, 1948: New premier Kim Il-sung declares the formation of the Democratic People's Republic of Korea. Commemorated annually in North Korea as the "Day of the Foundation of the Republic."
September 10, 1918: The Red Army captures Kazan from the White Army and allied militias during the Russian Civil War.
MIDDLE EAST
SYRIA
Turkish Foreign Minister Mevlüt Çavuşoğlu on Tuesday accused the US of "stalling" on the implementation of a safe zone in northeastern Turkey. Increasingly it seems that Ankara defines anything that isn't total acceptance of its every demand as "stalling" rather than, you know, negotiating. The Turks still want a 30+ kilometer deep territory along the border so that they can resettle hundreds of thousands of Arab Syrian refugees there in order to demographically change the region. They also want to be the lone military power in the zone, which is practically begging for a conflict with the Kurds—which, let's be honest, is probably Ankara's goal here. The US is resisting on both the size and management of the zone, ergo it is "stalling." Çavuşoğlu says Turkey is ready to act alone in northeastern Syria unless the US shapes up. The Pentagon, by contrast, insists that the process of implementing the zone is actually ahead of schedule, particularly in terms of moving Kurdish militia forces and their heavy weapons further south.
On the other side of northern Syria, Turkey is facing pressure from Syrians displaced by the ongoing fighting in Idlib province. Hundreds of thousands of people have moved from the warzone to the Turkish border and are beginning to demand that Ankara allow them to enter the country. Light fighting has continued in southern Idlib though an August 31 ceasefire is largely holding. That said, somebody carried out an airstrike on the Jabal al-Akrad region of Latakia province, near the western edge of the Idlib deescalation zone, on Tuesday. Rebels are accusing the Russians of responsibility, but the Russian military says neither it nor the Syrians did it.
TURKEY
Does Turkish President Recep Tayyip Erdoğan really want nuclear weapons? Probably not. Erdoğan views himself (and Turkey, though in his mind they seem to be indistinguishable) as constantly under threat from an array of international foes, and he may be feeling particularly vulnerable right now given the US decision to lock Turkey out of the F-35 program. So this is just his way of letting everybody know he's there and that he can make trouble for the rest of the world unless his needs are met. It's also good optics for his increasingly ultra-nationalist base to see him demanding something that would in their view raise Turkey's stature in the world.
IRAQ
The US conducted heavy airstrikes on Tuesday on an island in the Tigris River said to be "infested" by the Islamic State. There's no word on casualties but since the island was presumably unoccupied except for IS it would appear the US really let loose. The Pentagon is reportedly concerned that IS, which is already exploiting security gaps that have opened up in Diyala province because of the breakdown in relations between the Iraqi government and the Kurdistan Regional Government, could find more such gaps to fill in other parts of northern Iraq. Baghdad and Irbil are still rebuilding their security ties following the KRG's disastrous 2017 independence bid and its aftermath.
A new poll commissioned by the National Democratic Institute finds that 75 percent of Iraqis say their country is moving in the wrong direction. In a change from previous surveys it seems that security is not the biggest concern for Iraqi citizens. Instead they're focusing more on the economy and government corruption and, well, Baghdad hasn't shown much aptitude for handling either.
ISRAEL-PALESTINE
Benjamin Netanyahu ran into a little hiccup during a campaign stop in Ashdod on Tuesday, when somebody fired rockets from Gaza toward that city and Ashkelon. Netanyahu had to be bundled offstage but was able to return and finish the event. Israel of course retaliated later in the day with strikes against some 15 targets in Gaza. There have been no reports of casualties.
Prior to that dustup, Netanyahu boldly pledged that, if reelected, he will annex the Jordan Valley to Israel in his next term, "in maximum coordination" with Donald Trump. This would put upwards of a third of the West Bank in Israeli hands, including its entire border with Jordan, and would end, presumably for good, any lingering talk of an Israel-Palestine peace deal.
Netanyahu is in high campaign mode and is desperate to appeal to secular right-wing voters who might be thinking about casting their vote for Avigdor Liberman's Yisrael Beiteinu party, which looks like it will once again emerge from next week's election in strong position to play spoiler. He's made splashy annexation promises like this before other elections without following through on them. Still this is an extremely provocative promise to make, to say nothing of the legal or moral implications of taking such a step. Interestingly, it's one the Trump administration didn't immediately ratify, either, with a spokesperson saying that "there is no change in United States policy at this time" with respect to the West Bank. Arab League foreign ministers meeting in Cairo were a little less measured, calling Netanyahu's suggestion an "aggression." Then Trump fired one of Netanyahu's biggest boosters in the administration, John Bolton. More on that later.
SAUDI ARABIA
Turkey's Sabah newspaper has published a transcript of the recording of the last moments of journalist Jamal Khashoggi's life before he was murdered by a Saudi team in Istanbul last October. The effect is prurient but it does allow for the possibility that Khashoggi was killed during what was meant to be an abduction. Of course that doesn't explain why the Saudis sent a wetwork team with a bone saw to Istanbul to carry out an abduction. What's more interesting is that they've published the transcript at all. Sabah is tight with the Turkish government and certainly wouldn't have done something like this without approval. Which means Ankara is still using Khashoggi to tweak the Saudis almost a year after his death.
IRAN
The Trump administration decided on Tuesday to commemorate the 18th anniversary of 9/11 by sanctioning the Islamic Revolutionary Guard Corps and Hamas. Yes, neither of those groups had anything to do with 9/11, but close enough. Figures linked to al-Qaeda and IS also got hit with new sanctions. Elsewhere, the UK foreign ministry summoned the Iranian ambassador on Tuesday over allegations that Iran sold or at least delivered the Adrian Darya-1's oil cargo to Syria. Iran isn't admitting to anything but all available evidence points to that being the case.
There are plenty of people who appreciated the news of Bolton's firing on Tuesday, but the Iranian people may have been near the top of the list. Bolton was easily the member of the administration most dead-set on a US-Iran war—Mike Pompeo is clearly after one as well, but he's unwilling to challenge Trump the way Bolton was and Trump has been looking to engage diplomatically with Tehran of late. Analyst Esfandyar Batmanghelidj argues that Bolton's firing opens up a window to reduce US-Iran tension, since Bolton was the main driver of Trump's "maximum pressure" policy toward Tehran.
It might not be a bad idea for the Iranians to take a step in that direction to see if they can prompt Trump to respond in kind. They still seem resistant to a meeting between Trump and Hassan Rouhani at the United Nations General Assembly, but both Secretary of State Mike Pompeo and Treasury Secretary Steve Mnuchin reiterated Trump's willingness to meet with "no preconditions" at a press briefing on Tuesday. Bolton's removal might make a meeting slightly more likely, but the big question continues to be whether the Iranians will go for it.
ASIA
AFGHANISTAN
There was a rocket explosion at the US embassy in Kabul just after midnight on Wednesday. Nobody was hurt, apparently, but the attack may signal an uptick in violence targeting Americans in the wake of the breakdown of the US-Taliban peace process.
KASHMIR
The AP has uncovered multiple reports of what can only be termed Indian war crimes against Kashmiri civilians:
Dar's account of violence and intimidation by Indian soldiers was not unusual. In more than 50 interviews, residents in a dozen villages in Kashmir told The Associated Press that the military had raided their homes since India's government imposed a security crackdown in the region Aug. 5. They said the soldiers inflicted beatings and electric shocks, forced them to eat dirt or drink filthy water, poisoned their food supplies or killed livestock, and threatened to take away and marry their female relatives. Thousands of young men have been arrested.

Asked by AP to respond to the recent allegations of abuse from the Northern Command, the Indian army's headquarters in Jammu and Kashmir. Its spokesman based in the main city of Srinagar, Col. Rajesh Kalia, dismissed the villagers' accounts as "completely baseless and false," and asserted the Indian army values human rights.
Of course the Indian army alleges that these are all counterterrorism operations, because as the War on Terror has shown you can justify lots of violence, particularly against military aged men, by throwing the t-word around.
INDONESIA
The Indonesian government is accusing Papuan separatist leader Benny Wenda, who lives in the UK under asylum, of fomenting the ongoing unrest in Papua and West Papua provinces. Police have arrested some 85 people since the protests started last month, after reports of Indonesian cops roughing up a group of Papuan students in the city of Surabaya. It's unclear how Wenda could have orchestrated that incident, but Indonesian authorities are sticking with this explanation anyway.
NORTH KOREA
North Korea, another country that's probably pleased to see Bolton go, conducted another short-range weapons test early Tuesday. State media reported that the test involved a the same multiple rocket launcher Pyongyang has tested several times since late July. The system still apparently needs to undergo a "running fire test," whatever that means, before it will be considered fully operational.
SOUTH KOREA
Even as the focus remains on the possibility of diplomacy to ease regional tensions, both North and South Korea are engaged in an increasingly out of control arms race. South Korea's military budget was up seven percent this year at $43.1 billion, and Seoul plans to spend $239 billion between 2020 and 2024. Among the splashy items on South Korea's wish list are an aircraft carrier, missile defense systems, and spy satellites.
OCEANIA
TUVALU
Tuvalu's parliament is about to select a new prime minister, and their choice will impact the ongoing Chinese effort to deprive Taiwan of diplomatic recognition. Incumbent PM Enele Sopoaga favors Taiwan, so if he keeps the job that would seemingly put Tuvalu squarely in Taipei's camp for the foreseeable future. With the Solomon Islands looking very much like they're preparing to cut ties with Taiwan and open them with China, that leaves only 16 countries in the world still recognizing Taiwan diplomatically.
AFRICA
SUDAN
Members of Sudan's transitional government, including Prime Minister Abdalla Hamdok, will be in the South Sudanese capital city of Juba on Thursday for peace talks with several Sudanese rebel factions. The Sudanese officials will be meeting with leaders from the Justice and Equality Movement, one faction of the Sudanese Liberation Army, and both factions of the Sudan People's Liberation Army-North. One of the transitional government's biggest objectives is to end Sudan's multiple insurrections in order to appeal to the US and maybe get itself removed from the State Department's State Sponsors of Terrorism list.
TUNISIA
Al-Monitor has a look at the leading candidates heading into Sunday's Tunisian presidential election:
ALGERIA
Algerian Prime Minister Noureddine Bedoui is reportedly about to resign in order to pave the way for a new general election on the mandate of army boss (and at this point practically the de facto ruler of Algeria) Ahmed Gaed Saleh. Bedoui's resignation has been a major demand of protesters, along with the resignation of interim President Abdelkader Bensalah. But they also want the resignation of the rest of Algeria's ruling elite, a group that includes Saleh. He's not planning to go anywhere, so the trick is to figure out how many resignations will be just enough to get the protesters to back off and allow an election. Hampering Saleh's plan here is the fact that the Algerian opposition Hirak movement doesn't have an organized leadership so there's nobody with which he can directly barter.
NIGERIA
Nigeria's outlawed Shiʿa organization, the Islamic Movement of Nigeria, says that police opened fire on its members commemorating Ashura, which began Monday evening and lasted until sundown Tuesday, in cities across northern Nigeria. The IMN says that at least 12 of its members were killed in total amid several such incidents. Nigerian police are insisting they dispersed Ashura demonstrations "professionally."
CHAD
The Chadian government has extended for another four months the state of emergency it imposed on three provinces last month.
CAMEROON
Cameroonian President Paul Biya said in an address on Tuesday that he wants to start a "national dialogue" aimed at ending the separatist conflict in western Cameroon's anglophone region, which the separatists call "Ambazonia." It was a heavy-handed response by Biya's security forces to protests over discrimination by Cameroon's francophone majority back in 2017 that led to the separatist insurrection. The UN says that some 1800 people have been killed in that conflict since then.
EUROPE
ITALY
Prime Minister Giuseppe Conte's government passed its second and final confidence vote in the Italian Senate on Tuesday, so it can now get down to the business of governing and cultivating the political and/or personal conflicts that will eventually cause its collapse. Best of luck to them.
UNITED KINGDOM
How well is Brexit going today? So well that there's a serious move among a cross-party group of MPs to revive Theresa May's Brexit agreement—yes, the one that parliament voted down three times (in various forms) while May was still prime minister. The plan would be to offer May's agreement in a vote in the last two weeks of October, after parliament returns from the recess into which current PM Boris Johnson has forced it, and to include a second Brexit referendum in the deal in order to win support in the Labour and Liberal Democratic parties. It would be a last-ditch effort to prevent Johnson from enacting a no deal Brexit, which he seems intent on doing even though parliament has already passed a law that technically forced him to seek an extension to Brexit's October 31 deadline.
Johnson, meanwhile, is reportedly considering a step that May ultimately rejected: leaving Northern Ireland in the European Union. Instead of the whole UK remaining in a customs union with the EU, to avoid reimposing a hard Irish border, this plan would shave Northern Ireland off and leave it alone in the customs union, setting up a situation where goods going from Northern Ireland to other parts of the UK would have to go through a customs check as though they were coming in from another country. The idea is anathema to Northern Irish unionists (who still insist that Johnson isn't about to sell them out to Brussels), but maybe not anathema to hardline Brexiters in England. It's unlikely that Johnson would have the votes to pass a plan like this through parliament, but then it seems he's no longer worrying so much about that kind of thing.
AMERICAS
BRAZIL
The people Jair Bolsonaro allowed to wreck the Amazon rainforest are apparently getting upset because it looks like he might not let them do that anymore. A group of miners has blocked a major highway in the Amazon because Bolsonaro's government has done an about face and started going after illegal and environmentally destructive mining operations in the area. The crackdown is undoubtedly the result of the international anger Bolsonaro has faced over the severe damage his policies have done to the rainforest in just his first year in office.
VENEZUELA
In Venezuela, another country happy to see Bolton go, the military conducted exercises along the Colombian border on Tuesday in what it says is preparation for a foreign invasion. There's no sign of a foreign invasion on the horizon but I guess you can't be too prepared. As far as I know the Colombian government hasn't commented on the exercises.
THE BAHAMAS
Donald Trump says he would really like to help Bahamians affected by Hurricane Dorian by making it easier for them to come to the US. You know him, nothing but compassion. But the thing is, Trump says that doing so would let "some very, very bad drug dealers" into the US. So he can't. Bummer! He really wanted to help! Anyway I'm sure it will come as no surprise to learn that Trump is as full of crap on this—according to his own Drug Enforcement Agency—as he is on pretty much everything else. Anyway I'm sure plenty of Bahamians will still be able to come to the US, as long as the massively destructive hurricane that destroyed many of their homes didn't also blow their paperwork away and they're able to get visas and the like.
UNITED STATES
So yeah, John Bolton is gone, after Trump either fired him or he resigned—they're each going with their own story here. Even if he resigned, though, it was because Trump plainly wasn't listening to him anymore. On his way out the door, Bolton had apparently alienated just about everyone else in the White House apart from his own National Security Council staff, along with everybody else in Trump's national security orbit. And, of course, Trump himself, who fancies himself a great dealmaker and hired a guy whose entire career has been devoted to undoing international deals and to substituting violence for diplomacy:
More fundamental to Trump's calculations, however, was his realization that Bolton's determination to wreck deals clashed with Trump's desire to make deals. This has been the case on several fronts. It is true of North Korea, where Bolton's wrecking career began as an undersecretary in the George W. Bush administration, when Bolton boasted of his role in killing the earlier Agreed Framework dealing with the North Korean nuclear program. Trump reportedly had already sidelined Bolton from a further major role in policy toward North Korea. He also partially sidelined him on policy toward Afghanistan, although Bolton may get the last word there in the sense that it now looks, according to the president, that a prospective agreement with the Taliban is dead.
Hilariously, as his relationship with Bolton faltered Trump reportedly reached out to his ex, H.R. McMaster, whom Bolton replaced in March 2018. We've all been there. The botched Afghan peace conference was clearly the last straw, but it also clearly wasn't the only straw—Trump and Bolton disagreed on just about every major foreign policy issue, to the point where stories about Bolton being sidelined and isolated were coming out more and more frequently.
There are questions as to how Bolton's departure will affect Trump's thinking (let's be clear we're using the term "thinking" in a very broad sense here), and the answer is it probably won't. Trump doesn't just move people out, he cuts them off first. He fires them after they've already lost any sway with him. If you want to know what a Bolton-less Trump foreign policy looks like, look up because you've been seeing it for a few months now. Maybe with fewer side trips to Mongolia.
It goes without saying that Bolton's departure is a good thing, just as it also goes without saying that Trump's foreign policy will mostly continue to suck just as every other facet of his administration mostly sucks. I think Jacobin's Branko Marcetic gets the sentiment just right and so I'll leave you with that:
Living through the Trump administration is kind of like coming off a shipwreck in the middle of the ocean. You're still stranded with nowhere to go for thousands of miles, and anything from sharks to the cold to the lack of food and water will kill you, but whenever you can find a solid piece of driftwood to cling to, you'll take it.

All of this is to say that when dealing with an administration whose sole goal seems to be to hasten a global ecological crisis while torturing the people trying to escape it, national security advisor John Bolton's firing — excuse me, resignation — from the Trump White House is a rare bit of good news.