Discover more from Foreign Exchanges
Daily roundups of world news and thoughtful commentary on US foreign policy.
Over 24,000 subscribers
THESE DAYS IN HISTORY
November 8, 960: The Battle of Andrassos
November 8, 2002: The United Nations Security Council unanimously passes Resolution 1441, calling on Iraqi dictator Saddam Hussein to disarm under the terms of previous UN resolutions or face "serious consequences." Funny story: Hussein had already disarmed, but we got to see what the serious consequences were anyway! It all really worked out just swell.
November 9, 1799: In the Coup of 18 Brumaire, Napoleon Bonaparte forces the Directory and its legislature to disband and replaces that government with the French Consulate, with Napoleon himself as First Consul. Napoleon engineered the coup to overthrow the Directory and simultaneously sideline his fellow coup plotters, leaving him as the most powerful man in France.
November 9, 1989: An announcement by the East German government that it would open checkpoints along the Berlin Wall leads a throng of East Berlin residents to the wall to demand immediate access into West Berlin. In the ensuing pandemonium people began chipping pieces off of the wall, and over the next several days/weeks what had been the most in your face symbol of the Cold War was torn down.
November 10, 1444: The Battle of Varna
November 10, 1659: The Maratha leader Shivaji and his outnumbered army defeat the Adilshahi under Afzal Khan at the Battle of Pratapgarh. It was the first major victory Shivaji would win over a Muslim kingdom, but it would definitely not be the last. His kingdom grew rapidly in the wake of the battle and became the nucleus of the Maratha Empire, which subjugated the Mughal Empire in the middle of the 18th century and became India's dominant empire until it was defeated by the British East India Company in the early 19th century.
MIDDLE EAST
SYRIA
According to the Syrian Observatory for Human Rights, Russian airstrikes and Syrian government shelling on the town of Kafr Rumah in Idlib province killed at least seven civilians on Sunday. The New Arab reported that the Syrian military and the Russians conducted some 80 air and artillery strikes in Idlib over the weekend, mostly in the vicinity of Maarrat al-Numan. The capture of Maarrat al-Numan apparently remains high on Damascus's list of priorities even amid the recent escalation of chaos in northeastern Syria.
Speaking of which, at least eight people were killed on Sunday in a car bombing just outside the town of Tel Abyad, which is now in Turkish hands. Turkish officials are blaming the Kurdish YPG militia, though there's been no claim of responsibility and the Islamic State, among other groups, can't be ruled out. At least four Syrian soldiers were killed in a battle with Turkish forces near Ras al-Ayn on Saturday. And there are multiple reports of human rights abuses committed by Turkey's "Syrian National Army" proxies:
Turkey essentially delegated the ground offensive to a proxy force, the Syrian National Army, an umbrella group in northern Syria consisting of an assortment of rebel forces opposed to the government of Syrian President Bashar al-Assad. Many of the group's factions, made up largely of Syrian Arab fighters, had already fought at Turkey's behest in two previous military operations over the past three years.

It is the Syrian National Army that many residents blame for depredations against civilians that have driven thousands out of the area.

A senior officer affiliated with the force acknowledged some human rights violations but said the SDF was exaggerating the abuses.
The Pentagon plans to leave 500-600 US soldiers in eastern Syria long-term, mostly to continue the anti-IS mission while squatting on Syrian oilfields to prevent them from being retaken by Damascus. Which means that Donald Trump green lit all the abuses you read about in that piece up there so that the United States could reduce its occupation force in Syria by maybe half.
YEMEN
The UAE government allowed on Sunday as to how Yemen's Houthis "are a part of Yemeni society and they will have a role in its future," to borrow the words of UAE Minister of State for Foreign Affairs Anwar Gargash. Something has shifted rhetorically in this conflict and it started when the Houthis agreed to stop attacking targets in Saudi Arabia back in September. Since then both the Saudis and Emiratis have been more conciliatory in their discussions of the Yemeni rebels, with some reports even suggesting that the Saudis and Houthis were engaged in "back-channel" negotiations. Even this week's Houthi attack on Mokha doesn't seem to have upset the apple cart too badly. I wouldn't go so far as to say peace is around the corner but these are encouraging signs.
IRAQ
Five Italian soldiers were wounded on Sunday, at least one quite severely, in a bombing near the city of Kirkuk. IS was presumably responsible.
In lieu of dealing with IS, Iraqi security forces spent the weekend preserving Prime Minister Adel Abdul-Mahdi's job by maiming and killing protesters. Iraqi security forces shot and killed at least three people on Sunday in the city of Nasiriyah. In Baghdad, at least 22 protesters were wounded, many by tear gas—which the Iraqis use two ways by firing the canisters directly at people as projectile weapons. Security forces killed at least six people in Baghdad on Saturday, though one person died Sunday of injuries received the day before so that figure could be higher. There are reports of additional deaths across southern Iraq, as police moved to break up protests in Basra and the Iraqi port of Umm Qasr. The deaths appear to reflect a decision by Abdul-Mahdi to take off the proverbial gloves and end these protests no matter what the death toll proves to be. The weekend actions in Baghdad seem to have been aimed at pushing protesters away from the Green Zone and back to their main encampment in Tahrir Square. If security forces now attempt to clear that camp it could be a bloodbath.
LEBANON
Lebanon may be on the verge of a full-on bank panic. Banks have been restricting transfers and withdrawals for several days, ostensibly over concerns about a capital flight. But those restrictions have raised frustrations among people who, you know, want their money, and have begun to raise concerns that maybe the "capital flight" story is a cover story for insolvency. The head of the Association of Banks in Lebanon declared at a press conference on Saturday that "depositors' money is safe" and there's "no need to panic." Historically, these are messages that tend to inflame concerns about bank solvency rather than alleviate them.
JORDAN
The Jordanian government on Sunday opted not to renew Israel's lease over two pieces of land along the border. The 1994 treaty between Israel and Jordan confirmed Amman's sovereignty over Baqura and Ghamr but gave Israel a 25 year lease on the territories, which had been leased by Israeli farmers since the British mandate period. Israeli officials had been hoping to extend that lease, but the Jordanians gave notice last year that they would not be renewed and apparently stuck to that. Israeli farmers in Ghamr will be allowed to harvest this year's crops and Israeli landowners will have their private ownership honored under Jordanian control. But there will now be border controls in both places where there were none previously.
EGYPT
Two members of the Egyptian security forces were killed by a roadside bomb on Saturday in northern Sinai, not far from the border with Gaza. IS was likely responsible.
IRAN
The Iranians are pouring concrete for their second civilian nuclear reactor at Bushehr. Russia is working with Iran to build the facility, under the rubric of the 2015 nuclear deal. The deal lets foreign countries work on nuclear projects with Iran in order to reduce the possibility for weaponization. Iranian President Hassan Rouhani, meanwhile, announced on Sunday that Iranian officials have discovered a new oilfield in Khuzestan province that could contain as much as 53 billion barrels of retrievable oil. If true it would become Iran's second-largest oilfield and would push Iran ahead of Canada as the country with the third largest proven oil reserves in the world.
The United Nations Working Group on Enforced or Involuntary Disappearances says that the Iranian government has an open case file on former FBI agent and CIA contractor Robert Levinson. This is the first evidence that Iranian authorities actually believe Levinson is in their country. Levinson went missing in 2007 on Iran's Kish Island, where he was allegedly investigating a cigarette smuggling ring for a client. He met with a US fugitive named Dawud Salahuddin, who maintains they were both picked up by authorities and that he was subsequently released. The Iranians have consistently maintained that Levinson was never in Iran at all and that they have no idea where he is, but the existence of a legal case against him in the Iranian system certainly suggests otherwise.
ASIA
AFGHANISTAN
The leading challenger to Afghan President Ashraf Ghani is objecting to a proposed recount in the vote tally in Afghanistan's September 28 election. Election officials want to recount votes from 8000 polling places due to observed discrepancies, but challenger Abdullah Abdullah opposes plans to include some 300,000 ballots that have problems related to the biometric screening process used to deter fraud. Officials have already tossed out some one million ballots for biometric issues. Abdullah's objection will delay the vote count even further (results were supposed to be released a couple of weeks ago) and may throw the whole outcome into doubt.
PAKISTAN
At least five Pakiststanis were killed on Sunday when gunmen attacked a police vehicle in Punjab province. It's unclear from the AP report whether these were all police or if civilians are among the dead. No group has claimed responsibility but the vehicle was attacked near the border of Baluchistan province, making Baluch militants a possibility along with Islamist groups like the Pakistani Taliban and IS.
INDIA
The Indian Supreme Court ruled on Saturday that a disputed religious site in the city of Ayodhya, in Uttar Pradesh state, rightly belongs to Hindus. What a stunner. The first Mughal Emperor, Babur, constructed a mosque on the site, but Hindu nationalists maintain that he did so on the site of a former temple to the god Ram. A Hindu mob destroyed the mosque back in 1992, in what proved to be a seminal event in the rise of anti-Muslim right-wing nationalism as the dominant force in Indian politics, and, though it took a while, the court opted to reward their violence in its ruling. The ruling clears the way toward building a new temple on the site and also orders Indian authorities to designate a five acre site nearby for the construction of a new mosque. Whether the latter ever actually comes to fruition very much remains to be seen.
CHINA
A weekend of protests and clashes, amped up by the death of a protester on Friday and the arrests of several pro-democracy politicians on Saturday, has led to calls for a general strike and civil disobedience in Hong Kong on Monday. Some of the weekend protests did turn violent but overall the level of violence was probably less than would have been expected in the wake of Chow Tsz-lok's death on Friday morning from injuries he'd received earlier in the week. There are already reports of serious clashes between protesters and police on Monday but they're preliminary and sketchy. At least two protesters have reportedly been shot by police. More tomorrow.
OCEANIA
MARSHALL ISLANDS
The Los Angeles Times reports on Washington's stunning betrayal, even by normal US standards, of its moral obligations toward the people of the Marshall Islands:
Here in the Marshall Islands, Runit Dome holds more than 3.1 million cubic feet — or 35 Olympic-sized swimming pools — of U.S.-produced radioactive soil and debris, including lethal amounts of plutonium. Nowhere else has the United States saddled another country with so much of its nuclear waste, a product of its Cold War atomic testing program.

Between 1946 and 1958, the United States detonated 67 nuclear bombs on, in and above the Marshall Islands — vaporizing whole islands, carving craters into its shallow lagoons and exiling hundreds of people from their homes.

U.S. authorities later cleaned up contaminated soil on Enewetak Atoll, where the United States not only detonated the bulk of its weapons tests but, as The Times has learned, also conducted a dozen biological weapons tests and dumped 130 tons of soil from an irradiated Nevada testing site. It then deposited the atoll's most lethal debris and soil into the dome.

Now the concrete coffin, which locals call "the Tomb," is at risk of collapsing from rising seas and other effects of climate change. Tides are creeping up its sides, advancing higher every year as distant glaciers melt and ocean waters rise.

Officials in the Marshall Islands have lobbied the U.S. government for help, but American officials have declined, saying the dome is on Marshallese land and therefore the responsibility of the Marshallese government.
It's not enough that the US has done more than any other country to drown the Marshall Islands in rising seas, we can't even be bothered to clean up the toxic mess we left there properly. Sounds like the actions of a rogue state to me.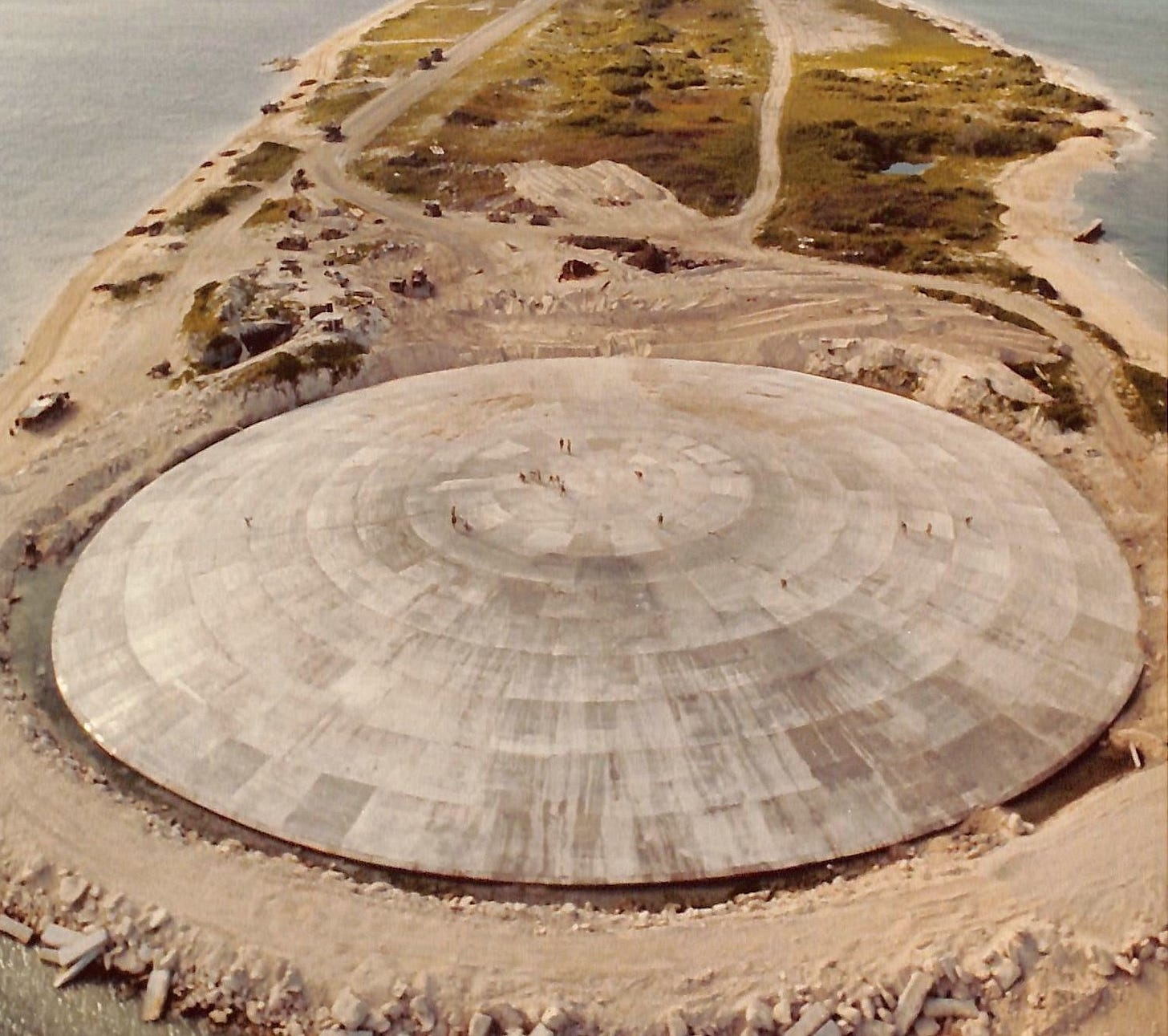 The Runit Dome (Wikimedia Commons)
AFRICA
TUNISIA
The Ennahda Party, which emerged from last month's election as the largest in the Tunisian parliament, has nominated its leader, Rached Ghannouchi, to serve as speaker in the new session. This is probably a sign that the party has reached an agreement with smaller parties to nominate a neutral third party candidate as prime minister, with the speakership serving as a consolation prize. Ennahda's plan to nominate one of its own members as PM was met with almost universal opposition by the parties it needs to form a majority coalition.
RWANDA
Rwandan border guards killed two Ugandan smugglers on Saturday in the latest incident in a long-simmering border dispute between those two countries. Rwanda closed its border with Uganda in February, charging the Ugandan government with aiding insurrection in Rwanda, and with minor exceptions it's remained closed since. That's led to an increase in smuggling.
DEMOCRATIC REPUBLIC OF THE CONGO
Congolese officials say their security forces have killed 25 militants affiliated with the Allied Democratic Forces since beginning a sustained anti-ADF offensive in and around North Kivu province late last month. Seven DRC soldiers have also been killed. Congolese officials also say they've killed the leader of an offshoot of the Democratic Forces for the Liberation of Rwanda (FDLR), a group made up of Hutu génocidaires who fled Rwanda in the 1990s. It's the latest in a series of major blows that the DRC has inflicted on the FDLR.
EUROPE
ROMANIA
It looks like Romanian President Klaus Iohannis has won Sunday's presidential election but will have to face former prime minister Viorica Dăncilă in a runoff on November 24. Results are still being counted but Iohannis is expected to finish with around 35-40 percent of the vote with Dăncilă a distant second at around 20-25 percent. Normally a first round total that low might set off alarm bells for an incumbent, but in this case Dăncilă is so well-known that she's probably not a wild-card threat to take a big chunk of the undecided vote. Romania's presidency is more of the ceremonial variety but it does retain some official powers and a good deal of unofficial influence. Whichever candidate wins, their party should probably be considered the favorite heading into next year's parliamentary election.
SPAIN
Spain's election on Sunday has produced, as nearly everybody expected, a hung parliament. Again. Prime Minister Pedro Sánchez's bet that a snap election would increase his Socialist Party's stature in parliament flopped, as they look to have won 120 seats in the 350 seat legislature, down from the number the party won in April's election. Meanwhile, the far-right Vox party surged, going from 24 seats in April to as many as 52 seats when the dust settles. They'll be the third largest party in the Spanish parliament behind the Socialists and the right-wing People's Party, which looks like it will win 88 seats. The outcome looks like either a Socialist minority government or a coalition led by the Socialists. Which is the same outcome Sánchez faced and rejected after the April vote, except now the Spanish far right is ascendant. Really just a fantastic political calculation on his part.
UNITED KINGDOM
Three new polls released over the weekend show either a static race or a slight Tory gain ahead of the UK's December 12 snap election. The Sunday Times showed the Tories steady at 39 percent with Labour slipping one point to 26 percent. Deltapoll has both the Conservatives and Labor gaining one point, to 41 and 29 percent respectively. And the Independent has the Tories' lead lengthening from 31-26 last month to 37-29 this month.
AMERICAS
CHILE
The New York Times has a video report (can't embed, sorry) on the spate of protesters in Chile who are being blinded by what seems to be a deliberate police tactic of firing nonlethal pellet rounds at people's faces.
BOLIVIA
Bolivian President Evo Morales has resigned in the face of a right-wing military coup. Without getting too deep in the weeds, the main thrust of the story is this. After conducting an audit of Bolivia's October 20 presidential election, which Morales officially won outright, the Organization of American States reported "clear manipulation" in the vote count. How it came to that conclusion is unclear, since independent analysis has found no evidence of irregularities. But the OAS certainly doesn't need an excuse to undermine a leftist Latin American government, especially not one actively opposed by the US government, toward which the OAS has always been highly solicitous.
Whether the OAS was regardless it doesn't matter—Morales promised to abide by the results of the audit, and so he ordered an overhaul of Bolivia's electoral commission and a new election under new management. But his right-wing opposition, unsatisfied with a new election, instead demanded that Morales step down altogether. Then Bolivian police started joining the opposition-organized protests demanding Morales's resignation. Then several of Morales's political allies abandoned him, most citing fear for their own lives and their families, or a feeling that it would be better for Morales to go if that could avoid further violence. Then the commander of the Bolivian army, General Williams Kaliman—the new de facto ruler of Bolivia until somebody says otherwise—suggested it was time for Morales to go, and…well, you don't have to be familiar with the tale of Salvador Allende to see where this was heading. Morales decided that quitting was the lesser evil, and to be fair he is still alive as of this writing. We'll see if that lasts:
We should note—because it's obligatory any time a leftist leader is ousted in a military coup to start with the "to be fair" part—that Morales was no perfect angel. He was constitutionally limited to two terms and he was running for election to what was really his fourth. His first (2006-2009) term doesn't count, though, since a 2009 constitutional revision reset the term limits of every Bolivian politician. So Morales' second term, legally speaking, should have ended this year. Morales held a referendum in 2016 to amend the constitution and allow him to stand for another term. He lost. He then took the case to Bolivia's Supreme Tribunal of Justice, which ruled in 2017 that no Bolivian political office should be subject to term limits because they constitute a human rights violation. It was a debatable ruling, though as these things go it was vastly more defensible than most of the excuses that right-wing leaders all over the world use to justify extending their own authority beyond constitutional limits.
Now, with that out of the way, the root of Bolivia's political crisis, and the crisis that democracy is facing all over the world, is very simple: the right views any exercise of power by a leftist as illegitimate. And when the leftist leader in question happens to be an indigenous person in a settler-colonial country, like Morales in Bolivia, it's even more illegitimate. It doesn't matter how the left gains power, or how it holds on to power. You can run the gamut from the authoritarianism of the Castros in Cuba to a leader like Brazil's Luiz Inácio Lula da Silva, who did everything according to the Rules and left office after two terms, and it doesn't matter—the right will subvert, punish, and do whatever it takes to seize power by any means necessary. The question of whether or not Morales was wrong to pursue another term is irrelevant so long as the right, along with its security state allies and its centrist liberal useful idiots, continues to treat governance as a "heads I win, tails you lose" proposition.
UNITED STATES
Finally, it may surprise you—but I imagine it probably won't—to learn that Bolivia's military coup has a US angle:
The opposition cried foul. Long before the votes were counted, Mesa had already indicated he would not accept the decision of the electoral authorities if Morales were to win. What is more surprising, and disturbing, was the press statement from the OAS the day after the election. It expressed "deep concern and surprise at the drastic and hard-to-explain change in the trend of the preliminary results after the closing of the polls." But it did not present any evidence for its questioning of the election results.

This is an outrage for an electoral observation mission, as anyone familiar with such procedures knows. An official inside this mission—they cannot be named here because they are not authorized to speak for the mission—expressed concern about what this would do to the reputation of the OAS.

Hours before the OAS press statement, and even longer before the votes were counted, Senator Marco Rubio stated falsely, "In #Bolivia all credible indications are Evo Morales failed to secure necessary margin to avoid second round in Presidential election." He also alleged, without evidence, that there was "some concern he will tamper with the results or process to avoid this." Trump administration officials followed with similar statements.

The potentially violence-promoting claims of the OAS, which echo those of Rubio and the Trump administration, have driven much of the media's coverage, and serve as an anchor for those who want to discredit the election.