Discover more from Foreign Exchanges
Daily roundups of world news and thoughtful commentary on US foreign policy.
Over 24,000 subscribers
World update: June 2 2020
Stories from Iran, China, Libya, and more
It's been a little over a week since the last time we did one of these, and a lot has happened in that time. Most of the news has involved a story that to a significant extent lies outside the normal purview of this newsletter, though there are aspects of that story that we will discuss below. This is all to say that, under my usual post-break disclaimer, we will try to stick to things that are happening today (with a few exceptions) rather than attempting to recap everything that's happened since last time. That means there may be stories you'd like to see covered that slip by me. If that's the case, please let me know.
This is the web version of Foreign Exchanges, but did you know you can get it delivered right to your inbox? Sign up today:
---
THESE DAYS IN HISTORY
June 2, 1098: The army of the First Crusade captures Antioch after an extended siege. They were subsequently besieged themselves by a Muslim relief army.
June 2, 1896: Italian inventor Guglielmo Marconi files a British patent application for his radio telegraphy device, titled "Improvements in Transmitting Electrical impulses and Signals, and in Apparatus therefor." When it was awarded the following year it became the first patent awarded for a communications system utilizing radio waves.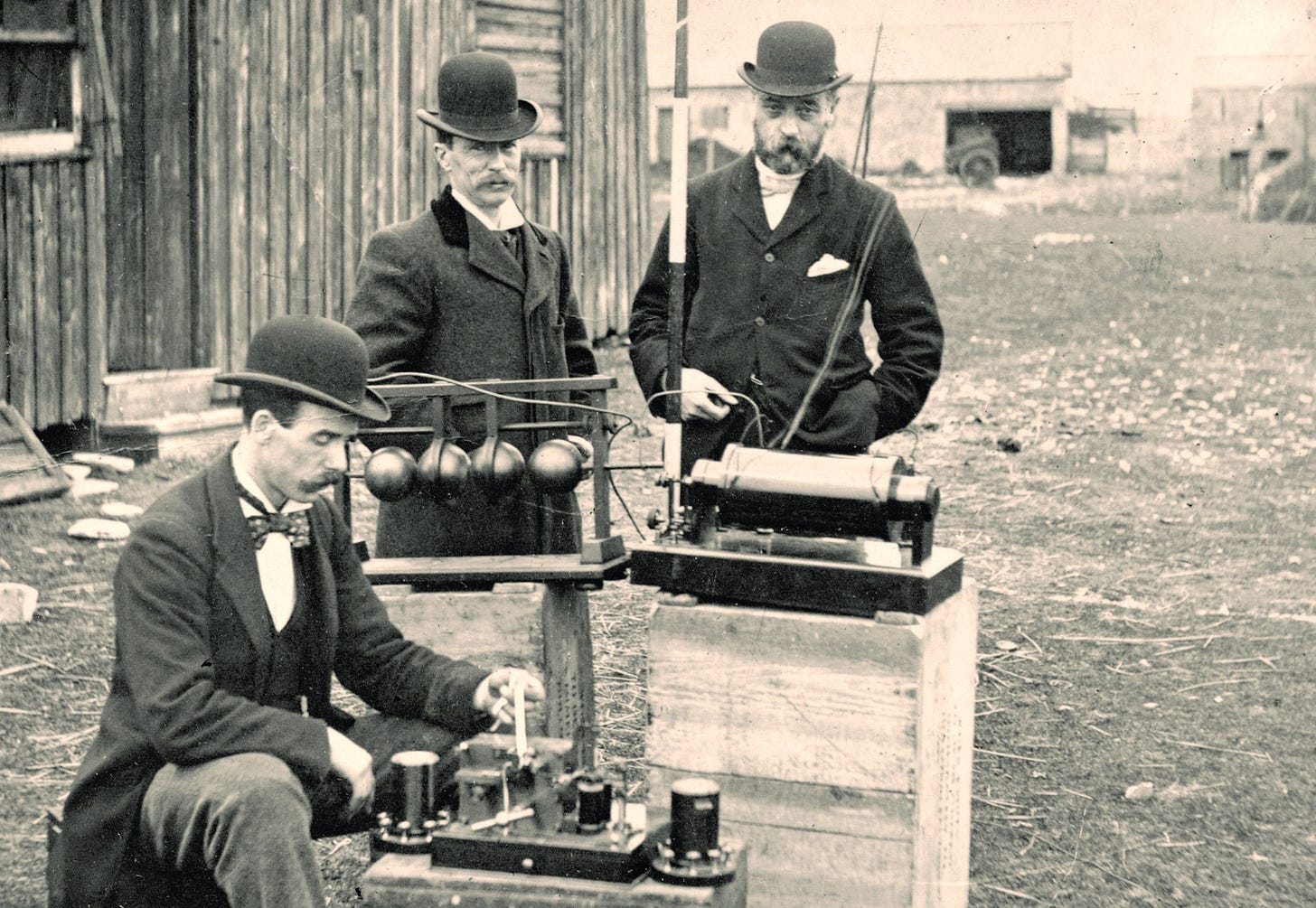 British engineers inspecting Marconi's device (Cardiff Council Flat Holm Project via Wikimedia Commons)
June 2, 1946: In a national referendum following World War II, the Italian people vote by roughly 54 percent to 46 percent to abolish their monarchy and adopt a republican form of government. This date is annually commemorated as "Festa della Repubblica," Italy's national day.
INTERNATIONAL
Worldometer's coronavirus figures for June 2:
6,479,177 confirmed coronavirus cases worldwide (+115,981 since yesterday)

3,089,737 active cases

381,859 reported fatalities (+4669 since yesterday)
In today's global news:
While we were apart, Donald Trump very anticlimactically announced that he's withdrawing the United States from the World Health Organization permanently (or at least until a future president reverses course). Trump blames the WHO for being overly solicitous toward China during the early stages of the pandemic, mostly because he's trying to escape blame for mishandling the US response. His decision leaves the agency with a $450 million annual hole in its budget, plus the tens of millions of dollars the US already owes that presumably Trump won't pay, given his lifelong habit of not paying his bills. That may not be an issue for now as the Chinese government has pledged additional support for the next two years, and technically the withdrawal process takes a year so this whole thing could be undone pretty easily should Trump lose in November.

According to the AP, recordings of internal WHO meetings held in January show that even as its leadership was praising China's response to the coronavirus in public, privately its personnel were frustrated over Beijing's lack of candor. In particular, they were angry over the Chinese government's refusal to release the virus's genome and to provide comprehensive information on cases. The AP's reporting seems consistent with the argument that the WHO's public plaudits for the Chinese government were a deliberate, political choice to butter Beijing up and coax it to be more cooperative. Which is the problem with expecting a deliberately depowered non-governmental agency to lead the global response to a crisis like the pandemic. The WHO has no choice but to defer to powerful governments like China's, because it lacks the tools to do anything else.

As abruptly as he announced a couple of weeks ago that he'd like to hold an in-person G7 summit at Camp David, Trump un-announced it last week. It would appear that a lukewarm response from German Chancellor Angela Merkel, part of a fairly rough phone conversation between the two, triggered the disinvitation. Now Trump says he wants to host an "expanded" G7 meeting that includes Australia, India, Russia, and South Korea in addition to the seven members, for the purposes of negotiating "an alliance against China." There are a couple of issues here. For one thing it's not clear that most of the other G7 states, plus at least a couple of these other countries, actually want to create an alliance against China or even be seen discussing it. For another thing, the G7 used to be the G8 until 2014, when the other members booted Russia out because of its annexation of Crimea. There doesn't seem to be much appetite for inviting Moscow back even in an auxiliary capacity. Even the Russians seem wary about the idea, perhaps because of the anti-China sentiment behind it.
MIDDLE EAST
YEMEN
399 confirmed coronavirus cases (+45)

87 reported fatalities (+3)
Gunmen killed a photo and video journalist in Aden on Tuesday in what appears to have been a deliberate murder rather than an indiscriminate terror attack. No group has claimed responsibility and there's no indication why the reporter was targeted.
Saudi officials held a virtual donors' summit on Tuesday in an effort to raise the $2.4 billion the United Nations says it needs to continue aid work in Yemen. It raised around $1.35 billion. The UN's humanitarian coordinator for Yemen, Lise Grande, had previously warned of "catastrophic cutbacks" unless the fundraising brought in at least $1.6 billion. Yemen's anti-pandemic effort may be one area hit hard by the shortfall.
LEBANON
1242 confirmed cases (+9)

27 reported fatalities (unchanged)
Israeli tanks on exercises reportedly crossed on Tuesday into a demilitarized zone along the Israel-Lebanon border that has been in place since 2006. This was a deliberate "show of force" by the Israelis (it's not the first time they've done this) and in response it drew a similar show from the Lebanese military that fortunately didn't escalate beyond that. UN peacekeepers also scrambled to the scene.
ISRAEL-PALESTINE
17,285 confirmed cases (+116) in Israel, 451 confirmed cases (+2) in Palestine

290 reported fatalities (+5) in Israel, 3 reported fatalities (unchanged) in Palestine
Israeli Prime Minister Benjamin Netanyahu met with settler leaders on Tuesday and suggested that US "enthusiasm" for Israeli plans to annex large chunks of the West Bank has waned, and therefore that the scope of the annexation may not be as grand as once envisioned. Settler groups have in general been cool to the Kushner Accords for being too restrictive, if you can believe that, about Israeli annexation of the West Bank. They oppose even the rump Palestinian pseudo-state that might conceivably come into existence under Kushner's proposal.
Mirroring to some extent the protests that are happening in the US, demonstrators in East Jerusalem have taken to the streets to denounce the killing of an autistic Palestinian man by Israeli police over the weekend:
EGYPT
27,536 confirmed cases (+1152)

1052 reported fatalities (+47)
The US military says it's not being given enough access to how the Egyptian government is using US weapons in Sinai, and therefore it cannot assess questions around possible human rights violations by Egyptian security forces. The Egyptian government has limited access to international monitors and even journalists, amid allegations that its forces have engaged in extrajudicial executions and other potential war crimes.
IRAN
157,562 confirmed cases (+3117)

7942 reported fatalities (+64)
The US government has deported Iranian scientist Sirous Asgari, who was acquitted last year on charges of theft of trade secrets and whose deportation has been delayed by the pandemic. Asgari's release may be part of a prisoner exchange, perhaps for US Navy veteran Michael White, but it remains to be seen. Both Asgari and White contracted the coronavirus in custody and White was recently given a medical furlough by Iranian authorities.
Also while we were away, the Trump administration put a stake through one of the last parts of the 2015 Iran nuclear deal that was still working, revoking sanctions waivers on several projects related to the civilian Iranian nuclear program. Included among these is a project to convert a planned heavy-water reactor at Arak to a design that doesn't produce substantial amounts of weaponizable plutonium waste material as well as a program whereby Russia provides 20 percent enriched uranium fuel for the Tehran Research Reactor and ships the spent fuel from that reactor out of the country. If you assume that the Trump administration's goal is to prevent Iran from obtaining a nuclear weapon someday, then this decision runs entirely counter to that aim:
But with this move the Trump administration has scored a massive own goal, because the United States clearly benefits from the nonproliferation value of these projects. In October 2019 when he renewed the waiver, Pompeo himself said that these projects "help preserve oversight of Iran's civil nuclear program, reduce proliferation risks, constrain Iran's ability to shorten its "breakout time" to a nuclear weapon, and prevent the regime from reconstituting sites for proliferation-sensitive purposes."

Yet just months later, Pompeo now says he "cannot justify renewing the waiver" for these nuclear activities given that the "Iranian regime has continued its nuclear brinkmanship by expanding proliferation sensitive activities." It is unclear exactly what Pompeo is referring to, as Iran has not taken any new steps to breach the deal since the waivers were extended two months ago. While Iran's stockpile of low-enriched uranium has likely increased, it does not pose a near-term risk.

Even more importantly, the nonproliferation value of the projects in question has not changed. Continuing them does not increase the risk posed by Iran's nuclear program. On the contrary, activities covered by the waivers removes justifications to enrich uranium to higher levels and keeps the plutonium pathway to the bomb off the table — two things that any administration genuinely concerned about nonproliferation should care about.
If, on the other hand, you assume that the goal is to destroy the last vestiges of the nuclear deal before a Biden administration can rejoin it, then it makes perfect sense.
ASIA
AFGHANISTAN
16,509 confirmed cases (+759)

270 reported fatalities (+5)
A suicide bomber killed at least two people at the Wazir Akber Khan Mosque in Kabul's protected "Green Zone" area on Tuesday. No group has claimed responsibility but the Islamic State has been active in Kabul of late. Elsewhere, at least seven people were killed by a roadside bomb in Kunduz province late Monday.
A new UN report says that the Taliban has maintained ties with al-Qaeda, even though it promised not to do that in its February de-escalation agreement with the United States. US Afghan envoy Zalmay Khalilzad contends that the Taliban is divesting itself of its al-Qaeda links but that it will take time—the report, on the other hand, has Taliban leaders promising to maintain their links to the terrorist organization. The UN monitors who compiled the report suggest that breaking ties with al-Qaeda could cause a split within the Taliban.
If the Taliban were suffering from internal discord over that February agreement with the US, then any other significant internal upheavals could seriously impact its cohesion. For example, say hypothetically that Taliban leader Mullah Haibatullah Akhunzada were seriously ill with COVID-19, or maybe even died from it. Well, as it happens, the Taliban has confirmed that Akhunzada did contract the virus. It claims he's recovering, but there are unconfirmed reports out there that he, you know, isn't. Several other senior Taliban figures have reportedly contracted the virus, leaving the organization in flux at a pretty tumultuous time. If Akhunzada dies, or has died, it not only would leave the possibility of talks with the Afghan government up in the air, it could lead to a strengthening of hardline elements within the organization. Sirajuddin Haqqani, of the infamous Haqqani Network, is the Taliban's deputy leader. He's probably less amenable to severing ties with al-Qaeda than Akhunzada is. Or was?
INDONESIA
27,549 confirmed cases (+609)

1663 reported fatalities (+22)
Due to coronavirus concerns, the Indonesian government is preventing its citizens from attending this year's Hajj, which will begin in late July. The decision affects as many as 221,000 Indonesians, as that was Indonesia's quota for this year's pilgrimage. So far, authorities in Saudi Arabia have resisted canceling the Hajj altogether, presumably fearing the criticism that might ensue if they did. But now that the country with the largest pilgrim quota has taken this step it might lead other predominantly Muslim countries to follow suit.
PHILIPPINES
18,997 confirmed cases (+359)

966 reported fatalities (+6)
The Philippine government has apparently rethought its decision to terminate its Visiting Forces Agreement with the United States, which was supposed to take effect in August. Philippine President Rodrigo Duterte announced an end to the VFA earlier this year due to a diplomatic argument with the State Department. It's unclear why he's reversed himself.
CHINA
83,021 confirmed cases (+4) on the mainland, 1094 confirmed cases (+6) in Hong Kong

4634 reported fatalities (unchanged) on the mainland, 4 reported fatalities (unchanged) in Hong Kong
While we were gone, Secretary of State Mike Pompeo opted not to certify Hong Kong's continued autonomy to Congress. His decision triggered the potential revocation of that region's special trade relationship with the United States under the terms of the Hong Kong Human Rights and Democracy Act, which Congress passed last year. He did so in advance of the Chinese government's decision to impose a new national security law on the region that critics charge will in fact substantially reduce Hong Kong's autonomy from Beijing. Donald Trump suggested Friday that his administration will begin responding to the new security law, though he was predictably vague on the details.
It's unclear how far Trump plans to go, but the administration can operate on two tracks. On the first track, it can revoke that trade relationship, which would mean that the US would officially no longer regard Hong Kong as separate from China for commercial or diplomatic purposes. This could have huge economic impacts, since among other things it would end all preferential customs treatment for Hong Kong and would make it impossible, or at least much more difficult, for US firms to use Hong Kong as an easy entree into China and for Chinese firms to use Hong Kong as an easy way to access the US market. It could also make it much harder for Hong Kong residents to obtain visas to come to the US to study or work. The second track is sanctions, either against the Chinese government or targeted at specific Chinese officials involved in Hong Kong policy. These would likely be less impactful, though of course without specifics it's hard to say for sure.
NORTH KOREA
The North Korean government says it's easing lockdown measures by reopening schools and its major border crossings with China. Pyongyang credits an early and very strict lockdown with keeping the country entirely free from the coronavirus, and while very few people outside of North Korea believe that it actually has avoided the pandemic, the decision to reopen schools suggests that whatever outbreak the country did experience is slowing down. Even if you believe that North Korea really has been virus-free, it's still suffered economically from the global shutdown and especially from a reduction in trade with China.
SOUTH KOREA
11,541 confirmed cases (+38)

272 reported fatalities (+1)
According to the Pentagon, the US and South Korea have reached a very temporary agreement under which Seoul will pay $200 million to cover the compensation for some 4000 South Korean workers who were furloughed earlier this year. Those workers are auxiliary personnel attached to the US military deployment in South Korea, and their furlough was due to the failure of Washington and Seoul to agree on a cost-sharing arrangement regarding that deployment. They still have not come to an agreement on that bigger issue, and this $200 million is meant only to pay for those workers through the end of the year.
AFRICA
LIBYA
182 confirmed cases (+14)

5 reported fatalities (unchanged)
The United Nations believes a new push toward Libyan peace talks will "get moving in the next few days," after both the Government of National Accord and the eastern Libyan government under warlord Khalifa Haftar agreed to get back to the negotiating table. Or at least the virtual negotiating table, under the circumstances. Haftar's "Libyan National Army" has been losing ground in its offensive to capture Tripoli and eliminate the GNA, though it claimed Monday to have retaken a town south of the Libyan capital and that may have helped stabilize the conflict's new front line.
The war in Libya is rapidly becoming a proxy for a much larger regional conflict, pitting Turkey (allied with the GNA) against Egypt, the United Arab Emirates, and Russia, along with Greece and France (allied with Haftar, or at least against Turkey). A new report from Airwars and the New American Foundation shows that civilian casualties have spiked considerably since Haftar began moving against Tripoli last April. The report estimates that some 60 percent of all civilian deaths incurred during the Libyan war have been incurred just since that offensive began.
DEMOCRATIC REPUBLIC OF THE CONGO
3326 confirmed cases (+131)

72 reported fatalities (unchanged)
The World Health Organization has declared a new Ebola outbreak in the northern DRC, its second active Ebola outbreak alongside the lingering one in the eastern DRC, and of course there's also the coronavirus outbreak on top of those. Congolese officials have confirmed six cases of the disease near the city of Mbandaka, including four deaths. All four died a couple of weeks ago but their infections were only just confirmed, meaning the outbreak could be more advanced than those figures indicate.
ZIMBABWE
206 confirmed cases (+3)

4 reported fatalities (unchanged)
The Zimbabwean government summoned US ambassador Brian Nichols on Monday to answer for a remark by National Security Advisor Robert O'Brien over the weekend. Appearing on ABC's This Week on Sunday, O'Brien mentioned Zimbabwe alongside China, Iran, and Russia as one of "our foreign adversaries" who might try to exploit ongoing protests in the US or the police response to those protests. I have absolutely no idea why he would have mentioned Zimbabwe and there's no explanation apparent in the interview. The US government has been critical of Zimbabwe on human rights grounds, but the country doesn't normally make any lists of America's leading "adversaries."
EUROPE
RUSSIA
423,741 confirmed cases (+8863)

5037 reported fatalities (+182)
Russian President Vladimir Putin on Tuesday approved a new strategic deterrent policy that authorizes the use of nuclear weapons in retaliation for particularly threatening non-nuclear attacks. This is not a change in Russian policy so much as a clarification, since it fleshes out the kind of situation under which a nuclear response would be warranted. It's presumably meant as a threat toward the United States, since for the moment at least it's hard to imagine another country even considering an attack against Russia of any kind.
UNITED KINGDOM
277,985 confirmed cases (+1653)

39,369 reported fatalities (+324)
The Northern Ireland regional assembly somewhat unexpectedly voted Tuesday to delay Britain's departure from the European Union. The impetus seems to have been the likelihood of a "no-deal Brexit" and concerns that such a scenario could overwhelm public institutions already straining to deal with the pandemic. The vote is of course not binding on the UK government, and Prime Minister Boris Johnson has already firmly rejected the idea of requesting an extension. But it could put some additional pressure on Johnson as his negotiations over a trade deal with the EU continue.
AMERICAS
BOLIVIA
10,531 confirmed cases (+549)

343 reported fatalities (+30)
Bolivian elections officials say they've reached agreement with the country's major political parties to hold a general election no later than September 6. That vote has been long overdue since the coup that ousted former president Evo Morales late last year. It's been delayed in part because the junta that replaced Morales has been dragging its feet and using the pandemic as a justification.
VENEZUELA
1819 confirmed cases (+157)

18 reported fatalities (+1)
The head of Venezuela's central bank, Calixto Ortega, said last week that the country has reached agreement with the UN allowing it to use gold reserves deposited with the Bank of England to purchase food and medical supplies. The money would go directly to the UN Development Program, meaning the bank would not have to disburse it to the Maduro government, whose legitimacy the UK does not recognize.
Additionally, the Maduro government has reportedly reached agreement with opposition parties in Venezuela's National Assembly to make a joint appeal to the World Health Organization for funding to combat the pandemic. Venezuela's official outbreak has not been as severe as in other South American countries, but that may be due in large measure to a lack of resources for testing. The WHO appeal will cover funding for enhanced testing, protective gear for health workers, and potential treatments.
UNITED STATES
1,881,205 confirmed cases (+21,882)

108,059 reported fatalities (+1134)
I feel there's little I can add beyond exasperation at what remains an all-too familiar story in the United States. Police have killed an unarmed African-American man—in this case George Floyd of Minneapolis—with video that proves there was no justification for their actions. That killing has spawned protests against systemic racism and police brutality in which those same police have been deployed to "keep the peace" even though they would be more properly considered counter-protesters. Some of those protests have turned violent. The majority have not. But in cities across the country, police actions have not "kept the peace," but have in fact escalated the violence.
The tactics being used by American police officers—mass arrests, tear gas, rubber bullets, intentional attacks on peaceful demonstrators and journalists—are ones that should be familiar to readers of this newsletter because they're the tactics employed by security forces all over the world in response to insurrection. That this uprising involves a direct challenge to police power and police brutality has added to the tension and seems to have put many cops on edge at a time when their goal should be deescalation, not escalation. That it comes after an untold number of similar incidents in which police officers have been exonerated in cases of seemingly obvious abuses of power has left those police forces with an apparent sense of almost total impunity.
Many things are heightening this round of protests. There's the fact that we've seen this scenario so many times already and people are fed up. There's the tension that was already there over the pandemic and the economic pressures it's created. And there's the president of the United States, who seems incapable of doing anything other than pouring gasoline on what is already a bonfire. The militarization of American law enforcement, already a massive problem, has been taken to the extreme under a leader who thinks nothing of brutalizing a crowd of protesters so that he can be filmed walking across the street to wave, as Alan Levinovitz put it, "an upside-down Bible in front of a church he rarely attends and whose leaders and congregation work against the policies he trumpets."
Donald Trump has threatened to use the US military to put down US protests, whether local and state leaders like it or not. His secretary of defense has spoken of a need to "dominate the battlespace" in reference to something that is not a battle and that involves civilian demonstrators, not a hostile enemy. That military is reportedly "monitoring" protests in multiple states, though as yet it's not entirely clear what that means.
To try to bring this back to the general thrust of Foreign Exchanges, these protests do reverberate around the world. They give rise, for example, to justifiable (albeit often absurd) claims of hypocrisy. Already the Hong Kong government has noted a double standard in how the United States handles its own protesters and how it expects other governments to handle theirs. Whether or not you agree with that accusation, the mere fact that it can be made has an impact. So does the Turkish government's denouncement of the treatment of journalists amid these protests, even though the Turkish government has perhaps the world's worst record when it comes to press freedoms.
In many more countries, the images of angry protesters in the streets and angry cops gassing (and in some cases killing them) give rise to other responses, including sympathy and fear. The United States remains the most militarily powerful and therefore most dangerous country on the planet, and it appears at the moment to be coming apart at the seams, with a leader who seems to revel in the discord. It is unsurprising that the rest of the world is watching that happen with bated breath.