World update: July 18 2019
Stories from Yemen, Azerbaijan, and more
THESE DAYS IN HISTORY
July 17, 1203: The armies of the Fourth Crusade take a step closer to seizing Constantinople by ousting Byzantine Emperor Alexei III Angelos. The Crusaders intended to replace Alexei III with his nephew, Alexei IV, who was the son of the previous emperor Isaac II and had promised considerable rewards if the Crusaders helped him take the throne from his usurper uncle. But the people of Constantinople thwarted this plan by reinstalling the blinded Isaac II as emperor, with Alexei IV as co-emperor. When it became apparent that Alexei IV had overpromised and Isaac had no intention of fulfilling his pledges, the Crusaders turned hostile.
July 17, 1968: In a bloodless coup sometimes called the "17 July Revolution," the Iraqi Baath Party ousts President Abdul Rahman Arif and takes power under its leader, Ahmed Hassan al-Bakr. To this day the circumstances surrounding the coup remain murky, but the result is not—the Baathists controlled Iraq until the US invasion in 2003 ousted them. Bakr himself hung around until 1979, all the while slowly losing authority to his deputy, Saddam Hussein, until Hussein forced him out and assumed the presidency himself.
July 17, 1976: Indonesia annexes East Timor. The region would remain in an almost constant state of violent rebellion, at a cost of tens of thousands of people killed, until regaining its independence in 2002.
July 18, 1195: The Battle of Alarcos
July 18, 1290: English King Edward I (or Edward "Longshanks") issues his Edict of Expulsion, forcing an estimated 16,000 Jews out of England. This was the culmination of at least two centuries of rising anti-semitism in the kingdom. The ban lasted until Oliver Cromwell lifted it in 1657.
July 18, 1925: Adolf Hitler publishes Mein Kampf, which showed that in some ways not very much had changed over the previous 635 years.
MIDDLE EAST
SYRIA
The Russian government insists that, contrary to reports coming from Syrian rebel groups, it has not engaged ground forces in northwestern Syria. So make of that what you will.
One country that has definitely expressed an interest in engaging more of its ground forces in Syria is Turkey. Specifically, the Turks keep intimating that they're about to invade northeastern Syria to take on the Kurdish YPG militia. There are once again signs that Ankara is massing military forces along the Syrian border, possibly in advance of such an invasion. But Turkey has done this before only to back down. At this point Ankara's decision may hinge on what happens in the ongoing S-400 saga. If the US heavily sanctions Turkey over its purchase of the Russian air defense system, the Turks may decide they have nothing to lose by attacking the Kurds even over US objections. The Turks may also feel pressure to attack before the Trump administration manages to cobble together some kind of international peacekeeping force for the region, though the prospects for something like that still don't look very strong. And there's always the political angle to consider—President Recep Tayyip Erdoğan is listing a bit after losing the Istanbul mayoral election (twice), and he may decide that an invasion of Syria would be good for his approval rating.
YEMEN
Whenever they take international criticism over their catastrophically destructive war in Yemen, Saudi Arabia and the United Arab Emirates invariably point out that they are the largest contributors of humanitarian aid to Yemen to try to mitigate the harms the war has wrought. Well, here's the thing: they've pledged hundreds of millions of dollars in aid, but the United Nations now says they've only actually fulfilled a "modest proportion" of those pledges. The Saudis have forked over less than $122 million of a $750 million pledge they made back in February, while the Emiratis have come up with around $195 million of their own $750 million pledge. Better start checking the couch cushions around your various royal palaces, folks. The United States has put almost $289 million toward Yemeni aid, though that's only a fraction of what our defense contractors have made arming the Saudis and the UAE.
TURKEY
Speaking of the S-400 saga, Donald Trump says the US is "not looking" at sanctioning Turkey "right now" over the issue. Which is weird, because the Countering America's Adversaries Through Sanctions Act doesn't leave a lot of wiggle room here. Even if Trump has the authority to waive CAATSA sanctions—and I've seen conflicting views on this question—he still has to actually waive them, he can't just do nothing. Or maybe he can, I mean it's not like anybody's eager to hold him accountable over it (or anything else, for that matter).
Some damage has already been done via Turkey's ouster from the F-35 program. No, Turkey's air force may not actually miss the troubled F-35, but Turkish defense firms stand to lose about $9 billion in total now that they're no longer involved in manufacturing the aircraft. They're also presumably out of the loop now in terms of whatever boondoggle/project follows the F-35.
IRAQ
The Treasury Department on Thursday sanctioned four Iraqis over alleged human rights violations and corruption. The four men include two militia commanders and two former provincial governors. One, former Nineveh governor Nawfal Hammadi al-Sultan, is also wanted by Iraqi authorities for negligence in connection with a ferry accident in Mosul earlier this year.
ISRAEL-PALESTINE
The Israeli government is planning to demolish the Palestinian village of Sur Baher, which sits on the "outskirts" of East Jerusalem and in places lies inside Israel's West Bank wall. Palestinian leaders argue that they should control the area where the village sits but the Israelis disagree and they win all tiebreakers in these sorts of cases. The case doesn't involve a large number of structures and only a few Palestinians will be displaced, but it carries deeper ramifications about the status of East Jerusalem and Palestinian rights in the West Bank.
EGYPT
A suicide bomber attacked a security checkpoint in northern Sinai on Thursday, killing one member of the Egyptian security forces and one civilian.
SAUDI ARABIA
The Saudis, while condemning the ethnic cleansing/genocide that caused them to flee Myanmar in the first place, have apparently been quietly booting Rohingya refugees out of the country in order to create more jobs for Saudi nationals:
For more than half a year, Saudi Arabia has been deporting large numbers of Rohingya who arrived in the kingdom either on pilgrimage visas or using false travel documents, often the only way they were able to leave either Myanmar or Bangladesh.

The expulsions of Rohingya as well as hundreds of thousands of other foreign workers coupled with the introduction of fees on their dependents and restrictions on the sectors in which they can be employed are part of crown prince Mohammed bin Salman's efforts to reform the kingdom's oil-dependent economy and increase job opportunities.

The success of Prince Mohammed's reforms rests to a large extent on his ability to reduce an overall 12.7 percent unemployment rate that jumps to 25.8 percent among its youth, who account for more than half of the population.

Threatening up to 250,000 Rohingya believed to be residing in Saudi Arabia, the expulsions contrast starkly with condemnations by the kingdom as well as the Jeddah-based Organization of Islamic Cooperation (OIC) of Myanmar's persecution of the Rohingya.
As Dorsey notes in that piece, this and the Saudis' craven non-response to China's Uyghur internment program make it clear that if there's a choice between the Saudi economy and the kingdom's pretense to leadership of the Islamic world, the Saudis will go with the former every time.
IRAN
How are we inching our way toward a war in the Persian Gulf today? By shooting down an Iranian drone, thanks for asking. The aircraft reportedly "approached" the USS Boxer amphibious assault ship in the Strait of Hormuz and ignored "multiple calls" to stand down before the vessel fired upon it. At this point there's no explanation as to what the drone was doing and it's not known if it was armed. For their part, the Iranians say they have "no information" about a downed drone.
Prior to the drone incident we were edging closer to war via the now-confirmed Iranian seizure of the MT Riah, a Panamanian-flagged ship owned by a tanker company based in Dubai. Apparently when the Iranians said earlier this week that they'd come to the ship's aid after it had broken down in the Strait of Hormuz that wasn't entirely accurate. They now say they seized the ship over suspicions that it was smuggling Iranian oil, though they're still saying that they responded initially to a "distress call" from the vessel before deciding to detain it. There is apparently some evidence from the MT Riah's recent maneuvers to suggest that it could have been receiving illicit oil transfers at sea, but nothing by way of confirmation.
The Trump administration is demanding that Iran release the ship, but as they presumably seized it (smuggling accusations aside) as a tit-for-tat response to the seizure of their tanker, the Grace 1, in Gibraltar earlier this month, they'll likely only release it once that ship has also been released. Negotiations on that are apparently underway.
We're also raising tensions via sanctions, of course, and on Thursday the Trump administration levied some more of those against firms ("front companies" according to the Treasury Department, which didn't offer any evidence that they were anything other than legitimate enterprises) involved in Iran's acquisition of centrifuge technology for uranium enrichment purposes. It would be helpful to note here that enriching uranium is not in itself an illicit or illegal activity, despite the administration's attempts to portray it as such (at least when Iran does it). It adds to the proliferation risk, but if the program is closely monitored, as it is/was under the 2015 nuclear accord that Trump set on fire last year, then the risk isn't terribly great. Apart from that there's nothing in international law prohibiting or even particularly discouraging a country from enriching uranium for its own civilian use. It would be nice if no country enriched uranium (international consortiums can do that work efficiently and without the proliferation risk) but plenty of them do.
On the other side of the coin, POLITICO reported on Wednesday that Trump has tapped Kentucky Senator Rand Paul to be his "emissary to Iran." Originally that story referred to Paul as Trump's "secret backchannel" to Iran but I guess it's not a secret anymore! Whoops! Paul, who for whatever else you want to say about him has been firm in his opposition to a hypothetical war with Iran and probably isn't a bad choice for this role, apparently approached Trump about the idea of reaching out to Iranian Foreign Minister Mohammad Javad Zarif over golf. If I had to guess I'd say the information was leaked to POLITICO by somebody inside the administration eager for a war with Iran, perhaps an older gentleman with a really stupid looking mustache and an obsession with starting wars in which he doesn't have to fight. I don't know who that might be, but he presumably figured that making it public would undermine the effort. He may be right, but the fact that Trump was interested in the idea suggests once again that, somewhere in the back of his prion-riddled brain, he really does want to try to avoid a conflict.
Zarif, while dismissing the Paul gambit, extended what he called a "substantial" offer to the Trump administration on Thursday, one that would involve Iran permanently accepting enhanced nuclear inspections under the International Atomic Energy Agency's "Additional Protocol" program in return for the permanent lifting of U.S. sanctions. These steps were supposed to happen in 2023 under the nuclear deal, so Zarif is just suggesting they move that deadline up four years. It's likely a non-starter for the administration, let alone for Congress, which would have to vote to permanently lift the sanctions. But it's not an unreasonable offer, particularly when Iran has little reason to trust the US to abide by any agreement.
ASIA
AZERBAIJAN
Azerbaijan-Georgian relations are reportedly fraying over the disputed David Gareja monastery complex that dates to the 6th century and straddles their shared border:
Georgia has been roiled by the news that Azerbaijani border guards removed icons from shrines situated on Azerbaijani-controlled territory. Accusing the Azerbaijanis of blasphemy, Georgian monks and activists physically confronted Azerbaijani border guards on July 14; a video of the incident shows the activists harassing an Azerbaijani border guard and grabbing a pistol from him. 

Azerbaijanis reacted angrily to the assault. Azerbaijan's Foreign Ministry summoned the Georgian ambassador for an explanation, while ordinary Georgians and Azerbaijanis traded recriminations online. "We regret that this incident does not correspond to the spirit of strategic partnership between Azerbaijan and Georgia," said Azerbaijani Foreign Ministry Spokesperson Leyla Abdullayeva, describing the incident as a "provocation." 

The Georgian authorities used similar wording to condemn the episode. "It is important for the public to maintain restraint and avoid provocations," said the Georgian Foreign Ministry, calling on the activists to step aside and let the government deal with the border dispute.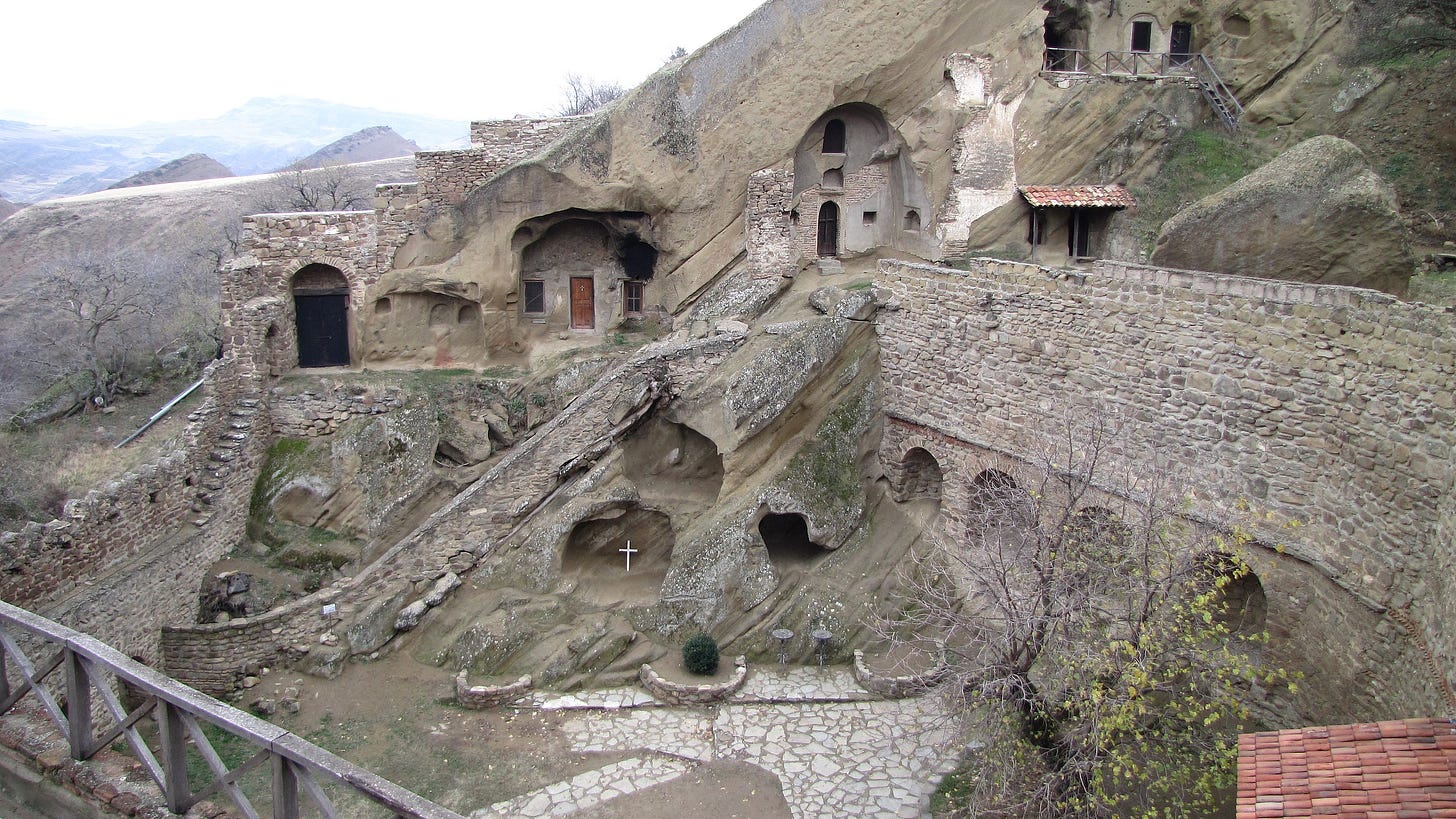 The ancient monastery complex (Jonathan Cardy via Wikimedia Commons)
Azerbaijan probably has a better legal claim over the complex, based on how Soviet-era internal borders were drawn, but the monastery is culturally important to Georgian Christians, so Tbilisi continues to claim it as Georgian territory.
AFGHANISTAN
The Taliban set off two car bombs outside the police headquarters in Kandahar on Thursday and then followed that up with an assault on the building, killing at least 12 people and wounding at least 80 more. The ensuing gun battle continued well after the bombings so the official casualty count may be low.
CHINA
If there's one concept that should probably be un-thought, it's the notion of the "Clash of Civilizations" introduced by orientalist stereotype Bernard Lewis and popularized by academic fraud Samuel Huntington in the 1990s. Sadly that's not possible, and so we live in a world where the current US national security advisor terrifyingly thinks that the thoroughly discredited concept of an inevitable civilizational war actually applies to the US-China relationship. It might help if colleges and universities stopped assigning Huntington's terrible book as mandatory reading in their political science programs, but we definitely don't live in that world.
AFRICA
LIBYA
Tripoli's Mitiga airport briefly shut down on Thursday after an airstrike, presumably by Khalifa Haftar's "Libyan National Army." It reopened later in the day and resumed regular service.
ETHIOPIA
An anticipated clash between Ethiopian authorities and members of the country's Sidama community failed to materialize on Thursday, when Sidama activists in the city of Hawassa opted to postpone their plan to declare their own autonomous region. The Sidama Liberation Movement now says that the Ethiopian government has promised it a referendum on autonomy, something they've been demanding for over a year now, within five months.
EUROPE
UKRAINE
Despite Wednesday's court ruling keeping 24 Ukrainian sailors in Russian custody until at least October, Kiev and Moscow did agree on Thursday to a prisoner swap. Ukraine will release 208 captives in return for 69 from Russia. The details around the exchange could take months to work out, so those sailors might still be included in the package.
Polling ahead of Sunday's parliamentary election shows Ukrainian President Volodymyr Zelenskiy's Servant of the People Party in the driver's seat but maybe not by a wide enough margin to ensure a majority. Zelenskiy's crew is polling at 52 percent, a whopping 42 points ahead of its nearest rival, but 199 of the legislature's 424 seats will be filled in individual district elections, which aren't necessarily going to map on to national polling.
SPAIN
Members of Spain's leftist Podemos party have overwhelmingly rejected the idea of supporting Prime Minister Pedro Sánchez and his Socialist Party in forming a minority government. In results of a party-wide poll released on Thursday, 70 percent of party members voted to pursue a coalition arrangement in which Podemos leaders would take positions in the cabinet. Sánchez has opened the door to a compromise—he says he's open to Podemos members serving in his cabinet as long as party leader Pablo Iglesias isn't among them. If Iglesias insists then Sánchez can relent, hope for enough support on the right to get through next week's confidence vote, or start planning for a new election.
UNITED KINGDOM
By a 41 vote margin the House of Commons voted Thursday to block the prime minister—presumably Boris Johnson but let's not prejudge—from suspending parliament in late October in order to facilitate a no-deal Brexit. Several members of the Conservative Party voted for the measure and four members of the cabinet abstained. The message is pretty clear: not only are MPs not going to let Johnson suspend parliament, they're not going to OK a no-deal scenario either.
AMERICAS
ARGENTINA
The Argentine government on Thursday declared Hezbollah a terrorist organization. The decision came on the 25th anniversary of the terrorist bombing of the Asociación Mutual Israelita Argentina—a Jewish cultural center—in Buenos Aires. Hezbollah has long been suspected of carrying out that bombing, both in Argentina and in the US and other Western countries, but its involvement has never been proven and Hezbollah denies responsibility. Argentina is the first Latin American country to designate Hezbollah, which has a substantial presence among the Lebanese diaspora in that region, in this way.
UNITED STATES
Finally, Donald Trump may be about to oust his director of national intelligence and replace him with a John Bolton acolyte who also happens to be a raging Islamophobe:
President Donald Trump is reportedly planning a shakeup of his national security team. The news site Axios reported Friday that Trump is planning to oust Director of National Intelligence Dan Coats and, along with several other outlets, identified the president's preferred replacement as Fred Fleitz, John Bolton's former deputy and a former CIA analyst best known for his association with a far-right, anti-Muslim think tank.

If appointed, Fleitz could play a key role in reducing the importance of the office itself—further empowering Bolton and Secretary of State Mike Pompeo in the process. A source told Axios that Trump wants to "downsize" the office and considers it "an unnecessary bureaucratic layer," an argument identical to the one Fleitz made in a 2016 op-ed for the National Review. "The Office of the Director of National Intelligence has developed into a huge additional layer of bureaucracy," he wrote, "with far too many officials, that has made American intelligence analysis and collection less efficient and more risk-averse."
Fleitz's other sponsor is Frank Gaffney, founder of the anti-Islam Center for Security Policy and overall one of the worst human beings in high public policy circles today. Fleitz succeeded Gaffney as CSP's boss in January, after leaving the National Security Council last year. He's likely to get the DNI gig simply because Trump has a penchant for surrounding himself with terrible people and he certainly fits that bill:
While Fleitz is less visible than Bolton or Gaffney, his tenure at CSP saw him promote some of the most pernicious myths about Muslims. As one reporter noted, "Fleitz has also promoted the myth of European 'no-go zones'—places the CSP casts as being governed by Islamic law—as well as a widely debunked CSP survey that suggested a quarter of Muslims support violence against Americans. (During his campaign, Trump cited the same survey in calling for a ban on Muslims entering the United States.) Fleitz has promoted the idea of a 'clash of civilizations' between Islam and the United States and co-authored a 2015 CSP report titled 'A Plan for Victory Over the Global Jihad Movement; that claimed that 'the majority of Muslims and Islamic authorities…promote or at least support jihad and shariah supremacism.'"