Discover more from Foreign Exchanges
Daily roundups of world news and thoughtful commentary on US foreign policy.
Over 24,000 subscribers
World update: August 22-23 2020
Stories from Pakistan, Mali, Belarus, and more
This is the web version of Foreign Exchanges, but did you know you can get it delivered right to your inbox? Sign up today:
---
THESE DAYS IN HISTORY
August 21, 1415: Portuguese forces under King John I and his son Henrique, the future "Prince Henry the Navigator," capture the city of Ceuta from the Moroccan Marinid dynasty. Ceuta was the first possession in what would become the Portuguese Empire and served as a staging ground for the Portuguese to capture several other cities around the northwest African coast. It's a Spanish city today—Madrid kept it after the 16th-17th century Iberian Union broke apart.
August 21, 1791: Slaves in Saint-Domingue attend a Vodou ceremony in the evening and then begin a mass uprising later that night. This insurrection marked the start of the Haitian Revolution, the most successful slave revolt in the Americas. Haiti won its independence from France, effective on January 1, 1804. The impact of the revolution on slavery in the Americas continues to be a matter of scholarly debate, but at the time the slave uprising frightened US slaveholders that the Jefferson administration imposed an embargo on Haiti that remained in place until 1862.
August 22, 1864: An international convention held in Geneva produces a treaty outlining humane "rules" of war, including provisions for the treatment of sick and wounded soldiers. That treaty would subsequently be amended and expanded four times and is the basis of the First Geneva Convention, which was adopted along with the other three Geneva Conventions in 1949.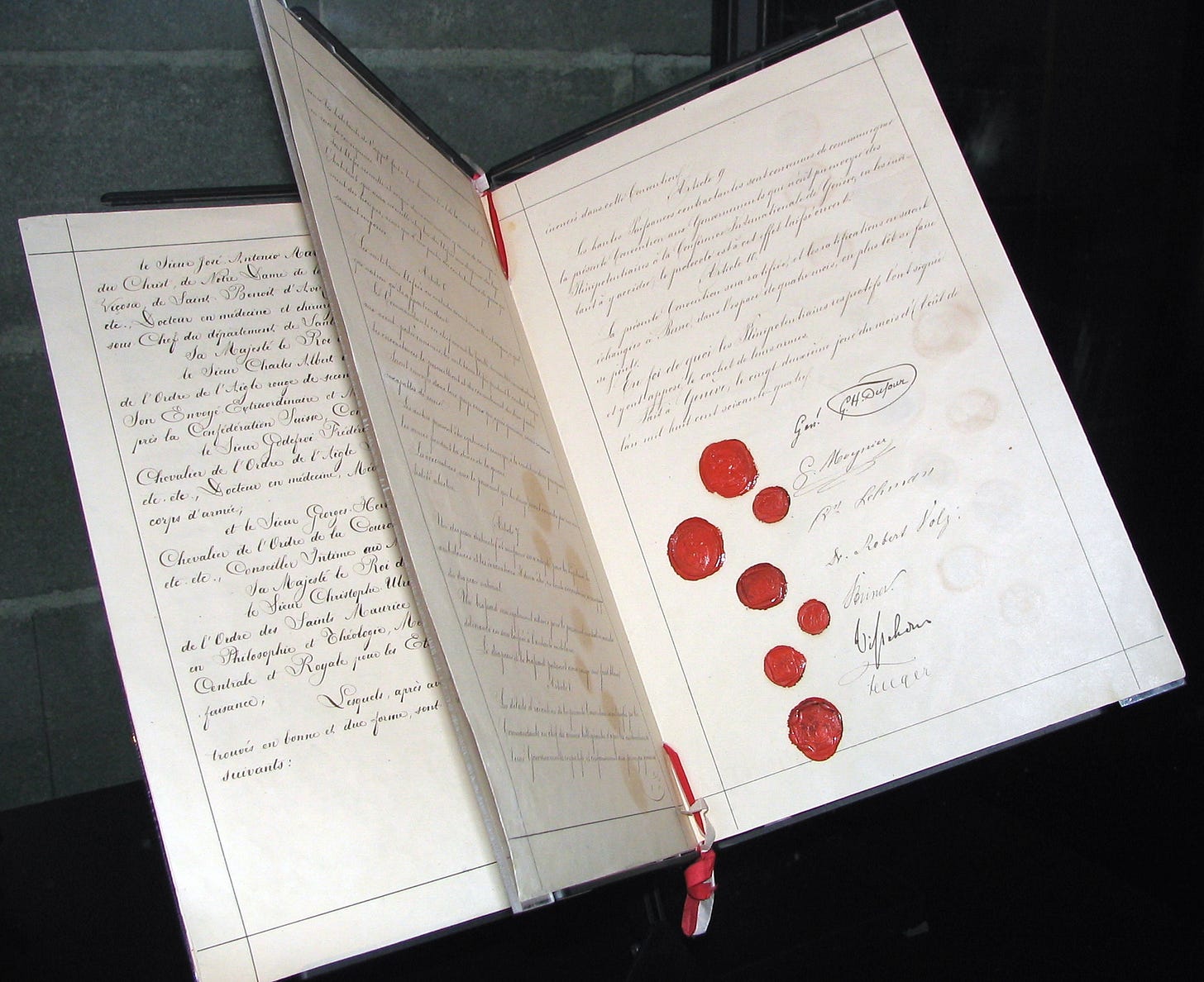 The 1864 Geneva Convention, taken at the International Red Cross and Red Crescent Museum in Geneva (Kevin Quinn via Wikimedia Commons)
August 23, 1514: The Battle of Chaldiran
August 23, 1595: An outnumbered Wallachian army under Prince Michael "the Brave" defeats an Ottoman army under Grand Vizier Koca Sinan Pasha at the Battle of Călugăreni, today located in southern Romania. Michael had to retreat afterward due to the Ottomans' decisive advantage in numbers, but the victory is an important one in Romanian national history. This battle was part of the 1593-1606 Long War between the Ottomans and Habsburgs, which ended with neither side having achieved much but did stabilize the Ottoman-Habsburg frontier for several decades.
INTERNATIONAL
Worldometer's coronavirus figures for August 23:
23,577,649 confirmed coronavirus cases worldwide (6,690,143 active, +206,509 since yesterday)

812,181 reported fatalities (+4235 since yesterday)
In today's global news:
I know a lot of doctors and the like say that major weight loss is an arduous process, there are no shortcuts, no gimmicks, no quick fixes, etc. But friends, our own planet is showing the way. Earth has shed a whopping 28 trillion metric tons of unwanted ice weight since 1994, and all we had to do was not pay attention to our destruction of the climate! It was that simple! Now, when I say "unwanted," I'm sure somebody's going to be up in here ranting about how all that ice loss is going to "displace millions of people in coastal regions," "cause the extinction of entire species," "change oceanic ecosystems in ways we probably don't even really grasp yet," "disrupt critical sources of fresh water on land," and so forth, but no pain no gain baby! Somebody's probably even going to tell me that we didn't actually lose any weight, since 28 trillion metric tons of ice just melts into 28 trillion metric tons of water, but to them I say "get bent, math nerds."
MIDDLE EAST
YEMEN
1911 confirmed coronavirus cases (+4)

553 reported fatalities (+7)
The Saudi-led coalition in Yemen says it shot down a drone and a missile fired by the Houthis toward the Saudi city of Jizan on Saturday. As far as I know there's been no comment from the Houthis.
There's been a good deal of chatter of late, especially in the wake of the UAE-Israel diplomatic accord, about Turkey's regional ambitions having expanded to include Yemen. Much of it has struck me as overblown, so I'm pleased to see that Giorgio Cafiero and Corrado Çok of Gulf State Analytics have written a new piece that tries to sift fact from fiction. The upshot is that Turkey's relationship with Yemen's Muslim Brotherhood branch, al-Islah, is expanding in large part because Islah can see that the UAE and its Southern Transitional Council proxies are ascendant in southern Yemen and it's looking for support from somewhere other than the increasingly irrelevant Yemeni government and the increasingly detached Saudis. But the Turks seem to be taking a long-term soft power approach focused on providing humanitarian aid rather than muscling into Yemeni politics. Islah isn't really strong enough to be able to sustain such a move even if that were Ankara's goal.
IRAQ
204,341 confirmed cases (+3291)

6428 reported fatalities (+75)
US forces that had been stationed at Iraq's Taji military base, just north of Baghdad, handed control of the facility back to the Iraqi military on Sunday and will be fully vacating the premises over the next few days. It's part of the Pentagon's approach to leaving US forces in Iraq, where they remain both generally unpopular and violently opposed by several militias, while reducing their vulnerability by pulling back to just a handful of facilities across the country.
On the subject of militias and vulnerable facilities, protesters in the southern Iraqi city of Nasiriyah used bulldozers on Saturday to destroy the local offices of the Islamic Dawa Party and the Badr Organization. Both are supported by Iran and Badr is both a political party and one of the largest paramilitary outfits in Iraq. Southern Iraq has seen a resurgence of protests over the past few days due to a series of attacks on prominent activists that demonstrators strongly suspect were carried out by people with ties to Iraqi militias and possibly other security forces as well.
LEBANON
12,698 confirmed cases (+507)

123 reported fatalities (+2)
Hezbollah says it shot down and then recovered an Israeli drone over southern Lebanon on Saturday. The Israeli military has said only that one of its drones crashed and there's no potential security concerns related to its loss. It seems unlikely the Israelis will retaliate over the loss of a drone, especially given that their attention is mostly on Gaza at the moment (see below), but who knows?
ISRAEL-PALESTINE
102,663 confirmed cases (+730) in Israel, 18,802 confirmed cases (+326) in Palestine

834 reported fatalities (+15) in Israel, 128 reported fatalities (+3) in Palestine
The Israeli military continued to bomb Gaza through the weekend, while Gazan insurgents launched at least one rocket and many more of their "incendiary balloons" out of the enclave. The Israelis appear to be taking care to avoid causing direct casualties, as there have been no deaths to my knowledge reported after almost two and a half weeks of near-daily strikes. But they continue to tighten other restrictions on Gaza, having now reportedly closed its main entry point to all non-essential goods, not just to fuel and building materials. This back and forth has been repeated innumerable times since the Gaza War in 2014, and apart from adding to Gaza's misery it never really changes the region's tense status quo.
Thousands of people protested again on Saturday outside Prime Minister Benjamin Netanyahu's residence in Jerusalem, calling for his removal mostly over corruption. They'll have to wait a bit longer for a chance to vote him out of power though. The vaunted Netanyahu-Benny Gantz coalition government still hasn't been able to agree on a budget. Facing a Monday deadline to either reach an accord or at least agree to extend the deadline, lest Israel find itself facing yet another snap election, Netanyahu agreed Sunday to a 100 day extension. With the Israeli economy collapsing because of the pandemic, the failure to reach a budget deal is borderline malpractice. So, see you in another 100 days then.
ASIA
AFGHANISTAN
37,999 confirmed cases (+46)

1387 reported fatalities (+2)
At least seven people were killed when their vehicle struck a roadside bomb in Ghazni province over the weekend. There's been no claim of responsibility as far as I'm aware. Additionally, Taliban attacks in Takhar and Badakhshan provinces killed at least 13 members of the Afghan security forces, while a sticky bomb explosion in Kabul killed another. The Islamic State may have been behind the Kabul attack, it's unclear. The Afghan military launched a heavy anti-Taliban operation on Thursday, with officials reporting Friday that they'd killed at least 114 Taliban fighters over a 24 hour period.
Anyway, peace talks could be starting soon and as you can see everybody's really in a good place for them to be super productive. The Taliban has reportedly put together its negotiating team, allegedly handpicked by leader Mullah Hibatullah Akhunzada even though he may be dead. The team will be led by Mullah Abdul Ghani Baradar, who runs the Taliban's political office in Qatar, and supposedly has full decision-making authority so it shouldn't have to quit the talks to go back for consultations at any point. At this point the start of talks is being held up while the Afghan government and the Taliban wrangle over a few remaining prisoners that have yet to be released. Kabul agreed earlier this month to release the last 400 prisoners on the Taliban's list, but stopped short on Monday while claiming that the Taliban is refusing to release the last of its prisoners.
PAKISTAN
292,765 confirmed cases (+591)

6235 reported fatalities (+4)
The Pakistani Foreign Ministry said in a statement on Saturday that it's issued new orders enforcing United Nations sanctions against several senior Afghan Taliban figures, including the aforementioned Baradar and several members of the Haqqani network. The Pakistanis claim they issue these kinds of orders all the time to comply with international sanctions, but there's no obvious indication of that, as Pakistani intelligence still has close ties with Taliban leaders, many of whom still reside pretty openly on the Pakistani side of the border.
The reason for Saturday's public declaration was probably as a demonstration to the Financial Action Task Force that Pakistan takes the issue of terrorism financing seriously, evidence to the contrary notwithstanding. The FATF has had Pakistan teetering on the edge of its blacklist for a couple of years now, and Islamabad is desperate to avoid winding up on the list (North Korea and Iran are the only countries on it at present) and the restrictions on its access to international financial networks that would ensue.
AFRICA
SUDAN
12,836 confirmed cases (+154)

815 reported fatalities (unchanged)
Secretary of State Mike Pompeo is scheduled to tour the Middle East in the coming days, followed by US Middle East Viceroy Jared Kushner, as they try to coax Arab governments to follow the UAE's lead and cut a diplomatic agreement with Israel. I don't know if Israel's diplomats have all taken a couple of weeks off or something but it's nice to see the US pitching in to do their job while they're on break. One country that Pompeo will visit is Sudan, which isn't strictly speaking in the "Middle East" except under a very expansive definition of that admittedly ambiguous term. But the Sudanese government is likely to be particularly susceptible to Pompeo's pitch, assuming it comes with an offer to take Sudan off of the State Department's list of terrorism sponsors.
LIBYA
10,437 confirmed cases (unchanged)

188 reported fatalities (unchanged)
The "Libyan National Army" of warlord Khalifa Haftar referred on Sunday to the recent ceasefire announcement by Libya's Government of National Accord as a bit of "media marketing" rather than a serious proposal. This seemingly puts Haftar at odds with the eastern Libyan "government" with which he's supposedly aligned, because it reciprocated the GNA's ceasefire on Friday. The LNA's statement on Sunday conveniently ignored that fact, which leaves the question of whether it intends to abide by that ceasefire open to speculation. It's likely Haftar is trying to flex his muscles, since it was the political arm of the eastern Libyan government that declared the ceasefire in an obvious attempt to downplay his authority. Although both sides of the Libyan conflict are set up around the city of Sirte, they've been frozen that way for several weeks in what was already a de facto ceasefire of sorts.
A crowd of protesters marched on the GNA's offices in Tripoli on Sunday to share their grievances over Libya's shattered economy and crippled public services. Security forces dispersed the crowd by firing in the air. The only real solution to those grievances is a sustained ceasefire leading to a political settlement and hopefully a functioning government.
IVORY COAST
17,471 confirmed cases (+97)

113 reported fatalities (unchanged)
At least two people were killed on Saturday in the southern Ivorian city of Divo after groups of "young opposition supporters," as the AFP characterized them, turned out to protest President Alassane Ouattara's formal nomination to run for a controversial third term in October's election. Authorities have imposed a dusk to dawn curfew to tamp down the unrest.
MALI
2705 confirmed cases (+6)

125 reported fatalities (unchanged)
A roadside bomb killed at least four Malian soldiers in the country's central Mopti region on Saturday.
A delegation from the Economic Community of West African States (ECOWAS), led by former Nigerian President Goodluck Jonathan, spent the weekend in Bamako meeting with the leaders of Mali's new ruling junta, while thousands continued to celebrate the ouster of former President Ibrahim Boubacar Keïta. ECOWAS wisely dropped its demand for Keïta's reinstatement since, well, I have a better chance of becoming Mali's next president than he does. Instead it appears they've secured Keïta's release. I would assume he's going to be on a flight out of the country soon although there's no immediate indication of that.
The ECOWAS delegation was perhaps somewhat less successful in its other goal, which was to usher the junta toward restoring civilian rule. Instead, the junta has released a roadmap that calls, more or less, for a three year continuation of military rule. This feels a little like the other shoe dropping, since for several days junta leaders have been talking in vague terms about quickly returning to normal politics, and now that turns out to have been more a slogan than a firm principle. It's unclear how the West African bloc or the African Union, both of which have taken steps to isolate Mali since the coup, are going to respond to the idea of a three year military government to be followed by who-knows-what.
The Daily Beast is breathlessly reporting that two of Mali's coup leaders recently trained in Russia and may have planned the coup while there. Which is probably not great. But before we conclude that this is all part of Vladimir Putin's Master Plan, I would note what we discussed on Friday, which is that fellow coup leader Assimi Goita has been a regular participant in US Africa Command's Flintlock counter-terrorism training operation. Amadou Senogo, the leader of Mali's 2012 coup—ironically the one from which Keïta emerged as president—was also a Flintlock participant.
A study in 2017 found that countries whose militaries were involved in US training programs were twice as likely to experience a coup attempt than countries with no US training. And the more officers who underwent US training, the greater the likelihood they would attempt a coup. Training leads to demands for more professional perks that governments often can't fulfill, and it also leads to a greater capacity to overthrow those governments when they don't. So maybe this isn't some nefarious Russian scheme so much as the likely outcome of foreign military training.
NIGERIA
52,227 confirmed cases (+322)

1002 reported fatalities (5)
At least two people have been killed amid wildly conflicting reports of a confrontation between Nigerian security forces and the banned separatist Indigenous People of Biafra group in southeastern Nigeria's Enugu state on Sunday. Nigeria's Department of State Services claims that IPOB fighters ambushed their personnel, killing two, while IPOB leaders claim the DSS stormed into a group meeting and starting killing people, ultimately leaving at least 21 dead in their wake. They deny killing any DSS agents.
DEMOCRATIC REPUBLIC OF THE CONGO
9830 confirmed cases (+19)

251 reported fatalities (unchanged)
Allied Democratic Forces fighters are believed to have been responsible for attacks on two villages in North Kivu province on Friday in which at least 13 people were killed. The news is better regarding another armed militia in the eastern DRC, though. The Lendu militia Cooperative for the Development of Congo (CODECO) announced Sunday that it had agreed to a request from the Congolese government to cease its attacks on Hema communities in Ituri province. The Lendu and Hema frequently clash with one another, and CODECO has been particularly busy attacking Hema villages over the past few months. So this seems like a positive development.
EUROPE
RUSSIA
956,749 confirmed cases (+4852)

16,383 reported fatalities (+73)
Russian opposition leader Alexei Navalny is reportedly expected to survive his (still technically alleged, as far as I know) poisoning, but is facing a lengthy recovery and may never recover fully. The comatose Navalny was finally airlifted from Omsk to Berlin on Saturday for medical treatment.
BELARUS
70,468 confirmed cases (+183)

642 reported fatalities (+5)
Upwards of 150,000 people, or possibly even more, turned out in Minsk on Sunday evening to call for the resignation of embattled Belarusian President Alexander Lukashenko. In a somewhat bizarre move, Lukashenko himself appears to have observed the protests from a helicopter hovering above, while holding a rifle. Sure, OK, whatever. A day earlier, Lukashenko visited a military base at Grodno, in western Belarus, and issued an order for his army to take "stringent" measures to…well, it's not clear. Lukashenko talked about preserving Belarus's "territorial integrity." He continues to claim that NATO (I think?) military forces are massing along Belarus's western border. This is possible, I guess, but there's no independent evidence to support the claim to my knowledge.
It could be that Lukashenko is just trying to divert attention away from the protests and the violent police response to them, or it could be that he's whipping up talk of an "invasion" to excite nationalist sentiment and justify escalating the crackdown under the claim that the protesters are working on behalf of foreign interests. I don't discount the possibility of some foreign interaction with the protesters—I mean, the US National Endowment for Democracy already has ties to Belarusian opposition parties, and opposition leader Svetlana Tikhanovskaya has openly been in contact with foreign officials since her exile to Lithuania—but the tens of thousands massing in Minsk, and the state workers walking off the job in protest (the ones Lukashenko is threatening to fire), presumably have their own reasons for doing so.
HUNGARY
5155 confirmed cases (+22)

613 reported fatalities (+2)
The Hungarian Foreign Ministry summoned Germany's ambassador on Sunday in order to complain about recent comments by German Minister of State for Europe Michael Roth. Apparently Roth gave an interview to a German media outlet in which he asserted "rampant anti-semitism in Hungary." I can't fathom why he would say such a thing, but even if it were justified it's not a very diplomatic comment. Hungarian Prime Minister Viktor Orbán has long insisted that he has zero tolerance for anti-semitism, unless George Soros is involved in which case never mind.
AMERICAS
COLOMBIA
541,147 confirmed cases (+8044)

17,316 reported fatalities (+348)
Three separate incidents on Friday and Saturday left at least 17 people dead across Colombia. Attackers killed at least six people in Nariño province in one attack, six more were killed in an attack in Cauca province, and five were killed in Arauca province. There's no indication as to who was responsible—Arauca is in northeastern Colombia while Nariño and Cauca are in the southwest, so presumably at least two armed groups were culpable—and Colombia has no shortage of possible candidates.
UNITED STATES
5,874,146 confirmed cases (+32,718)

180,604 reported fatalities (+430)
Finally, at World Politics Review Inter-American Dialogue's Michael Camilleri looks at the mounting opposition to Trump administration nominee Mauricio Claver-Carone to run the Inter-American Development Bank. Although his nomination breaks the tradition that the IDB head should be Latin American, and despite his overt partisanship, many Latin American leaders were willing to accept Claver-Carone because they assumed he would be able to get Washington behind the recapitalization of the IDB to meet the needs of pandemic-battered American economies. But opposition from Democrats in Congress has apparently opened some eyes in the region and now concerns about his political views are starting to come to the fore:
In the view of some Latin American governments, Claver-Carone's sharply ideological approach to the region is also an awkward fit for the relatively apolitical, consensus-based model of the IDB. In recent public remarks, he revealed that multilateral loan decisions by the Trump administration were driven by political preferences, including a desire to keep the right-leaning former President Mauricio Macri from losing last year's election in Argentina. That will likely reinforce concerns that he could politicize the IDB's lending. And as the architect of policy in the Western Hemisphere for the administration that pulled out of the Paris climate accord, Claver-Carone has largely ignored the region's acute exposure to climate change, a key priority for the IDB and many of its shareholders in the Americas and Western Europe.