Discover more from Foreign Exchanges
Daily roundups of world news and thoughtful commentary on US foreign policy.
Over 24,000 subscribers
World update: August 20 2020
Stories from the United Arab Emirates, Mali, Russia, and more
This is the web version of Foreign Exchanges, but did you know you can get it delivered right to your inbox? Sign up today:
---
THESE DAYS IN HISTORY
August 19, 1745: An Iranian army under Nader Shah decisively defeats a much larger Ottoman army at the Battle of Kars. This, combined with the destruction of a second Ottoman army near Mosul by an Iranian army under Nader's son, effectively brought the Ottoman-Persian war of 1743-1746 to an end by wiping out the Ottoman offensive. Although he began the war with big goals for defeating the Ottomans, Nader—ill and seemingly growing more paranoid about internal threats by the day—opted to settle the conflict with a restoration of Ottoman-Iranian borders as they had been at the end of the Safavid dynasty.
August 19, 1953: Iranian Prime Minister Mohammad Mosaddegh is removed from office in a UK/US-backed coup.
August 19, 1991: A group of Soviet leaders undertakes a coup and arrests President Mikhail Gorbachev. The whole thing fell apart three days later under pressure from the Soviet public, led by Russian President Boris Yeltsin who became effectively the most powerful person in the USSR. This was such a cataclysmic failure that it led to the collapse of the entire Soviet Union.
August 20 (give or take), 636: The Battle of Yarmouk
August 20, 1988: A ceasefire brings the nearly eight year long Iran-Iraq War to an end. The war cost hundreds of thousands of lives and included some of the most appalling war crimes of the 20th century, and the outcome was the restoration of the "status quo ante bellum." That wholly inadequate phrase uses Latin to hide its deception—there's no restoring any pre-war status quo, because a whole bunch of people who were alive before the war started will no longer be alive when it ends.
INTERNATIONAL
Worldometer's coronavirus figures for August 20:
22,850,287 confirmed coronavirus cases worldwide (6,545,353 active, +267,794 since yesterday)

796,378 reported fatalities (+6188 since yesterday)
MIDDLE EAST
SYRIA
2008 confirmed coronavirus cases (+81)

82 reported fatalities (+4)
The Trump administration sanctioned several senior Syrian government personnel on Thursday, including Bashar al-Assad's press secretary, Luna al-Shibl, and the commander of the pro-government National Defense Forces militia, Fadi Saqr. The latter, along with a couple of other military-related figures, were cited for preventing a ceasefire.
IRAQ
192,797 confirmed cases (+3995)

6208 reported fatalities (+87)
Donald Trump hosted Iraqi Prime Minister Mustafa al-Kadhimi at the White House on Thursday and reiterated his goal of fully withdrawing US military forces from that country. The Iraqi parliament famously voted earlier this year to kick US forces out of Iraq, though it was a non-binding vote and the Iraqi government has never taken steps to implement it, partly because at the time Trump threatened sanctions if they did. He's nothing if not consistent. Kadhimi, the most pro-US PM Iraq has had arguably since Ayad Allawi in the wake of the Iraq War, may nevertheless be happy to see US forces depart, so they'll no longer be targets for Iranian-aligned militias.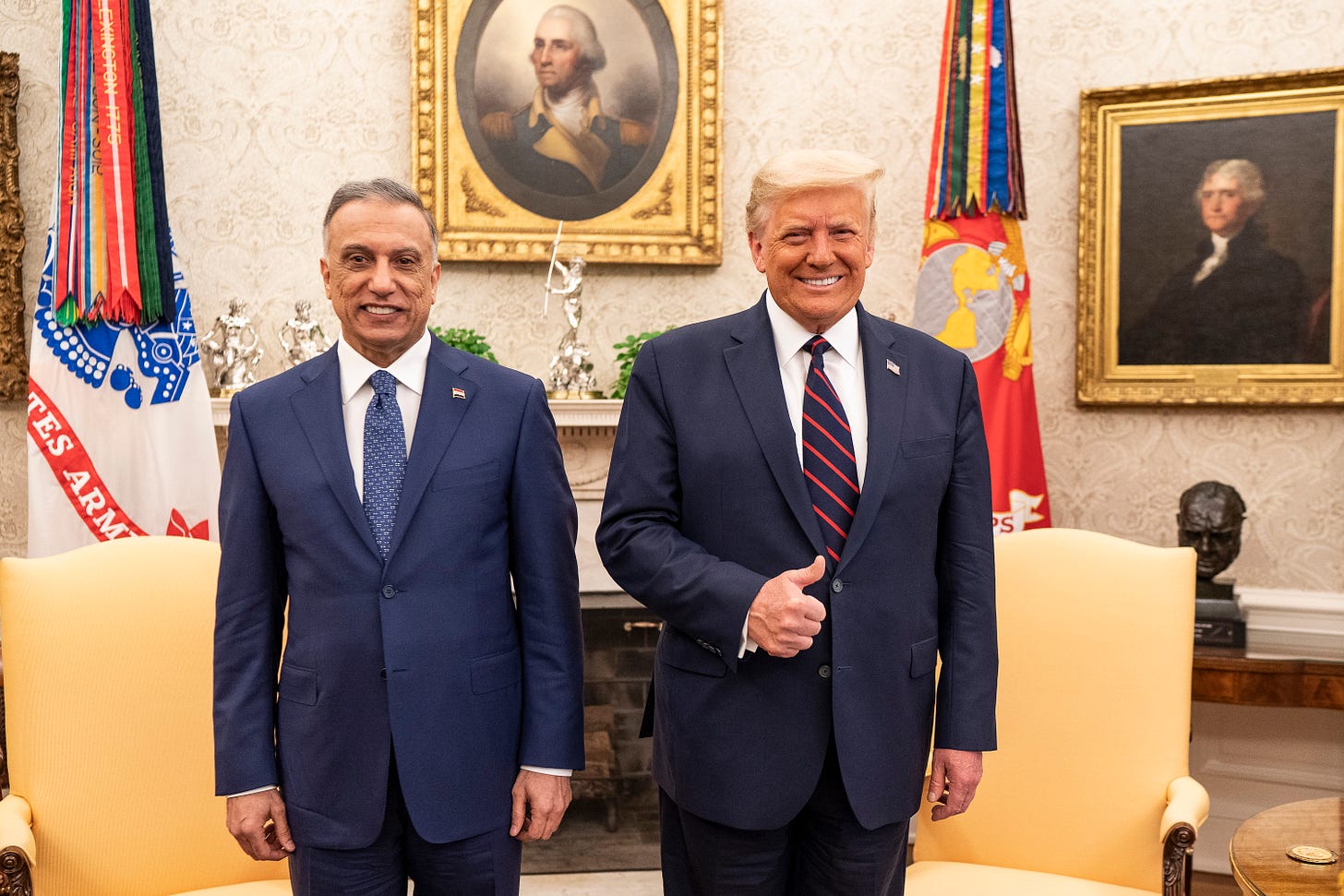 Trump was classy as usual (White House photo via Flickr)
An activist and protest leader in Basra named Reham Yacoub was killed on Wednesday by unknown assailants. Her murder was the third apparent attack targeting leaders of the anti-government protest movement in less than a week and joins a long line of such incidents going back to the start of major protests last fall. It's unclear whether these attacks are all being carried out by Iraqi security forces—including those aforementioned militias—but it seems likely.
ISRAEL-PALESTINE
99,599 confirmed cases (+1630) in Israel, 17,989 confirmed cases (+383) in Palestine

795 reported fatalities (+14) in Israel, 120 reported fatalities (+1) in Palestine
Stop me if you've heard this one before: the Israeli military pounded Gaza again overnight and throughout Thursday. At least two rockets were fired in Gaza in retaliation but neither seems to have gotten beyond the security fence the Israelis have put up to pen the Gazans in to their open air prison camp-er, I mean, their enclave. More incendiary balloons were also launched out of Gaza, according to Israeli officials. I guess we could note the absurdity of retaliating with airstrikes to a couple of Molotov cocktails tied to balloons, but it is what it is and the Israelis are under no pressure to temper their response.
In the West Bank, Israeli soldiers fired at a crowd of Palestinians they allege were preparing to attack the passing cars of Israeli settlers on Thursday. Two of the group were wounded and a third, a 16 year old boy, was killed.
EGYPT
97,025 confirmed cases (+111)

5212 reported fatalities (+15)
The AP looks at what the Grand Ethiopian Renaissance Dam could mean for subsistence farmers in Egypt:
The exact impact of the dam on downstream countries Egypt and Sudan remains unknown. For Egyptian farmers, the daunting prospect adds a new worry on top of the other causes of mounting water scarcity. Egypt is already spreading its water resources thin. Its booming population, now over 100 million, has one of the lowest per capita shares of water in the world, at around 550 cubic meters per year, compared to a global average of 1,000.

Ethiopia says the electricity that will be generated by its Grand Ethiopian Renaissance Dam is a crucial lifeline to bring its nearly 110 million citizens out of poverty.

Egypt, which relies on the Nile for more than 90% of its water supplies, including drinking water, industrial use and irrigation, fears a devastating impact if the dam is operated without taking its needs into account.
Egypt is running out of water anyway, as water levels on the Nile are declining due to climate change, but the GERD—at least in the short-term while its reservoir is being filled—will speed that process up. The Egyptian government says it has invested billions of dollars in water conservation efforts like implementing more efficient kinds of irrigation, but as in other expensive projects the Egyptian government has undertaken, much of that money probably got siphoned off by corruption.
UNITED ARAB EMIRATES
65,802 confirmed cases (+461)

369 reported fatalities (+2)
Donald Trump weighed in on the week-long controversy over whether the UAE's diplomatic accord with Israel green lit the sale of F-35 aircraft to the Gulf state, to predictably bewildering effect. With UAE officials insisting that the deal does permit the sale of F-35s to their government and Israeli Prime Minister Benjamin Netanyahu flatly denying it, Trump seemed to come down on the side of the UAE officials. He told reporters on Thursday that "They [the Emiratis] have the money and they would like to order quite a few F-35s…They'd like to buy F-35s, we'll see what happens. It's under review, but they made a great advance in peace in the Middle East." In doing so he more or less threw Netanyahu under the bus, an interesting decision for a president who's done nothing but coddle the Israeli leader for almost four years now. It also throws into question the whole concept of Israel's "qualitative military edge," which has been a cornerstone of US arms sales to the Middle East for decades.
Trump never came right out and said he would be selling F-35s to the UAE, he only said they were interested and that it's "under review." But the New York Times reported on Wednesday that the administration has actually been hard selling the Emiratis on the aircraft, and if that's true it's hard to imagine the review deciding against a deal. There is some precedent for selling advanced weapons to friendly Arab states with modifications that meet with Israeli approval—that's how the Saudi air force came to fly F-15s, for example. But I'm not sure what changes could be made to the F-35 that would ensure continued Israeli superiority. Maybe the planes the Emiratis buy will asphyxiate their pilots before takeoff instead of waiting until they're in the air.
IRAN
352,558 confirmed cases (+2279)

20,264 reported fatalities (+139)
Monday's incident in which the UAE coast guard "engaged" a group of fishing boats that had sailed into Emirati waters ended with two dead Iranian fishermen, according to Iran's foreign ministry. The UAE government reportedly apologized and said it's prepared to pay compensation, although again that claim comes only from Tehran. That same day, Iranian authorities say they seized an Emirati-flagged ship that strayed into Iranian waters. Details on that incident do not appear to be forthcoming.
Secretary of State Mike Pompeo did, as expected, invoke the dispute resolution mechanism of the 2015 Iran nuclear deal at the United Nations Security Council on Thursday. Also as expected, none of the remaining participants in that deal, which the US rejected in 2018, accepts that Washington retains the right to invoke that mechanism. I don't want to spend any more time on this because I think we covered it almost to death earlier this week, but I did want to note that it happened.
The Iranian military on Thursday unveiled what it says is a new medium range ballistic missile and a new medium-long range cruise missile, defying US demands that it curtail its missile development program. The Iranians named the weapons for the victims of the US drone strike in Baghdad back in January, so the cruise missile, with a range of about 1400 kilometers, is the "Qasem Soleimani," while the cruise missile, with a range of about 1000 kilometers, is the "Abu Mahdi" after Iraqi militia leader Abu Mahdi al-Muhandis.
ASIA
AFGHANISTAN
37,856 confirmed cases (+257)

1385 reported fatalities (+10)
A battle between Taliban fighters and local security forces in Takhar province overnight left at least 14 people dead. Of those, 13 were members of a local "public uprising force" (a pro-government militia) and one was an Afghan border guard. The Taliban presumably suffered some losses of their own but those are unknown.
SRI LANKA
2918 confirmed cases (+16)

11 reported fatalities (unchanged)
As expected, Sri Lankan President Gotabaya Rajapaksa plans to use his new parliamentary supermajority to strengthen his presidential powers. Rajapaksa told parliament on Thursday that he will seek the repeal of the 19th amendment to the Sri Lankan constitution, which imposed a number of limitations on the presidency when it was ratified in 2015, including a two-term limit. Once the amendment is out of the way, Rajapaksa says he will then begin working on a brand new constitution.
CHINA
84,895 confirmed cases (+7) on the mainland, 4605 confirmed cases (+18) in Hong Kong

4634 reported fatalities (unchanged) on the mainland, 73 reported fatalities (+1) in Hong Kong
News out of China always has to be taken with a grain of salt because it's an opaque place for Western media, but Xi Jinping's government appears to be undertaking a large-scale purge of its domestic security apparatus:
Teams of investigators have already plucked out cadres accused of corruption and other abuses. In the first week of the campaign, 21 officials from the public security or legal systems came under investigation, officials announced.

Investigators disclosed this week that the chief of the Shanghai Public Security Bureau, Gong Dao'an, had been placed under investigation on allegations that were not publicly specified, making him the most prominent police official toppled since the campaign began.

Other officials who have recently fallen include a former head of prisons in Inner Mongolia, a region of northern China; the chief of public security of Jiangmen, a city in southern China; and a former longtime state security official in the eastern province of Jiangsu. The specific allegations against them were not made public.
Xi has framed similar purges in other sectors around the rubric of anti-corruption, but these efforts also serve as ways for him to consolidate his power and move out people who aren't necessarily 100 percent on board with the Xi Jinping plan.
AFRICA
SUDAN
12,582 confirmed cases (+36)

812 reported fatalities (+4)
While the Sudanese government reached an accord with the Sudan People's Liberation Movement-North's Blue Nile faction earlier this week, the SPLM-N's South Kordofan faction announced Thursday that it's quitting peace talks with Khartoum. The group says it rejects the government's lead negotiator, Hamdan Dagalo, because of his alleged war crimes. Dagalo is the deputy chair of Sudan's interim civilian-military governing council, but in his spare time he's the commander of Sudan's Rapid Support Forces, a military unit created from the Janjaweed militias that supported the government during the Darfur War. When I say he's been implicated in "war crimes" I'm being polite. The Janjaweed/RSF was the tip of Sudan's genocidal spear in Darfur. Sudan's interim government is trying to make peace with the SPLM-N and with rebels in Darfur in order to make itself more acceptable to Western creditors and so as to focus its resources on rebuilding Sudan's tattered economy.
MALI
2667 confirmed cases (unchanged)

125 reported fatalities (unchanged)
Leaders of the Economic Community of West African States (ECOWAS) held an emergency (virtual, of course) meeting on Thursday to discuss this week's coup in Mali and decided in the end to demand that Mali's new junta reinstate deposed ex-President Ibrahim Boubacar Keïta. They plan to send envoys to Bamako to deliver that message. That's sweet, that they miss their pal so much, and it's good to have goals, but I don't think they're going to get their wish.
While much remains unknown about the coup and the forces behind it, what's emerging is that this was a cadre of well-respected mid- to high-ranking officers (mostly colonels, naturally) who are unlikely to give back what they've gained and who are already working with Mali's political opposition to chart a new direction. They're talking about a transitional government led by a president who is "either a civilian or a soldier" (good on them for narrowing it down like that), whose charge will be to organize a new general election. What's also emerging is that not too many Malians are sad to see Keïta go, or at least not sad enough that they're prepared to do anything about it. To appease ECOWAS, the junta will need to demonstrate that it's prepared to continue or even ramp up anti-insurgency efforts—though even that isn't going to be enough to satisfy West African rulers who are suddenly worried that they may be following in Keïta's footsteps.
Alex Thurston is doing some typically excellent analysis of the coup that I would urge you to check out if you're interested. In his first post today he breaks down the decisions Keïta made that brought him to this fate and concludes that, while he made plenty of mistakes, most were mistakes that any realistic candidate to be president of Mali could easily have made. In his second post he looks at the ways the international community—most especially the other ECOWAS member states and France—have been failing Mali for many years now.
NIGERIA
50,964 confirmed cases (+476)

992 reported fatalities (+7)
The Nigerian army reported Thursday that it is in "full control" of the town of Kukawa in northeastern Nigeria's Lake Chad region. Islamic State West Africa Province fighters swept through that town late Tuesday and took hundreds of residents hostage. At least three soldiers and eight ISWAP fighters were killed in the engagement. It's unclear from the reporting whether the army managed to rescue all (or even any, really) of the hostages.
SOUTH SUDAN
2494 confirmed cases (unchanged)

47 reported fatalities (unchanged)
The South Sudanese central bank is reportedly out of foreign reserves and the South Sudanese pound is losing value rapidly. South Sudan's economy ought to be pretty strong, given that it took most of the former Sudan's vast oil reserves with it when it became independent in 2011. But a never-ending civil war and the collapse of global oil prices have proven to be a pretty damaging combo. South Sudanese officials are reportedly in talks with the World Bank, but I would imagine they'll want some more measurable progress on implementing the terms of the 2018 peace deal between President Salva Kiir and Vice President/rebel leader Riek Machar.
ETHIOPIA
35,836 confirmed cases (+1778)

620 reported fatalities (+20)
The Ethiopian Human Rights Commission is reporting at least nine deaths and likely more in a wave of protests in the country's Oromo region. Demonstrators are calling for the release of opposition politician Bekele Gerba, and Jawar Mohammed, one of the owners of the Oromia Media Network. Both were arrested by Prime Minister Abiy Ahmed's security forces amid the protests over the murder of popular Oromo singer Hachalu Hundessa in late June. At least 178 people have been killed while protesting since Hachalu's murder. Most of these nine deaths were due to gunshot, which strongly implies they were killed by the security forces.
SOMALIA
3265 confirmed cases (unchanged)

93 reported fatalities (unchanged)
Somali pirates on Thursday released three Iranians who have been in their custody since 2015 and are believed to have been the last three people remaining in the hand of Somali pirates. This marks the end of an era of Somali piracy and represents a turning of the page for Somal-aaaaand they're back. Somali pirates appear to have seized a Panamanian-flagged tanker heading into Mogadishu on Thursday after it reportedly had engine trouble. The hijackers may have been dressed as police from the Bari region of northeastern Somalia, and may in fact have been local police, since it's not unthinkable for police officers to engage in a little banditry from time to time. It's unclear what's happened to the 20 crew members aboard or to the ship itself.
EUROPE
RUSSIA
942,106 confirmed cases (+4785)

16,099 reported fatalities (+110)
Frequent Vladimir Putin critic and anti-corruption crusader Alexei Navalny is reportedly "fighting for his life" after an apparent poisoning. Navalny took ill on a flight to Moscow after drinking some now-suspect tea at the airport in Tomsk before boarding the plane. He's now reportedly in a coma, in stable but serious condition on a ventilator, and has now been airlifted to Germany for treatment.
Accounting for Putin's long history of poisoning or allegedly poisoning anybody who winds up on his bad side, as well as the history of attacks against Navalny personally, the contours of this situation seem to become pretty clear. But without veering into Putin apologia I think it's fair to question why he would try to kill a guy who, for as much visibility as he gets (especially in the West), simply isn't a real threat politically. Indeed, if Navalny were to die here, his impact as a martyr figure would likely dwarf whatever impact he's made on Russian politics while alive. And as Nicolás Maduro's relatively soft treatment of Juan Guaidó shows, when a rival isn't a genuine threat it's often more effective to just let them run around being unthreatening than to do something that risks raising their profile.
There's some feeling within the Russia analyst community that this poisoning—assuming that's what it is—was not orchestrated by Putin, but by elements within his United Russia party in Siberia. Navalny was reportedly in that region to investigate corruption by party members, and they may have taken matters into their own hands. Which if anything is actually more troubling than if Putin had ordered a hit on the guy, since it means any petty local or regional political boss in Russia could be a budding assassin.
BELARUS
69,950 confirmed cases (+149)

627 reported fatalities (+5)
As protests demanding his resignation continued in Minsk and elsewhere on Thursday, Belarusian President Alexander Lukashenko's government announced that it's opened a criminal investigation into the creation of an opposition council under former presidential candidate Svetlana Tikhanovskaya. The council's aim is to prepare for a political transition that is starting to look like it might actually happen, which Lukashenko's chief prosecutor characterized as an attempt to "seize power." Belarusian security forces were more visible Thursday than they've been in recent days, suggesting a return to brutal violence might be forthcoming, and Lukashenko has begun threatening striking state workers with firing if they remain off the job.
AMERICAS
BRAZIL
3,505,097 confirmed cases (+44,684)

112,423 reported fatalities (+1234)
Protesters representing Brazil's Kayapó indigenous community blocked a highway in Pará state on Thursday to demand more government support in dealing with the pandemic. They've been demonstrating all week after four of their tribal elders died of the disease. But no worries, because President Jair Bolsonaro is on the case. Taking decisive action, the bold and compassionate Bolsonaro has done the only thing he could do in the face of such a tragedy: he's banned Doctors Without Borders from aiding Brazil's indigenous people. I mean, he hasn't outright said that, but the organization said Thursday that the Brazilian government's indigenous health agency has prevented from working with the Terena tribe in southern Brazil. This is something of a twofer for Bolsonaro, who thinks caring about the pandemic is unmanly and also loathes Brazil's indigenous peoples. If he can ignore the former and help kill more of the latter in the process, it's a win-win from his perspective.
ECUADOR
105,508 confirmed cases (+1033)

6200 reported fatalities (+54)
The Ecuadorean Navy says that it's aware of 149 Chinese fishing vessels in the waters around the Galapagos Islands that have shut off their tracking systems so they can't be detected. This is not great, since the Galapagos ecosystem probably wouldn't be able to withstand a massive fishing operation in the islands exclusive economic zone. The Ecuadoreans say none of the ships have entered the Galapagos' EEZ, but the fact that they've shut off their trackers means it would be harder to discover them if they did.
VENEZUELA
37,567 confirmed cases (+699)

311 reported fatalities (+8)
Desperate for new content to counter-program against the pandemic, the Trump administration is reportedly planning to reboot an early term classic:
The Trump administration is tapping into more than $300 million in frozen Venezuelan government funds in an effort to give new momentum to its elusive goal of ousting President Nicolás Maduro.

About $20 million will be used to send pandemic relief supplies to Venezuela via international health organizations, as fear of the novel coronavirus and the rigors of everyday survival diminish already lagging enthusiasm for public activism against Maduro.

Within the next several weeks, 65,000 front-line health workers will begin receiving electronic payments of $100 a month — a sum many times their average pay.

The administration has refused to freely open the coffers to opposition leader Juan Guaidó , whom it recognizes as Venezuela's legitimate president. But it has set the wheels in motion to provide two years of back pay to federal lawmakers whose salaries Maduro suspended in 2016.
Even as it prepares to throw money at the pandemic, which could help people and possibly make them feel better about Guaidó and the Americans, the administration also reportedly plans to crack down on fuel shipments into Venezuela, which will immiserate people and probably make them feel worse about Guaidó and the Americans. Sounds like a great plan!
UNITED STATES
5,746,272 confirmed cases (+45,341)

177,424 reported fatalities (+1090)
Finally, as Joe Biden has just formally accepted the Democratic Party nomination for president as I write this, Quincy's Stephen Wertheim questions whether a Biden presidency would really do anything to change US foreign policy and suggests the outlook may not be as hopeless as it appears:
When Barack Obama was elected president in 2008, he defined the Democratic party, from the grassroots to the White House. Although Obama promised to end the war in Iraq, he also pledged to prosecute the war on terror vigorously, especially in Afghanistan. In office, he delivered, and then some. Despite striking a bold nuclear accord with Iran and opening relations with Cuba, the Obama administration expanded the forever war through drones and special forces, intervened in Libya and Syria, and aided Saudi Arabia's war in Yemen. He handed over to Trump command of 200,000 troops stationed around the globe. And because Obama inspired deep loyalty in the Democratic electorate, he faced little pressure within his own party to be more peaceful. The chorus of criticism came instead from the foreign policy establishment, whose "Washington playbook" Obama himself derided for being reflexively militaristic.

But four years have made a difference. A President Biden is likely to face more intense and sustained pressure against military intervention than Obama did. Many Americans, left and right, now say that the biggest foreign policy problem is that their own country is waging "endless war". It's a remarkable development. Americans have opposed specific wars in the past, but rarely have so many voiced a general complaint that their country is waging warfare continually and unjustifiably. Three-quarters of Americans agree on little today, but roughly that number, according to the latest poll, favor bringing troops home from Afghanistan and Iraq. Twice as many Americans say their country spends too much on the military as too little. A mere one in four believe that military interventions in other countries make the United States safer.