Discover more from Foreign Exchanges
Daily roundups of world news and thoughtful commentary on US foreign policy.
Over 24,000 subscribers
World update: August 18 2020
Stories from Iran, Sudan, Belarus, and more
This is the web version of Foreign Exchanges, but did you know you can get it delivered right to your inbox? Sign up today:
---
THESE DAYS IN HISTORY
August 17, 1717: Prince Eugene of Savoy's Habsburg army successfully concludes its month-long siege of Belgrade when the garrison surrenders after the Habsburg forces an Ottoman relief army. Belgrade became a Habsburg city in the Treaty of Passarowitz the following year, but the Habsburgs were forced to give the city back to the Ottomans in the 1739 Treaty of Belgrade.
August 17, 1945: Rebel leaders Sukarno and Mohammad Hatta issue a proclamation declaring Indonesia's independence from the Netherlands. The proclamation kicked off the 1945-1949 Indonesian Revolution, and this date is annually commemorated as Indonesian Independence Day.
August 18, 684 (or thereabouts): The Battle of Marj Rahit
August 18, 1870: The French Army of the Rhine meets the Prussian First and Second armies under the command of King Wilhelm I at the Battle of Gravelotte in Lorraine. Tactically the battle was inconclusive—the Prussians outmaneuvered the French but the French were able to retreat in good order to Metz, and casualties were pretty even relative to the numerical disparity (the Prussians outnumbered the French by about 70,000 soldiers) between the two armies. But the Prussians were then able to besiege the French army at Metz, which proved to be one of the most decisive engagements of the Franco-Prussian War.
INTERNATIONAL
Worldometer's coronavirus figures for August 18:
22,297,350 confirmed coronavirus cases worldwide (6,473,400 active, +253,842 since yesterday)

783,516 reported fatalities (+6312 since yesterday)
In today's global news:
The director of the World Health Organization, Tedros Adhanom Ghebreyesus, warned Tuesday against "vaccine nationalism." It seems absurd that this needs to be said, but hoarding supplies of any potential vaccine is a terrible idea in the midst of a global pandemic. But that's what's likely to happen if/when a proven vaccine becomes available. The WHO has a program to ensure that all nations are able to access vaccines, but several wealthy countries are either working on their own vaccine candidates or trying to cut sweetheart deals with companies working on a vaccine.

New research suggests that the SARS-CoV2 virus is mutating, with at least one new strain detected that is more infectious but less lethal. Which is…good? I guess? It would certainly be good if fewer people died, but at the extreme end of the spectrum people who aren't dying from the virus are still being afflicted with debilitating and in some cases very long-term outcomes, so "more infectious" is not terribly good news. It also could be the case that this mutation, or another one yet to come, will render the virus resistant to vaccines.
MIDDLE EAST
SYRIA
1844 confirmed coronavirus cases (+80)

73 reported fatalities (+5)
Local witnesses in northwestern Syria reported several airstrikes there on Tuesday, which they've attributed to Russia. These mostly seem to have targeted rebel fighters in Latakia province, though there's a report that at least one strike hit a displaced persons camp in Idlib province and killed three civilians. Northwestern Syria is supposed to be under a ceasefire, as negotiated by Turkey and Russia in March. But the centerpiece of that deal, regular joint patrols of Syria's M4 highway, has now been suspended after repeated rebel attacks on the patrol units. There's no indication of a full resumption of fighting yet, but things are trending in that direction.
IRAQ
184,709 confirmed cases (+4576)

6036 reported fatalities (+82)
Iraqi and Kurdistan Regional Government officials have apparently come to an accord creating several joint operations commands in provinces across central Iraq where the Islamic State has been active recently. Ever since the Iraqi army moved against the KRG around Kirkuk in 2017, there have been major gaps both physically and in terms of coordination between their security forces, and IS has been the beneficiary. This agreement may help to tighten things up.
LEBANON
9758 confirmed cases (+421)

107 reported fatalities (+2)
The Special Tribunal for Lebanon, in The Hague, issued its ruling on the 2005 killing of former Lebanese Prime Minister Rafic Hariri on Tuesday. The tribunal found one defendant, Salim Ayyash, guilty, while acquitting three others. Ayyash is a member of Hezbollah, but in their ruling the judges concluded that the evidence does not support a finding that Hezbollah leaders were involved, nor could it conclude that the Syrian government was involved. There is cell phone evidence that can tie Ayyash and the other three defendants to a Hezbollah commander, Mustafa Badreddine, who is widely believed to have been killed in Syria, but the evidence of a phone network was not enough to establish that Badreddine was involved in the assassination.
This verdict is likely to disappoint officials in the US, Israel, Saudi Arabia, Lebanon, and elsewhere who are in the Hezbollah Is The Devil club, though they'll certainly note that the tribunal couldn't exonerate Hezbollah, it just couldn't prove there was any organizational involvement.
ISRAEL-PALESTINE
96,409 confirmed cases (+1658) in Israel, 17,306 confirmed cases (+462) in Palestine

708 reported fatalities (+16) in Israel, 113 reported fatalities (+unchanged) in Palestine
The Israeli military bombed Gaza again in response to incendiary balloons on Tuesday, as President Reuven Rivlin threatened another full-blown war with Hamas and an Egyptian delegation worked to mediate a way out of more than a week of regular exchanges of fire. There were no reports of casualties, either from the balloons or the Israeli strikes. Additionally, Gaza's only power plant went offline, a result of a new Israeli fuel blockade, reducing most Gazans to around four hours of electricity per day without access to a private source of power.
It's been less than a week since Israel and the UAE unveiled their new diplomatic agreement and already a potential crack has formed. For political reasons, Israeli Prime Minister Benjamin Netanyahu was forced Tuesday to deny claims that part of the new arrangement would involve the US selling advanced weaponry to the UAE. One of the key rules governing US arms sales in the Middle East is that they should never compromise Israel's technological advantage. This means that while Israel is allowed to buy, say, the F-35 (yes, insert F-35 joke here), the UAE is not. I doubt the Emiratis are expecting to be able to buy the F-35, but they probably are expecting to have an easier time buying sophisticated weapons from the US as a result of this deal. If the Israelis put up a fuss about that it could create some problems in this brand new bilateral relationship.
This is really more domestic US politics and so not of particular interest for our purposes, but Donald Trump acknowledged on Monday that he moved the US embassy to Jerusalem "for the evangelicals." Again I don't want to spend any time on this but I do appreciate moments when our leaders say the quiet part—in this case, that evangelicals dictate the Republican Party's Israel policy—out loud.
OMAN
83,418 confirmed cases (+192)

597 reported fatalities (+9)
In perhaps his first major break with his predecessor, the deceased Sultan Qaboos bin Said, Omani Sultan Haitham bin Tariq on Tuesday appointed both a foreign minister (Badr al-Busaidi) and a finance minister (Sultan bin Salim al-Habsi). Qaboos held both of those jobs—along with a bunch of other ones—himself, an artifact of the 1970 coup that brought him to power and his verging-on-paranoid reluctance to share authority with anybody else. Haitham is likely to take further steps to devolve some responsibilities away from his own person—appointing a defense minister, for example, and/or even a prime minister—though he's taking things slowly (which seems prudent).
IRAN
347,835 confirmed cases (+2385)

19,972 reported fatalities (+168)
Secretary of State Mike Pompeo will invoke the 2015 Iran nuclear deal's dispute resolution mechanism on Thursday, when he heads to the United Nations to formally declare that Iran is out of compliance with that accord. We've already been over why this is absurd and I went into some detail about what comes next in Sunday's update. The upshot is that no matter what happens the Trump administration will probably declare that international sanctions against Iran are reimposed, and it's likely that most countries (or at least the ones who can afford to) will just ignore it. France, Germany, and the United Kingdom will probably try to delay the dispute process in hopes that Donald Trump loses in November, while hoping that Iranian hardliners don't get their way and that Tehran doesn't completely withdraw from the deal.
ASIA
AFGHANISTAN
37,599 confirmed cases (unchanged)

1375 reported fatalities (unchanged)
A dozen or more rockets landed in Kabul on Tuesday, some of them near the city's secure Green Zone. At least ten people were wounded. There's been no claim of responsibility but Afghan authorities say they have two people in custody.
PAKISTAN
289,832 confirmed cases (+617)

6190 reported fatalities (+15)
The main Pakistani Taliban organization (the Tehrik-e-Taliban Pakistan or TTP) announced in a statement on Tuesday that it's re-merging with two of its splinter groups, Jamaat-ul-Ahrar and Hizb-ul-Ahrar. This is either a shot in the arm for a resurgent TTP or a desperate show of force by a group that has been badly weakened by Pakistani security forces over the past several years. Maybe even a bit of both, if that's possible. Jamaat-ul-Ahrar has been pretty successful (defining "success" in terms of number of attacks and/or body count) since splitting from the TTP in 2014. Hizb-ul-Ahrar not so much since splitting from Jamaat-ul-Ahrar in 2017.
MYANMAR
376 confirmed cases (unchanged)

7 reported fatalities (unchanged)
Al Jazeera reports on a new push by the Myanmar government to resume negotiations with that country's array of rebel groups:
CHINA
84,871 confirmed cases (+22) on the mainland, 4561 confirmed cases (+36) in Hong Kong

4634 reported fatalities (unchanged) on the mainland, 70 reported fatalities (+1) in Hong Kong
The US and China say they will double the number of direct flights between the two countries in the next couple of weeks, to eight apiece. If you book now you might be able to get a good rate!
AFRICA
SUDAN
12,485 confirmed cases (+75)

805 reported fatalities (+2)
The interim Sudanese government and part of the Sudan People's Liberation Movement-North have reportedly reached an agreement that will bring the SPLM-N's fighters into the Sudanese military over the next 39 months. If this holds together it's a major victory for the Sudanese government, which has been trying to end that country's multiple open rebellions in order to focus on improving the economy and in order to potentially improve relations with the United States and thereby open up access to international financial networks. The accord involves the SPLM-N faction that's active in Sudan's Blue Nile state. There's a separate SPLM-N faction active in South Kordofan state that was not involved here, and there are still active rebel groups in Darfur.
The SPLM-N, for a refresher, is made up of the remnants of the Sudan People's Liberation Movement, which fought the 1980s-2005 Sudanese civil war. The main body of the SPLM now makes up the government of South Sudan, as well as some of the rebel factions in that country. The SPLM-N units remained in Sudan after South Sudan seceded in 2011.
Speaking of doing things to curry favor with the United States, it's looking like Sudan will be the next predominantly Arab country to open relations with Israel, following in the UAE's footsteps. This has been in the cards since the ouster of former Sudanese President Omar al-Bashir last year, but letting the UAE go first and take most of the heat was a sensible approach. Sudanese leaders will undoubtedly be hoping that this is the thing that gets them off of the State Department's list of terrorism sponsors.
LIBYA
9068 confirmed cases (+489)

164 reported fatalities (+7)
Libya's Government of National Accord has signed a new military cooperation agreement with both Qatar and Turkey, under which Ankara and Doha will send military advisers to Libya and train Libyan cadets in their military schools. Libya's war has been somewhat muted of late, as the GNA has not pushed forward with its planned offensive against Sirte and the "Libyan National Army" of warlord Khalifa Haftar has been in no condition to do much other than trying to recover from getting chased out of western Libya earlier this year.
MALI
2666 confirmed cases (+26)

125 reported fatalities (unchanged)
UPDATE: OK, you can probably ignore a good chunk of the next three paragraphs, but I wrote them before the story changed and I don't feel like deleting them. The upshot is that Malian President Ibrahim Boubacar Keïta has reportedly resigned and dissolved both his cabinet and parliament, after being taken into custody by a still-unknown Malian military unit earlier in the day. I think much of what's below still applies, though I wrote it when Keïta was still technically president. The big takeaway is that we really don't know very much, not even the identities of the mutineers who engineered this coup. We certainly have no idea what their political intentions are, though I imagine we will be getting some idea soon.
I would caution that whatever is happening in Mali is still in a state where there are a lot of unknown unknowns, as Donald Rumsfeld might put it. But what began as an apparent mutiny at a military base outside of Bamako has become a full blown military coup, with both President Ibrahim Boubacar Keïta and Prime Minister Boubou Cissé in custody. They're reportedly being held at the base where the mutiny began. The identities of the soldiers involved has not yet been revealed. The M5-RFP opposition group, which has been organizing large protests for the past few months demanding the resignation of Keïta and his government, rejected the label "coup" and instead called the uprising a "popular insurrection."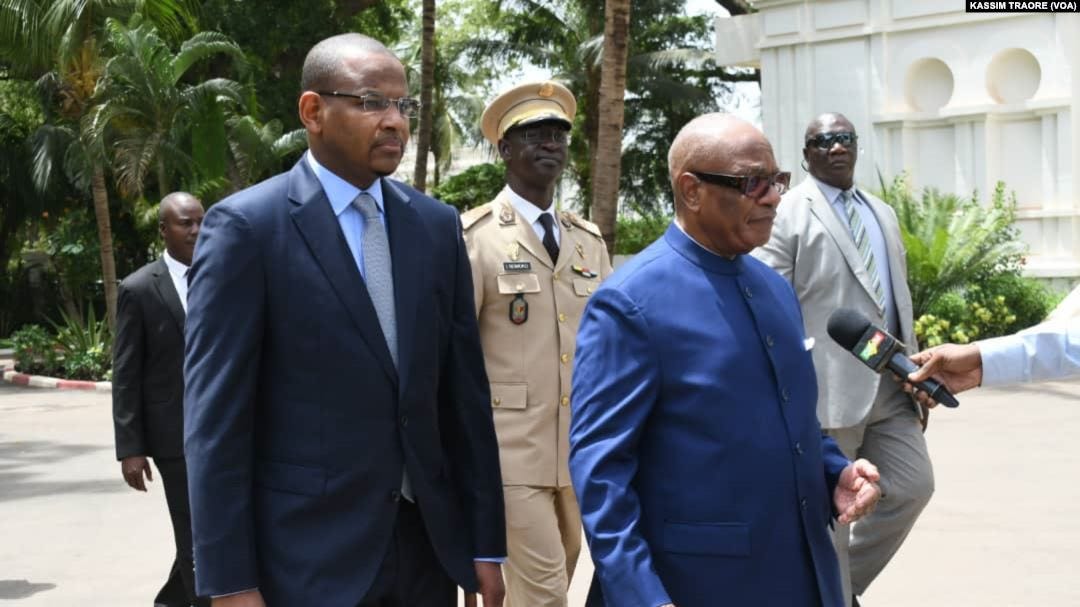 Cissé (left) and Keïta in presumably happier times last year (Kassim Traoré via Wikimedia Commons)
Keïta has been under pressure due to his failure to curtail jihadist violence, his failure to improve Mali's weak economy, and his alleged rigging of a parliamentary election earlier this year. That election was the immediate spark that triggered the protests. He's been offering concessions to the opposition, like the promise of a national unity government, but they've been rejecting his offers. The African Union and the regional ECOWAS bloc both condemned the coup (ECOWAS has decided to close Mali's borders in response), and the UN Security Council—which has an active peacekeeping mission in Mali—will be holding an emergency session on Wednesday. Somebody might want to note that there don't seem to be many people in Bamako who are upset by the day's events. Feelings may be different outside the capital, of course, but I'm just saying it might be nice to take the Malian people's feelings into account.
As I said above there are a lot of unknowns here. We don't know if the mutineers are connected in any way with Keïta's political opposition. We don't know who the mutineers are, period. We don't know if they planned their mutiny or if it happened spontaneously. If they did plan the mutiny, we don't know if they intended for it to go this far. We don't know if they have a political agenda, or are making any demands of Keïta. We don't, as I noted above, know if they have any support outside of Bamako. There are many other, longer term questions, as Alex Thurston has outlined at his blog. But a lot of those questions depend on the answers to more immediate ones.
ETHIOPIA
32,722 confirmed cases (+1386)

572 reported fatalities (+28)
Ethiopian Prime Minister Abiy Ahmed sacked his defense minister, Lemma Megersa, on Tuesday. Lemma and Abiy are former allies whose relationship has soured since Lemma criticized his boss last fall for dissolving the ruling Ethiopian People's Revolutionary Democratic Front coalition and merging most of its elements into his new Prosperity Party. Lemma is popular among Ethiopia's Oromo community and it will be interesting to see if he now becomes a more active part of the growing opposition to Abiy and his liberalizing agenda.
Abiy has delayed a planned election into next year. That has exacerbated tension with the Tigray People's Liberation Front, which used to be part of the EPRDF and rejected the Prosperity Party transition. The TPLF is planning to go ahead with a regional election next month, in a direct challenge to Abiy's authority. He's been calling on them to cancel that election, setting up a potential clash over the next few weeks.
EUROPE
RUSSIA
932,493 confirmed cases (+4748)

15,872 reported fatalities (+132)
Trump administration arms control envoy Marshall Billingslea told reporters on Tuesday that he's given Russia the administration's list of demands for an extension of New START and "the ball is now in Russia's court." Wow, that's comforting. It's unclear whether "make China do what we want" is still on that list of demands, but things that are definitely on it include limits on short-range weapons and stronger verification measures.
BELARUS
69,673 confirmed cases (+84)

617 reported fatalities (+4)
Workers at several Belarusian state-owned enterprises walked off the job on Tuesday, bringing the country closer to a general strike over demands that President Alexander Lukashenko resign. Additionally, the Belarusian ambassador to Slovakia, Igor Leshchenya, resigned in support of the anti-Lukashenko protesters. The protests themselves seem to have been a little calmer on Tuesday than in previous days, though that's just my own sense from the reports I've seen. A large group of demonstrators targeted the prison in Minsk wherein Lukashenko's security forces are holding Sergei Tikhanovsky, the husband of presidential candidate Svetlana Tikhanovskaya.
Tikhanovsky was going to run for president until his arrest, prompting his wife to run in his place and making her the leader of the opposition. She's now in Lithuania, having either fled or been ordered to flee, and increasingly seems to be embracing her new role as president-in-exile. Although the heavily disputed results of last week's presidential election had Lukashenko winning in a landslide, Tikhanovskaya has been directing protests from abroad and has now set up an opposition council to support her claims. Lukashenko spent his day handing out medals to his security forces, which are the key to his remaining in power, but there have been anecdotal reports of police officers walking off the job in solidarity with the protesters. More of that kind of thing and Lukashenko won't be around much longer.
REPUBLIC OF NORTH MACEDONIA
12,970 confirmed cases (+130)

549 reported fatalities (+2)
Macedonian Prime Minister Zoran Zaev's Social Democratic Union party has cut a deal with the ethnic Albanian DUI party that secures it a majority and will lead to the first Albanian PM in Macedonia's relatively short history. If everything goes as planned, Zaev will spend most of the new parliamentary term as PM, but will give way to a DUI-appointed PM 100 days before the next election, scheduled for 2024.
AMERICAS
BOLIVIA
101,223 confirmed cases (+879)

4123 reported fatalities (+65)
A new poll shows conservative presidential candidate Carlos Mesa in good shape heading into a general election, whenever that might be. The survey, from pollster Mercados y Muestras, has Mesa tied with Movement for Socialism candidate Luis Arce at 23 percent each in the first round of the election, which is now scheduled for October 18 but could be delayed again. That would put them both in a runoff, which the poll shows Mesa leading decisively, 47 percent to Arce's 30 percent. I have no idea how accurate the poll is, or really how accurate any polling could be given the unrest in Bolivia right now, and this poll needs to be balanced against many others that have put Arce in the lead or at least had him much closer to Mesa in a second round.
VENEZUELA
35,697 confirmed cases (+895)

297 reported fatalities (+9)
Venezuela's Constitutional Assembly will reportedly dissolve itself in December, ceding legislative responsibilities to the new National Assembly that's scheduled to be elected that month. Venezuelan President Nicolás Maduro created the Constitutional Assembly in 2017 to usurp power from the opposition-controlled National Assembly, but with Maduro loyalists expected to clean up in December (many opposition parties are planning to boycott), there will presumably be no need for a second pro-Maduro legislature.
UNITED STATES
5,655,974 confirmed cases (+43,999)

175,074 reported fatalities (+1358)
Finally, at Foreign Policy, Michael Shifter and Bruno Binetti of the Inter-American Dialogue chronicle the latest conflict to beset the Trump administration and its relationship with Latin America:
Usually a rather obscure diplomatic process, the upcoming election of the new president of the Inter-American Development Bank (IDB) is becoming anything but. In recent days, several Latin American countries have come out in favor of postponing the vote, now scheduled for Sept. 12-13, until March 2021. The move represents a direct rebuke of the U.S. President Donald Trump's administration, which in June nominated Mauricio Claver-Carone, a hard-line advisor to the president on Latin American affairs, to lead the bank for the next five years.

Like much of Trump's Latin America policy, the nomination was perceived as an affront in the region. And it became clear over the summer that it would not go unchallenged. The first sign of trouble came when five former Latin American presidents (all of whom had friendly relations with the United States while in office) openly opposed Claver-Carone's nomination, arguing that the IDB presidency should remain in Latin American hands, as it had since the bank's founding in 1959. That message was reinforced by letters from a slew of former foreign ministers, linked with governments of varied political orientations, from Argentina to Brazil, Chile, Guatemala, and Peru. Strong declarations from a wide array of influential Latin Americans joined the chorus.

Next, sitting governments began to join in the criticism. To date, Argentina, Chile, Costa Rica, and Mexico have joined in insisting the vote be delayed. Peru is expected to do so soon, and Canada and some European governments that have shares in the IDB may get on board as well, taking their cue from the shifting momentum in the region. Other governments are reviewing their options. What binds the diverse group is an interest in defending Latin American interests and autonomy against an overzealous White House and a desire to avoid regional polarization. It remains unclear if the gambit will work, but the likelihood of postponement is increasing by the day.