Discover more from Foreign Exchanges
Daily roundups of world news and thoughtful commentary on US foreign policy.
Over 24,000 subscribers
World update: August 15-16 2020
Stories from Iran, Thailand, Greece, and more
This is the web version of Foreign Exchanges, but did you know you can get it delivered right to your inbox? Sign up today:
---
THESE DAYS IN HISTORY
August 14, 1480: The Martyrs of Otranto
August 14, 1947: At midnight, the Indian Independence Act of 1947 goes into effect, ending the British Raj and creating the independent states of India and Pakistan. This territory included the future state of Bangladesh, though at this time it was part of Pakistan. This date is commemorated as Pakistani Independence Day while August 15 is commemorated as Independence Day in India. Initially both countries commemorated August 15, but the Pakistanis later shifted to August 14 because British Viceroy Louis Mountbatten held Pakistan's independence ceremony on that date so that he could attend a similar ceremony in India the following day.
August 15, 718: The Siege of Constantinople ends
August 15, 1914: The Panama Canal formally opens with the passage of a US commercial vessel, the SS Ancon. After the US took over the canal project from France in 1904 the project cost some $500 million to complete. It also cost the lives of some 5600 workers, a frighteningly high figure that is nevertheless much improved from the 22,000 workers who died on the job during the initial French effort in the 1880s.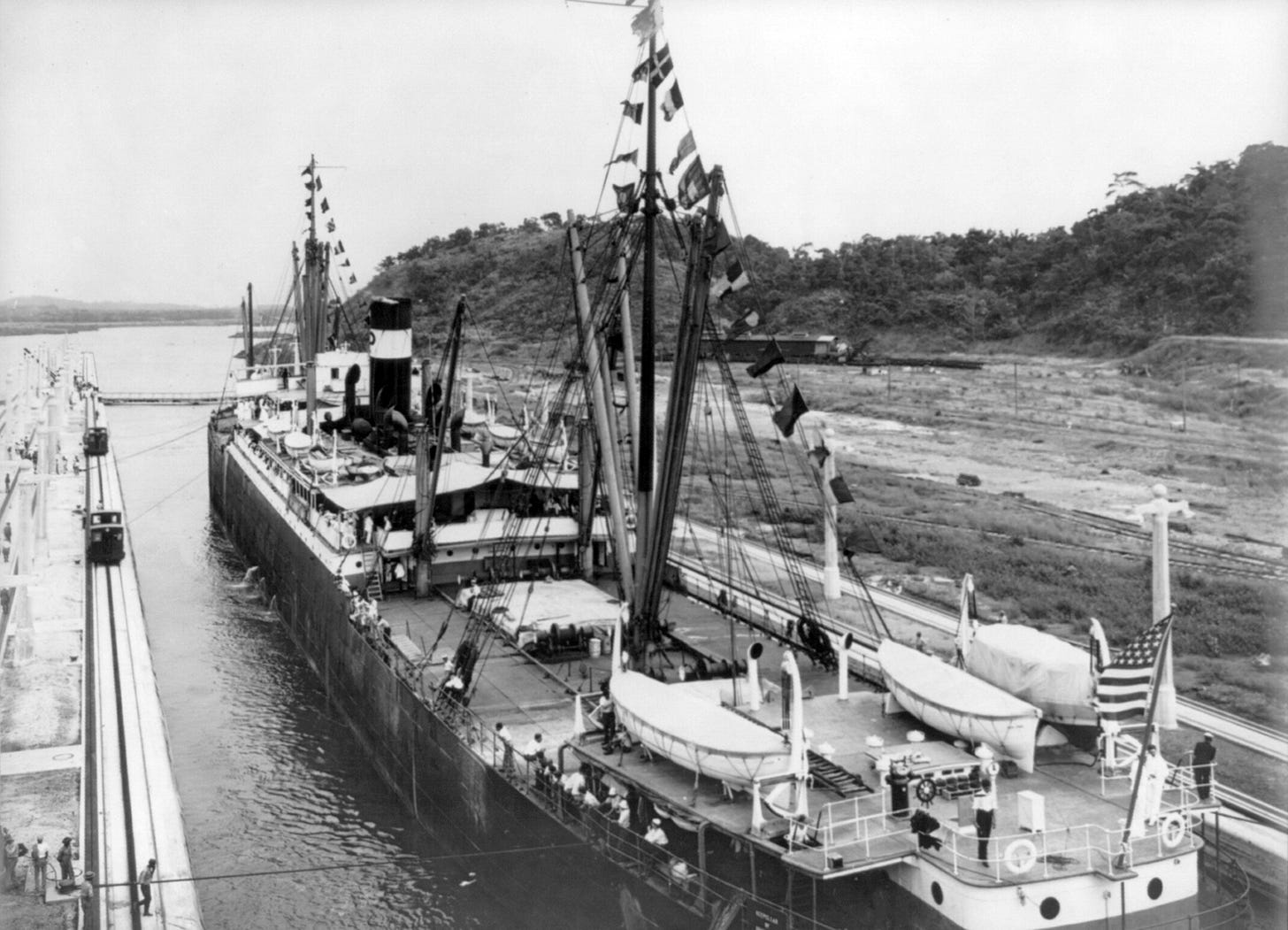 The Ancon making the first trip through the canal (Library of Congress via Wikimedia Commons)
August 15, 1960: The Republic of the Congo gains its independence from France, marking this date as Independence Day in that country.
August 16, 1972: A rogue element within the Moroccan military attempts a coup against King Hassan II by attacking his airplane. The midair assassination attempt killed eight people but was thwarted by the king himself, who jumped on the radio and shouted "The tyrant is dead," thereby causing the attacking aircraft to break off. Mohamed Oufkir, Moroccan defense minister and the ringleader of the coup plot, was later found dead with multiple gunshot wounds to the chest. Moroccan authorities deemed it a suicide.
INTERNATIONAL
Worldometer's coronavirus figures for August 16:
21,817,682 confirmed coronavirus cases worldwide (6,491,726 active, +212,195 since yesterday)

772,751 reported fatalities (+4525 since yesterday)
MIDDLE EAST
YEMEN
1869 confirmed coronavirus cases (+530)

11 reported fatalities (+2)
The Saudis say they intercepted another ballistic missile launched by the Houthis on Sunday. There's been no comment from the Houthis as far as I know.
Meanwhile, the Houthis and the United Nations apparently still haven't come to terms on allowing a UN team to inspect the FSO Safer, an oil tanker that's been sitting abandoned near Hudaydah's seaport since 2015 with a cool 1.1 million barrels of oil aboard. The buildup of incendiary fumes on board has left the Safer vulnerable to accidental explosion, threatening to blow a massive amount of crude over a large chunk of the Red Sea and choking smoke over a much wider area. The Houthis want the UN to send a team to both assess the risk and begin repairs to the ship at the same time, and then they want to claim its cargo. The UN is resisting on both counts—particularly on the demand that they do assessment and repair simultaneously, which is probably unwise in a technical sense.
IRAQ
176,931 confirmed cases (+4348)

5860 reported fatalities (+75)
Somebody fired a rocket into Baghdad's secure Green Zone on Sunday evening, to no apparent effect. It's been a pretty active week for militias and/or the Islamic State targeting areas with a significant US presence inside Iraq. There have been nine such attacks, though they've all been fairly low-level.
LEBANON
8881 confirmed cases (+439)

103 reported fatalities (+6)
On Monday, Lebanon will begin its formal investigation into the explosion at Beirut's port earlier this month. The investigation is being handled by the Lebanese military and led by a military judge. He'll be looking at the conduct of some 25 officials involved in running the port, all of whom are bureaucrats and therefore not really culpable in having created the political morass that caused the explosion and is Lebanon's true problem. The investigation promises to be a significant political event nonetheless, and in that sense it will be compounded by the expected verdict Tuesday from the tribunal at The Hague that's been investigating the 2005 assassination of former Prime Minister Rafic Hariri. The tribunal is expected to conclude that Hezbollah, or at least a group of Hezbollah members, was responsible, which could prove scandalous but likely won't have any substantive impact politically.
ISRAEL-PALESTINE
92,680 confirmed cases (+447) in Israel, 16,534 confirmed cases (+381) in Palestine

685 reported fatalities (+11) in Israel, 110 reported fatalities (+2) in Palestine
The Israeli military has apparently decided to limit its attacks on Gaza to days that end with the letter "y." The IDF bombed the enclave overnight again, for the fifth night in a row, apparently in response to more "incendiary balloons." This round of airstrikes prompted a Palestinian protest at the Israeli security fence that surrounds Gaza, in which at least two protesters were wounded by IDF gunfire. There are no reports of additional casualties. There are reports that a couple of rockets were fired out of Gaza as well, which prompted more Israeli strikes on Sunday along with a decision to completely revoke Gaza's offshore fishing rights. Israeli officials had already restricted the offshore fishing zone earlier this week.
In the West Bank, a 21 year old Palestinian man was reportedly killed outside the city of Nablus on Saturday when an Israeli settler ran him over in a car. It's possible or even likely that this was a hate crime though I would caution that there's been no determination of that.
If Israeli Prime Minister Benjamin Netanyahu was expecting an immediate boost in popularity from his new diplomatic agreement with the UAE, he might have been dismayed to see an estimated 10,000 people out in the streets around his residence in Jerusalem overnight demanding his resignation, along with thousands more in Tel Aviv and elsewhere across the country. Apparently even big foreign policy wins can't wash away the stench of corruption. The deal has also, unsurprisingly, earned Netanyahu some new opposition to his right, since it obliges Israel to delay (though no more than that) any plans to annex the West Bank. I suspect they'll get over it, although with polls showing that fringe right champion Naftali Bennett is now Netanyahu's main rival for PM, I wouldn't discount the potential impact if Israel winds up holding a new election soon.
Speaking of the new Israel-UAE relationship, the two countries signed the first of what should be many commercial deals over the weekend, this one focused on COVID-19 research and development. Israeli Foreign Minister Gabi Ashkenazi and UAE Foreign Minister Sheikh Abdullah bin Zayed Al Nahyan also exchanged pleasantries after direct phone service was established between the two countries on Sunday for the first time ever. Previously, anyone in Israel trying to call the UAE, or vice versa, had to use a Palestinian number to complete the call. So that's nice. Definitely worth the damage this arrangement has done to the Palestinians.
KUWAIT
76,205 confirmed cases (+508)

501 reported fatalities (+3)
Israeli Intelligence Minister Eli Cohen says he expects Bahrain and Oman, and potentially Sudan, to follow the UAE's lead in normalizing relations with Israel, something we've discussed here. But Kuwait may be another story. The emirate's al-Qabas newspaper reported Sunday that Kuwaiti leaders remain unchanged in their position on recognizing Israel, which is that they'll only do so if a hypothetical Palestinian government does it first.
UNITED ARAB EMIRATES
64,312 confirmed cases (+210)

364 reported fatalities (+3)
The Emirati government summoned the Iranian charge d'affaires on Sunday to complain about a speech Iranian President Hassan Rouhani gave the day before in which he called the UAE-Israel deal "a huge mistake" and "a treacherous act" by the UAE. Among other things, the Emiratis voiced concern about the treatment of their diplomatic staff in Tehran, after protests broke out in front of the UAE embassy late Saturday. The Iranian government hasn't always upheld its responsibility to protect foreign missions, and no I'm not referring to the US embassy crisis.
IRAN
343,203 confirmed cases (+2133)

19,639 reported fatalities (+147)
Having been embarrassed at the UN Security Council on Friday, Donald Trump confirmed over the weekend that, as expected, his administration will now use the upcoming expiration of the UN's arms embargo against Iran as justification for invoking the "snapback" mechanism in the 2015 Iran nuclear deal. This is a step that will not result in an extension of the embargo but could destroy whatever remains of that deal and could, no fooling, break the UNSC. It's a step so bonkers that even John Bolton thinks it's a bad idea, though to be fair if he were still in the administration I suspect he'd be supporting it.
I suppose now that we've reached this point a refresher on "snapback" is in order. Back when the 2015 deal was being negotiated, a big concern on the Western side was that it would be impossible to reimpose sanctions if the Iranians breached the deal, because Russia and China would veto any attempt at the UNSC. The compromise was "snapback." If a participating state accuses Iran of non-compliance, it triggers a lengthy (at least 45 days and possibly longer) dispute resolution process. If that process fails, the complaining participant has the right to refer the issue to the council. There are more procedural details, but the upshot is that once it goes to the council the reimposition of sanctions becomes automatic, unless the council passes a resolution preventing it. That would allow the US, say, to control the process with its veto, instead of Russia and China.
In this case, the Trump administration has no interest in resolving any dispute. There isn't really a dispute, for that matter, except the one created when the US abandoned the deal in 2018. So it would like to just run out the clock and see the sanctions reimposed, to which Iran would retaliate by fully withdrawing from the deal and maybe from the Non-Proliferation Treaty as well—a much more provocative step. There's just one teeny problem, which is that the US is no longer a participating state in the deal. However, the administration argues that even though it's not a participant under the deal itself, it is still considered one under the UNSC resolution that enacted the deal, which identifies the US as a participant and has never been amended to reflect the US withdrawal.
This argument is logically absurd but legally may actually be defensible, though none of the deal's remaining participant states, nor any peripheral organizations like the European Union, agree with it. One possible way to stop it is at the stage of invoking the dispute mechanism. The Security Council could block the US from holding a session about the issue, preventing the process from starting. But they would have to do this over and over again, potentially bringing the council to a standstill. Failing that, what will happen is that the US will veto any resolution to stop the reimposition of sanctions and will declare that they are once more in effect. The rest of the world will either agree and obey the sanctions or, more likely, will ignore them and the US claim. That would render both the council and the US veto superfluous, which is the root of Bolton's objection to taking this step.
One minor but nevertheless significant outcome of this process will likely be the loss of the "snapback" tool as a part of future arms control agreements. Now that the US has decided to invoke it in obvious bad faith, it's unlikely anybody will ever agree to its use again. Which is a shame, because it was a fairly elegant solution to a difficult and pretty common problem in these sorts of international negotiations.
ASIA
AFGHANISTAN
37,596 confirmed cases (+45)

1375 reported fatalities (+5)
Unknown gunmen attempted to assassinate Fawzia Koofi, a member of the team charged with negotiating a peace deal with the Taliban, on Friday near Kabul. She escaped with only minor injuries. As an outspoken women's rights activist as well as a member of the negotiating team, Koofi is probably not well-liked by either the Taliban or the Islamic State. The Taliban has denied involvement in the attack, but that doesn't mean a particular Taliban unit didn't decide to take a shot at her. The line between IS and some more extreme Taliban factions (the Haqqani network, for example) is pretty thin anyway, if it exists at all.
THAILAND
3377 confirmed cases (+1)

58 reported fatalities (unchanged)
Upwards of 10,000 people protested in Bangkok on Sunday for a major (at least by Thai standards) anti-government protest. Opposition to the government led by Prime Minister Prayut Chan-o-cha, who led the 2014 military coup that overthrew Thailand's last civilian government and represents a continuation of military rule under a thin civilian guise, is not terribly surprising. What is interesting is that these protests have begun to also target the Thai monarchy. In particular, they're calling for an amendment to the Thai constitution that makes it legal to criticize the monarchy. King Vajiralongkorn has been supporting Prayut and vice versa, with the government looking the other way as Vajiralongkorn eliminates traditional legal checks on his control over royal assets.
CHINA
84,827 confirmed cases (+19) on the mainland, 4481 confirmed cases (+74) in Hong Kong

4634 reported fatalities (unchanged) on the mainland, 69 reported fatalities (+1) in Hong Kong
The Trump administration has designated the parent organization that oversees the network of "Confucius Institutes," housed within post-secondary institutions across the United States, as an agent of the Chinese government.
The Office of Chinese Language Council International is affiliated with China's Ministry of Education and organizes these institutes, which are intended to promote the study of Chinese languages and cultural exchange programs and operate in both secondary and post-secondary schools around the world. They're supposed to be managed by their host institutions, but in the same way that we questions what copious funding from the Charles Koch Institute means for academic freedom at a place like George Mason University, there are questions about what Chinese funding via these institutes means for the autonomy of the places that accept it. The designation probably doesn't change anything about the institutes or their operations, but it could scare at least some colleges and universities into shutting theirs down.
OCEANIA
NEW ZEALAND
1622 confirmed cases (+13)

22 reported fatalities (unchanged)
New Zealand authorities have decided to postpone that country's September 19 general election until October 17, due to a slight resurgence of COVID-19 cases. Auckland is now under lockdown, making it difficult if not impossible to campaign. By law New Zealand has until mid November to hold the vote. Prime Minister Jacinda Ardern's Labour Party is expected to do well, though if there's a larger outbreak of coronavirus the credit she's won for handling New Zealand's outbreak so effectively is probably going to disappear.
AFRICA
ETHIOPIA
29,876 confirmed cases (+982)

528 reported fatalities (+19)
Negotiating teams from Ethiopia, Egypt, and Sudan resumed talks on Sunday as part of an African Union-mediated process for reaching agreement on the management of the Grand Ethiopian Renaissance Dam. Both Egypt and Sudan suspended the talks earlier this month over the Ethiopian government's attempt to refocus the talks on a larger treaty governing water use on the Blue Nile river. Now they've all apparently submitted their own draft agreements and are meeting to try to harmonize them. Egyptian Prime Minister Mostafa Madbouli met in Khartoum with Sudanese Prime Minister Abdalla Hamdok on Saturday, after which both men said they were "optimistic" about the possibility of reaching an accord.
SOMALIA
3256 confirmed cases (+6)

93 reported fatalities (unchanged)
Al-Shabab fighters attacked a beachfront hotel in Mogadishu on Sunday, leading to a four-hour battle with Somali security forces that left at least 15 people dead—ten casualties at the hotel plus the four attackers and one police officer. Two of the attackers were killed early on, after an initial car bombing began the operation, but the other two were able to get into the hotel and take hostages.
EQUATORIAL GUINEA
4821 confirmed cases (unchanged)

83 reported fatalities (unchanged)
Equatoguinean Prime Minister Francisco Pascual Obama Asue and his cabinet resigned on Sunday, ostensibly to take the fall for a poor economy but possibly for internal political reasons. President Teodoro Obiang may be preparing things for the succession of his son and vice president, Teodorin Obiang. It's not entirely clear why he'd need to swap out cabinets for that purpose, but it could be that he's looking to install some of Teodorin's people in the government ahead of a transition.
DEMOCRATIC REPUBLIC OF THE CONGO
9676 confirmed cases (+38)

240 reported fatalities (+1)
The Islamist Allied Democratic Forces militia has reportedly killed at least 12 people over three days in the Beni region of the DRC's North Kivu province. That includes four farmers killed on Friday night and another eight people in a Saturday attack on a village in the same vicinity.
MOZAMBIQUE
2855 confirmed cases (+64)

19 reported fatalities (unchanged)
Mozambican security forces have surrounded the northern port town of Mocímboa da Praia, which was captured by Islamist militants affiliated with the Islamic State's Central Africa Province on Wednesday. This is the second time these militants have occupied parts of the town—which has become an important hub for major offshore gas projects in northern Mozambique—this year.
MAURITIUS
346 confirmed cases (unchanged)

10 reported fatalities (unchanged)
The MV Wakashio, a Japanese oil tanker that ran aground off the Mauritian coast and has been leaking fuel oil into the ocean ever since, split in two on Saturday in rough seas. Over 1000 metric tons of the fuel aboard the vessel (it thankfully wasn't carrying any cargo) has already spilled out. An emergency pumping operation managed to prevent roughly 3000 metric tons from spilling, but the disintegration of the ship has released whatever remaining oil was already in the ship's mechanical systems.
EUROPE
BELARUS
69,516 confirmed cases (+92)

610 reported fatalities (+3)
A rally in support of embattled Belarusian President Alexander Lukashenko in Minsk on Sunday was reportedly dwarfed by a counter rally demanding Lukashenko's resignation in the wake of his disputed electoral victory last Sunday. The anti-Lukashenko rally drew an estimated 100,000 people, compared with perhaps 10,000 who turned out in support. Thousands had already turned out demanding Lukashenko's ouster on Saturday, responding to a call on Friday from opposition candidate Svetlana Tikhanovskaya—now in exile in Lithuania—for more protests.
After alleging prior to the election that the Russian government was maneuvering to oust him, Lukashenko has since lurched in the other direction and is now alleging that he's a victim of the West. In a speech to his supporters on Sunday Lukashenko claimed that NATO was massing forces along Belarus's western border. There is no indication as far as I'm aware that anything like that is happening. NATO denied it, for whatever that's worth.
The claim seems to be part of a bigger appeal from Lukashenko to Russian President Vladimir Putin for support, positioning Belarus as the only thing standing between NATO and Russia. At this point there's also no indication that Putin, whose relationship with Lukashenko has been lousy for some time now, is preparing to send forces to help the Belarusian leader put down these protests. Though that could always change, and if NATO really is planning to intervene, Putin would probably get involved at that point. Again there's no indication any of that is happening. The only thing that seems certain is that there will be more protests in the coming days.
GREECE
7075 confirmed cases (+217)

228 reported fatalities (+2)
The Greek government has reportedly found a new way to brutalize migrants—setting them adrift at sea:
Since March, at least 1,072 asylum seekers have been dropped at sea by Greek officials in at least 31 separate expulsions, according to an analysis of evidence by The New York Times from three independent watchdogs, two academic researchers and the Turkish Coast Guard. The Times interviewed survivors from five of those episodes and reviewed photographic or video evidence from all 31.

"It was very inhumane," said Najma al-Khatib, a 50-year-old Syrian teacher, who says masked Greek officials took her and 22 others, including two babies, under cover of darkness from a detention center on the island of Rhodes on July 26 and abandoned them in a rudderless, motorless life raft before they were rescued by the Turkish Coast Guard.

"I left Syria for fear of bombing — but when this happened, I wished I'd died under a bomb," she told The Times.

Illegal under international law, the expulsions are the most direct and sustained attempt by a European country to block maritime migration using its own forces since the height of the migration crisis in 2015, when Greece was the main thoroughfare for migrants and refugees seeking to enter Europe.

The Greek government denied any illegality.
AMERICAS
COLOMBIA
468,332 confirmed cases (+11,643)

15,097 reported fatalities (+287)
Gunmen shot and killed at least eight people overnight in the town of Samaniego in Colombia's Nariño department. It's unclear who was responsible or why, but Nariño is a major coca producing region that also happens to be home to several groups of former FARC rebels who "rejected," according to AFP, that group's 2016 peace deal with the Colombian government.
GUATEMALA
62,562 confirmed cases (+249)

2379 reported fatalities (+24)
Forty indigenous families in northern Guatemala have reportedly been forced to flee after an unknown group burned and ransacked several of their homes in an effort to force them out and seize their land. The owner of the land on which these families live, a businesswoman named Dorothee Dieseldorff, claims that a group of about 300 people moved onto her land last March and has been burning rubber crops.
UNITED STATES
5,566,632 confirmed cases (+36,843)

173,128 reported fatalities (+522)
Finally, Bloomberg columnist Julian Lee argues that the US seizure of four oil tankers carrying Iranian product to Venezuela on Thursday was a legal throwback to the days of the British Empire:
Just like the British back then, the U.S. has given itself the right to seize property on the high seas that it believes to be owned by entities it considers foreign terrorist organizations.

The methods have certainly changed though.

The U.S. isn't licensing acts of piracy by private individuals. Nor, in this case, has it resorted to military action. A senior U.S. official told The Associated Press that no military force was used in the seizures. Instead, threats of potentially crippling sanctions against the owners, insurers and captains of the vessels persuaded them to hand over the cargoes.

But the concept has altered little in 440 years — we still have one of the world's preeminent naval powers passing its own laws allowing it to seize treasure from its enemies in the ocean.