World update: April 5 2019
Stories from Yemen, Iran, Indonesia, Libya, and more
We are rapidly approaching the point where you're going to need to subscribe to stay on top of what's happening in the world. Starting Monday I'll only be unlocking a couple of these updates each week. Please subscribe today to take advantage of my 20 percent off sale, active through the end of the month:
MIDDLE EAST
YEMEN
I wrote about Thursday's War Powers vote in the House of Representatives for LobeLog, including my thoughts on the usual defenses offered for the war:
Despite the suffering this conflict has caused, the Saudis and the Trump administration continue to insist, in true "who are you going to believe, me or your lying eyes" fashion, that they've been saving Yemeni lives. The Saudis and their partners in the United Arab Emirates like to note that they've given more humanitarian aid money to Yemen than any other international parties, eliding the fact that their military campaign has created humanitarian harm that far exceeds the benefit of their financial support. Secretary of State Mike Pompeo insists that U.S. involvement in Yemen "has led to a significant decline in civilian casualties," which crosses the line from cynical to absurd. The U.S. government has also said that ending its role in Yemen would make it harder for the United States to support negotiations on a potential settlement of the conflict, an argument that was flimsy four years ago and is laughable today.
Yemen of course remains the world's worst humanitarian crisis, whose components I describe in the LobeLog piece. At Foreign Policy, Anthony Pfaff and Patrick Granfield write that the horrors of Yemen are not unique to that conflict but are indicative of all proxy wars. They argue that proxy wars take the criteria of just war theory and turn them upside down:
These criteria provide an important framework for containing the worst excesses of war, but as the proxy commitments of the Soviet Union and later Russia, Iran, and the United States have shown, they are incomplete. Proxy conflicts, as the war in Yemen reveals, introduce complications that just war theory does not consider.

Much of this comes from a single flawed assumption: that if a proxy's cause is just, then a benefactor's support for them must be just. This ignores a reality now borne out by six decades of U.S. involvement in proxy conflict. The moment the United States has intervened on a proxy's behalf, whether in Vietnam, Afghanistan, or Yemen, this has immediately changed a proxy's thinking. Once a proxy has a benefactor's support, they have greater incentive to escalate a conflict rather than resolve it. A proxy has greater resources, and greater reason, to forgo risks around the negotiating table and pursue them on the battlefield.
TURKEY
Although it signaled just a few days ago that Turkey might not be getting those F-35s it ordered after all, the Pentagon is continuing to train Turkish pilots on how to fly the aircraft. Which makes sense—it's in Washington's interest to wait to cancel the sale until the last possible moment, or until Turkey finally concludes its purchase of Russia's S-400 air defense system. Outright canceling the sale now would end any chance of encouraging Turkey to eschew the S-400 and buy the Patriot system instead.
ISRAEL-PALESTINE
The final round of polling ahead of next week's Israeli election shows Benjamin Netanyahu losing the election but remaining prime minister. The Blue and White Party, led by former Israeli Defense Forces chief of staff Benny Gantz, is projected to win 30 seats in the Knesset, ahead of Netanyahu's Likud Party at 26. But overall, Netanyahu's right-to-far-right coalition is expected to take 63 seats, a majority in the 120 seat legislature. This would make it mathematically impossible for Gantz to get to a majority barring the very unlikely event he were able to persuade some faction in Netanyahu's coalition to come over to him.
QATAR
The Inter-Parliamentary Union is holding its annual meeting in Doha over the weekend, but it will be short at least four members after the four countries that attempted to blockade Qatar—Saudi Arabia, Egypt, the United Arab Emirates, and Bahrain—all announced that they won't be attending because of the location. I could lie and say I was aware of the IPU's existence before I read about this boycott, but I will not. As far as I can tell it's an organization for parliamentarians around the world to come together and talk—like Davos but somehow ever dumber. It allegedly promotes "positive democratic change," though probably not very heavily considering the countries that are on its members list.
SAUDI ARABIA
Mohammad bin Salman's New and Improved Saudi Arabia tossed eight more critics of the Saudi government in jail on Thursday. Included among them are two US-Saudi dual citizens, writer Badr al-Ibrahim and activist Salah al-Haidar, and a pregnant woman, writer Khadijah al-Harbi. So that's nice. It's unclear whether MBS is acting on his own accord here—it's been alleged that King Salman has been out of the loop on some of his son's activities, which is probably par for the course for an 83 year old man who's suffered at least one stroke and most likely has some form of dementia.
International Atomic Energy Agency head Yukiya Amano says that the Saudis will need to accept an inspections regime and non-proliferation safeguards before they'll be allowed to import fuel for the nuclear reactor they're building outside of Riyadh. The Saudis have shown no inclination to accept any kind of obligations with respect to their nuclear program, yet they're building the reactor just the same. Maybe they know something the IAEA doesn't.
IRAN
The Trump administration is reportedly set to designate Iran's Islamic Revolutionary Guard Corps as a foreign terrorist organization. Although this will be portrayed as an escalation of the administration's "maximum pressure" campaign against Iran, the IRGC is already so heavily sanctioned that it's unlikely to have much practical effect on that organization itself. In fact, the IRGC tends to do pretty well for itself economically when Iran is under heavy sanctions, so if anything this may be good for business. What it may do is make foreign interests even less likely to do business in Iran, given the prevailing view that the IRGC has its tendrils extended throughout the Iranian economy (Iran's opacity doesn't help alleviate those concerns). And it will make it harder for a subsequent US administration—assuming there is one and we're not circling the end at this point—to reduce tensions with Tehran.
ASIA
AFGHANISTAN
The Taliban's attack on a government compound in Badghis province, which began on Wednesday night, continued throughout the day on Thursday and well into Friday. At this point reports say the Taliban killed 36 government security personnel and captured several checkpoints despite losing 30 of their own fighters. By Friday, after coalition airstrikes, the Taliban had reportedly retreated from some of the checkpoints it had captured.
PAKISTAN
The Pakistani government says it will release some 360 Indian prisoners this month, the latest sign that relations between the two countries are improving after their dustup in late February.
INDIA
Speaking of that dustup, while the Indian government insists it shot down a Pakistani F-16 during one of the several clashes between the two countries in late February, the United States government says that it's counted Pakistan's F-16 fleet and, yep, they're all in one piece. There's no particular reason to believe India when it says it shot down a Pakistani fighter—that claim was made more for domestic political consumption than anything else. But likewise there's no particular reason to believe the US here, since acknowledging that a Pakistani F-16 was shot down would mean acknowledging that Pakistan used at least one of its F-16s in combat with India, which it's not supposed to do under its sales agreement with the US. That would open up a can of worms that Washington would probably like to leave closed.
THAILAND
Suspected Muslim insurgents shot and killed two Thai border police on Friday as they were praying in a mosque in Yala province. There's been an ongoing insurgency in southern Thailand since as far back as the late 1940s, but it flared up again in the early 2000s.
INDONESIA
2019 would seem to be a year of elections, including a presidential election in two weeks in Indonesia. While any Indonesian presidential election is a big deal given the size of the country, polling indicates that this one may not be terribly eventful. Across four different polls, incumbent Joko Widodo leads his opponent, former general Prabowo Subianto, by between 13 and 20 percent. It's true that there a lot of undecided voters still out there—as many as 20 percent it would appear—but that's a pretty overwhelming lead. Prabowo is reportedly already trying to cast suspicion on the eventual outcome, which needless to say isn't something you do if you think you have a chance of winning.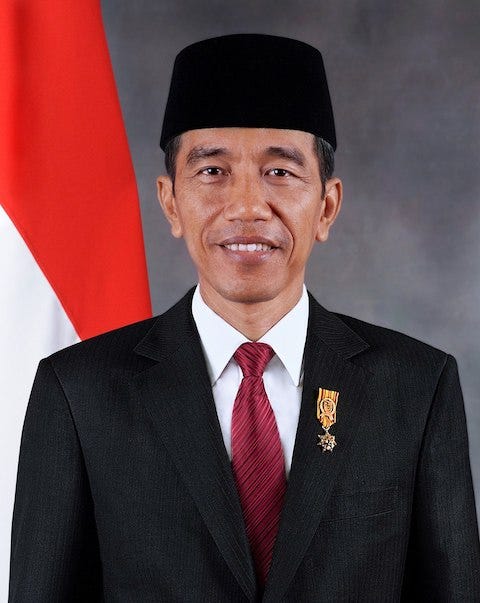 CHINA
While US and Chinese negotiators may be close to reaching agreement on a new trade deal, it would appear that their trade war, though brief, has spurred some manufacturers to move their operations elsewhere:
The move, known as decoupling, is a major goal of those who believe the world has grown far too dependent on China as a manufacturing giant. As Beijing builds up its military and extends its geopolitical influence, some officials fear that America's dependence on Chinese factories makes it strategically vulnerable. 

Now companies in a number of industries are reducing their exposure to China. GoPro, the mobile camera maker, and Universal Electronics, which makes sensors and remote controls, are shifting some work to Mexico. Hasbro is moving its toy making to the United States, Mexico, Vietnam and India. Aten International, a Taiwanese computer equipment company, brought work back to Taiwan. Danfoss, a Danish conglomerate, is changing the production of heating and hydraulic equipment to the United States.
AFRICA
LIBYA
Khalifa Haftar's "Libyan National Army" advanced into the southern outskirts of Tripoli on Friday, with reports emerging later in the day that it had captured the city's international airport (which has been mostly shut down for several years now). Conflicting reports say the airport was retaken by forces loyal to the internationally-recognized Libyan government, so suffice to say the situation is a little murky at this point. Earlier in the day, United Nations Secretary-General António Guterres made an emergency trip to eastern Libya to try to talk Haftar down, and that…apparently didn't go very well:
The LNA's march west didn't go completely smoothly. They took a checkpoint on an important coastal road west of Tripoli, but were then driven back by a government-aligned militia out of Zawiya, which captured 145 LNA fighters in the process.
It remains to be seen whether Haftar and his LNA have it in them to carry out a full-scale assault on Tripoli. At Al-Monitor, analyst Jason Pack contends that Haftar sent the LNA west as a show of force, expecting most of the militias in the capital to capitulate rather than fight. They haven't yet, but Pack argues that Haftar is still unlikely to get into a pitched battle and may instead play a longer game in terms of attempting to cajole militias over to his side.
ALGERIA
If you had any doubts about how President Abdelaziz Bouteflika's resignation would impact Algeria's anti-government protest movement, Friday's events should have put them to rest. Hundreds of thousands of people demonstrated across the country, demanding fundamental change to the "pouvoir," the country's ruling clique. Meanwhile, the head of the country's intelligence service, Athmane Tartag, was reportedly fired, probably in a sign of some internal rivalry with the Algerian military. The intelligence service will reportedly now report to the Algerian defense ministry rather than directly to the presidency, which strengthens the military's position as the various pouvoir factions jockey for supremacy in the new political landscape. The military already turned on Bouteflika when it became clear he was a liability, and seems to be in stronger position than most other elements of the leadership.
MALI
Thousands of people protested on Friday in Bamako, demanding an end to inter-communal violence, like the massacre of a Fulani village in central Mali late last month in which more than 160 people were killed. Protesters expressed frustration with the Malian government's inability to get a handle on the violence and demanded that the United Nations peacekeeping force that has been in Mali since 2013, which likewise hasn't done much to tamp down the violence, leave the country.
SOMALIA
In a stunning (for it) admission, US Africa Command has acknowledged that it killed two civilians in an April 2018 airstrike in central Somalia. Now, you might think that this acknowledgement would spur Africa Command to investigate its many other Somali airstrikes, which have almost certainly killed more civilians. But no! Instead they're going to argue that this was the only time a US airstrike has killed Somali civilians, which is definitely just as plausible.
EUROPE
RUSSIA
The Russian government won a dispute against Ukraine at the World Trade Organization on Friday in a decision that may have some significant ramifications. The dispute began in 2016 when Moscow cut off direct access for Ukrainian overland shipping, which naturally cut into Ukraine's exports to the east. The WTO ruled that Russia could block that access for national security purposes. On its surface, this would seem to be a victory for Donald Trump, who has cited national security in imposing tariffs that would otherwise violate WTO rules. But the ruling also made it clear that the WTO has the right to review "national security" claims, and moreover it narrowly defined "national security" in such a way as to most likely exclude Trump's "economic security is national security" rationale for his tariffs, and so overall it doesn't seem to have set a favorable precedent from Trump's perspective.
ESTONIA
Reform Party leader Kaja Kallas is going to get first crack at forming a government following Estonia's March 3 parliamentary election, but even she doesn't seem to think she'll be able to do it. The Reform Party won the election, so it makes sense that Kallas would get this opportunity to put together a coalition, but the result was inconclusive and Kallas's path to a majority is unclear. In face, incumbent PM Jüri Ratas, whose Centre Party finished in second place, is expected to announce soon that he's formed a coalition. But his coalition includes the toxically far-right EKRE party, and Kallas is apparently hoping to draw individual Centre Party legislators who are unhappy about that alliance into her fold.
UNITED KINGDOM
Things are going really well here, as usual. Prime Minister Theresa May's Friday talk with Labour Party leader Jeremy Corbyn on coming to some kind of Brexit compromise failed, mostly because May isn't looking to compromise so much as to prod Corbyn into backing the Brexit plan she's already put to parliament three times. Meanwhile, her request for another short delay to the April 12 Brexit deadline is not exactly being received warmly by the European Union. May has asked for a new deadline of June 30, even though that means the UK will need to hold European parliamentary elections next month, which is just one of so many absurdities about this whole process.
The EU is reportedly considering multiple extension options beyond what May has requested, including something being called a "flextension" because we live in Hell. The "flextension" would push the deadline back to at least the end of 2019 if not longer, with an option for moving it up should the UK miraculously agree on an orderly way to leave the EU. France is now leading the charge against any extension at all, which is partly a sign of frustration over what a mess this has all become and partly—I suspect—because France actually stands to make some economic gains in the event of a "no deal" Brexit, when many London banks and other UK-based multinationals are likely to go looking for new digs in the EU.
AMERICAS
UNITED STATES
Donald Trump's pick to run the World Bank, David Malpass, won approval from the bank's executive board on Friday. Normally this would be a non-story—the US always picks the head of the World Bank. But as we're not living in normal times there was some possibility that the bank's other shareholders might block Trump's choice. Malpass is a long-time critic of the bank, but he does have a lot of experience in international economics and so he's at least qualified for the gig. The alternative was Trump nominating Vince McMahon or one of the cast of Fox and Friends, and since he didn't do that I guess the other bank shareholders decided to quit while they were ahead.